Jack has narrowly missed out on a ten-year reign as the most popular name for newborn boys in Ireland, falling to second place behind James last year after nine years at the top of the list.
Emily still retains the top spot for girls, a position it has held since 2011, while Grace is second in the list, released by the Central Statistics Office this morning.
50 years ago, John and Mary were top of the tots, but neither even made the top ten last year, with John falling to 25th and Mary plummeting to 84th.
Daniel and Conor shared third place for boys, with Sean, Noah, Adam, Oisin and Luke rounding up the top ten.
Ava and Lucy were joint third for girls, followed by Amelia, Sophie, Emma, Mia and Hannah.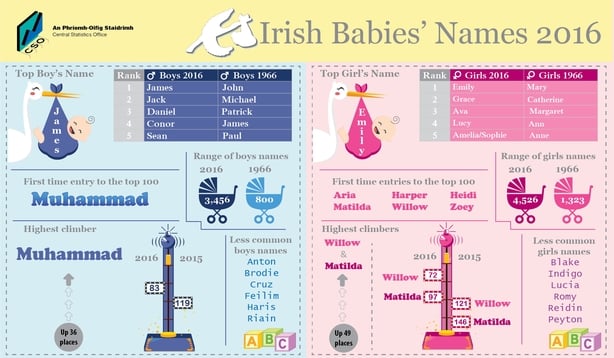 For boys, names with the biggest growth in popularity were Muhammad, Louis, Lucas, Josh, Jason and Ollie, while for girls it was Willow, Matilda, Harper, Heidi and Zoey.
Girls were given a wider variety of names than boys, with 4,526 separate girls names registered, compared to 3,456 for boys.
Some less popular names for boys included Anton, Brodie, Cruz, Harris and Feilim.
Less popular girls' names included Blake, Indigo, Lucia, Reidin, Romy and Peyton.
Murphy, Kelly, O'Brien, Ryan and Walsh were the five most popular last names of newborns registered in 2016.