The head of Legal Affairs in An Garda Síochána has told the Public Accounts Committee that he was asked to change minutes he took of a meeting of a steering group on Templemore on 6 August 2015 by the then Chief Administration Officer, Cryil Dunne.
Under questioning by Labour TD Alan Kelly, Ken Ruane told the committee he was told by Mr Dunne that there was an inappropriate level of detail in the minutes and advised that they be amended to the style of minutes on the Department of Public Expenditure and Reform.
Mr Kelly said this was "incredible evidence" and he had never heard of a Chief Administration Officer telling the head of legal affairs that his minutes were "too detailed".
Mr Ruane said while he told Mr Dunne that he would amend the minutes, he was keeping his original note on file.
Contradictions have emerged between the evidence given to the PAC by three senior civilian garda officials today and the evidence previously given to the committee by Garda Commissioner Nóirín O'Sullivan.
The apparent conflicting evidence refers to when the Garda Commissioner was made aware of the financial irregularities at the Garda Training College in Templemore.
Going through the latest evidence, Mr Kelly said: "Mr Barrett, [the force's HR director John Barrett] you said in your evidence that the Commissioner came in here and sat there and said the first she was aware of this was on 27 July. And she acted promptly was the evidence she gave as a witness to be fair to her.
"But on 2 July there already was a committee set up to deal with the issues in Templemore and that met. It was on 2 July and both yourself and Mr Culhane [the force's Head of Finance, Michael Culhane] were at it. I asked you Mr Culhane did you agree with what Mr Barrett said and you did.
"So we now have evidence, which is a complete contradiction to our own current Garda Commissioner in this country in relation to when these issues were investigated.
"She is saying July 27th and she acted promptly. Two witnesses have already confirmed that it was already set up on July 2nd."
''This is GUBU territory'- @alankellylabour 'A crisis for country' as Garda Commissioner & civilians give contradictory evidence @rtenews pic.twitter.com/jXG8A9RVG5

— Conor McMorrow (@ConorMcMorrow) May 31, 2017
Mr Kelly then said that a second issue emerged over notes that Mr Ruane has as the legal representative, which stated that he was informed by Mr Barrett that Mr Dunne had informed the Garda Commissioner about issues in Templemore.
Mr Ruane confirmed this was the case and said: "I have a handwritten note and it is in a document contemporaneous July 2015."
He said it is dated 4.35pm on 30 June.
Deputy Kellly said: "We now have a situation where the evidence given by the Garda Commissioner saying that on July 27th, she acted promptly when she first found out. We now know from two witness here who were at a meeting on July 2nd that this committee was already established."
Mr Barrett said: "If I could just add, there's a letter from me to Cyril Dunne on July 8th and I will just read the last sentence on paragraph 3. 'I am very concerned about insuring that all the relevant matters are made known to all the relevant parties as soon as possible. I have left the briefing of the commissioner in your capable hands and I was delighted that you briefed her in advance of our meeting of Thursday last."
Mr Ruane said his first indication from Mr Barrett that a working group was being proposed was on 6 July 2015.
Deputy Kelly said: "So to sum up we have a note that says the Garda Commissioner was made aware of theses issues on June 30th. "
He also said we have a note from 6 July to Mr Ruane and the letter on 8 July.
Earlier, the head of administration in An Garda Síochána told the PAC that the force is currently in discussions with the Revenue Commissioners and he will tell the committee later if five tax numbers associated with the Garda College are compliant.
Joseph Nugent was responding to questions from Fine Gael's Peter Burke this afternoon where he asked if An Garda Síochána is tax compliant.
Mr Burke asked Niall Kelly, head of internal audit in the force, how many tax numbers operate in the Garda College.
Mr Kelly replied, "I am not sure to tell you the truth."
Mr Burke stressed the importance of accountability and knowing where public money is going.
Mr Nugent told the committee there are five tax numbers in question for the main garda one, the sports fields, the restaurant, the bar and the shop.
Mr Burke asked if they are all tax compliant and Mr Nugent replied, "We are in discussions with the Revenue Commissioners at the moment.
"Some of the entities have been wound up and the issues are the subject of current discussions between ourselves and the Revenue Commissioners."
Tonight, the Internal Auditor of An Garda Síochána said two audits are under way which include cheques dating back to 1998.
Responding to Labour's Mr Kelly, Niall Kelly said hundreds of cheques were made out in An Garda Síochána and his job was to work out if they were expenses or not.
He said the audit would be based on a representative sample.
Deputy Kelly asked if there were cheques to the value of thousands and Mr Kelly said that was likely.
Niall Kelly said there could have been plane tickets to Australia and bills resulting in thousands.
The Labour TD asked if the Internal Auditor of An Garda Síochána could recall any stub that was in the tens of thousands. Niall Kelly said not that he could think of.
Social Democrates TD Catherine Murphy asked the head of the audit Niall Kelly: "Can I ask you very specifically if there is any indication of any Templemore monies being sent to a bank account in Dublin, under the control of a former senior garda officer and whether or not you are carrying out a specific investigation with regard to anything of that nature."
Mr Kelly said he would rather not answer that as that is the subject of current audit work.
"There are some issues that you touched on, could be issues within that audit," he said.
Social Democrats @CathMurphyTD puts fresh allegation to Gardaí's head of internal audit at PAC 2nite @rtenews pic.twitter.com/pJLBT5t9kv

— Conor McMorrow (@ConorMcMorrow) May 31, 2017
Garda auditor says superiors tried to block Templemore probe
Earlier the head of the internal audit unit in An Garda Síochána said a culture of not admitting problems and trying to keep problems in house and away from transparent public scrutiny may still exist in the force.
Mr Kelly made the remarks at the beginning of a special sitting of the PAC today. He is one of seven civilian employees in An Garda Síochána who will appear before the hearing.
He alleged that his "direct superiors" in the force tried to block an investigation into financial irregularities at the Garda College in Templemore.
Mr Kelly further claimed his "professional integrity and competence" were questioned in "an attempt to undermine" his audit report.
During his opening statement to the PAC, Mr Kelly said: "Having conducted this audit and gone through all the discussions and analysis of the issues over the last two years I am convinced that there was and there may still be in some parts of An Garda Síochána a culture of not admitting to problems and when these problems persist, trying to keep them in house and away from transparent public scrutiny.
"This is apparent from the reluctance by senior management to getting Internal Audit involved in the period 2008-11 and the period from July 2015 to March 2016.
"There is also evident a culture that thinks An Garda Síochána is different from other Public Sector Bodies and that the normal processes of financial procedures and transparent democratic accountability do not apply, for example from Deputy Commissioner Rice's letter of 18th September 2009."
However, Mr Kelly later rowed back on that comment. After being pressed about the remarks by PAC Chairman Seán Fleming, Mr Kelly now says that there "was" such a culture.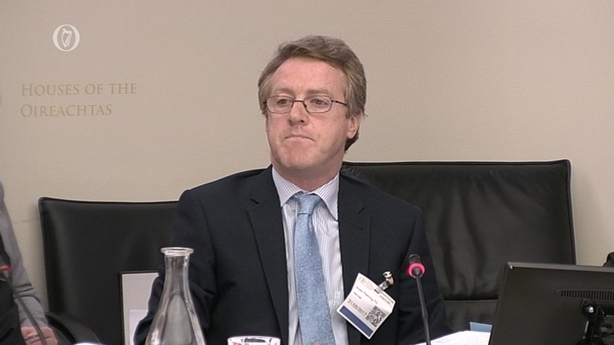 Mr Kelly said that in the period 2008 to 2011 it was apparent to him that some people including his "direct superiors" during this period "did not want the newly-appointed and very independent internal auditor from looking too critically into the Garda College."
"When I did make enquiries and attempt to get information, this information was withheld from me as apparent from the strings of emails between the then Chief Executive Officer, the Executive Director of Finance and the Chief Superintendent and Administrator in the Garda College on April 15, 2010."
He also pointed out that from September 2016 to March 2017, when a draft report was concluded, he consulted widely with people that could possibly be identified in the report to ensure that fair procedures were observed.
The force's Head of Finance Michael Culhane withdrew previous criticism he made of Mr Kelly's report as misleading.
He also told the committee that with the benefit of hindsight, comments he made in a letter to the Garda Commissioner questioning whether the force's HR director John Barrett was in breach of the official secrets act in his handling of the irregularities at Templemore, were not wise.
Mr Barrett said it was appalling that he had repeatedly, unsuccessfully sought a copy of this letter from the Commissioner.
Mr Ruane, told the PAC he was "instructed by the Commissioner for the purposes of today that she is not waiving privilege.
"She is maintaining legal privilege over all advices that I have furnished. Saying that, in relation to any documentation that has been furnished to the committee, I am free to discuss those."
Mr Kelly and Mr Barrett both said they agreed with Sinn Féin's David Cullinane that Mr Culhane was directly attempting to interfere with the report.
However, Mr Culhane told Mr Cullinane that he did not see himself as part of the problem, but part of the solution and he had no desire to undermine the professional reputation of both Mr Barrett and Mr Kelly.
Labour TD Alan Kelly asked those appearing before the PAC if they had full confidence in every member of the senior management team, including the Garda Commissioner Nóirín O'Sullivan.
Mr Barrett replied that he had some reservations, saying that he was very concerned about what he learned this morning.
Niall Kelly said he concurred with Mr Barrett and that there were some questions.
Mr Culhane, Mr Ruane, and the Chief Administration officer Joseph Nugent each said they had full confidence in the senior management team.
The committee was told that a steering group set up to investigate the irregularities at Templemore first met on 2 July, 2015.
Alan Kelly said the Commissioner had previously told the committee that she acted promptly and set up the steering group after hearing of the issues at the college during a meeting on 27 July, 2015.
Mr Ruane also told the committee that Mr Barrett told him on 30 June that he had told the former chief administration officer about the issues at Templemore, and that the CAO had informed the Commissioner.
Alan Kelly said there was a "complete contradiction" in the evidence given by the Commissioner during a previous hearing.
Asked about today's revelations at the PAC, Minister for Justice Frances Fitzgerald she said she had not seen the proceedings and had not been following what was happening at the committee.
But she said what happened at Templemore was completely unacceptable and does not meet the standards of governance that the public expect.
She said she will await the final report from PAC before commenting on the details.
Ms Fitzgerald said what is important is that people are being held to account and there was greater accountability demanded.
She said clearly huge reform is needed and that when you have change going on things come out in the open.
Fianna Fáil TD Marc MacSharry has claimed: "What we have seen so far is the fact that processes, procedures and systems are a riddly wrapped up in a mystery inside an enigma in terms of who is responsible for what."
He said that on certain issues there is "Chinese walls and on others there seems to be mountains".
Today's PAC from @MarcMacsharryTD 'processes, procedures & systems are a riddle, wrapped up in a mystery, inside an enigma' @rtenews pic.twitter.com/ccJw9bVFR2

— Conor McMorrow (@ConorMcMorrow) May 31, 2017
Sinn Féin Deputy Leader Mary Lou McDonald said: "I don't think I've ever seen anything quite as shambolic as this. It feels like we are trapped in an episode of Father Ted.
"Nobody is responsible for anything. Everybody knew everything yet nobody knew anything. And it is absolutely astonishing."