The Report on the Future of Healthcare, published this morning, proposes free GP care for all, free public hospital care, cuts to the prescription charge and the cost of monthly drugs for people.
These benefits would be phased in over a number of years.
Universal free GP care would be phased in over five years, at a cost of €455m.
The phasing would be based on means.
Inpatient charges for patients for public hospital care would be cut in the first year, at a cost of €25m.
The report recommends that the current prescription charge of €2.50 be reduce to 50c by year three, at a cost of €133m by that time.
The drug payment scheme changes would mean that families would pay no more than €100 a month for medicines within six years.
For a single person, they would pay no more than €75.
Currently people must pay the first €144, a month before the State reimburses them for medicine costs.
One of the key recommendations is that all private work be moved out of public hospitals between year two and six.
Public hospitals currently earn around €650m in income each year from private insurers, so this income would have to be replaced.
Launch of the Committee on the Future of Healthcare Report pic.twitter.com/5MXdHjiNQj

— Fergal Bowers (@FergalBowers) May 30, 2017
But the move would be expected to free up beds for more public work and reduce waiting lists.
Around an extra 600 hospital consultants would be employed between years four and ten at a cost of about €119m.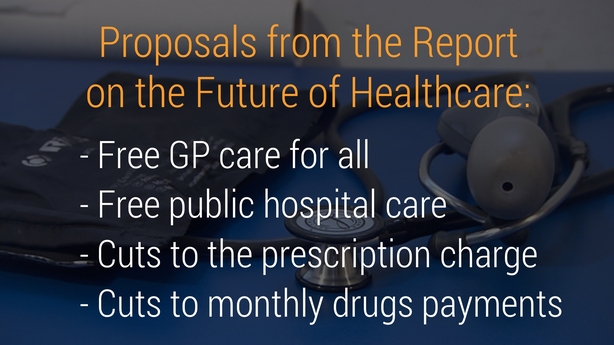 Overall, the plan proposes a universal, single-tiered health system.
The ten-year change would cost €2.8bn, in a shift away from hospitals towards primary care and social care.
A further once-off €3bn would be needed for capital investment, like diagnostic equipment for GPs and health support staff for primary care like physiotherapists, home helps, nurses, speech and language therapists and social workers.
A fund of €266m would be needed to provide separate universal primary care services over five years.
The plan says that a 7% annual increase in the health budget can deliver the free care changes each year, costing about €400m a year.
The report does not say how the transitional funding of €3bn would be raised, but it would amount to a need for about €500m over several years.
Within five years, everyone would have a Sláinte Card - entitling them to free GP care and public hospital care.
Legislation would be introduced giving people a clear entitlement to care, rather than the current eligibility system.
The current emergency department charge would remain for now, to encourage people to visit their GP first, where possible.
Other measures in the plan include:
Universal Palliative Care over five years at a cost of nearly €50m
Increasing homecare funding by €123m over five years
Reinstating the full Dental Treatment Services Scheme, which was cut during the economic crisis and which would cost €17m in year one
The HSE Board would be re-instated
An independent implementation office would be set up, with its own budget, to oversee the plan. It would be under the Taoiseach's office, overseen by a Cabinet sub-committee and report to the Minister for Health. It would have its own Secretary General.
The plan has been fully costed and sets out clear timelines.
The money for the plan would be ringfenced and held in a National Health Fund, so the money could not be used for other Government services.
Speaking on RTÉ's Morning Ireland, Oireachtas Committee on the Future of Healthcare chairperson Róisín Shortall said there would be maximum waiting times for care and treatment.
These would be 18 weeks for inpatient care, ten weeks for an outpatient consultation and ten days for diagnostic test results.
The Social Democrats TD said that around an extra 900 public health nurses would be needed, about an extra 600 GPs, some salaried and other staff.
The committee has not made any proposal regarding cutting the tax relief for people with private health insurance.
Ms Shortall said that the plan would mean a saving of €285 per person, per year.
She said that with cross-party support for the report, it would end health being a political football.
The total cost of the ten-year plan is €5.8 billion, with a significant amount of funding front-loaded.
Commenting this morning ahead of the report's publication, Minister for Health Simon Harris said the health service has suffered with constant political tinkering and what was needed now is a plan for the next decade.
He said he now wants to consider the report and from the outset was determined to consult with the opposition to come up with a plan for the health service that does not change every time the Government changes.
Fianna Fáil has launched a Private Members' motion, which calls for greater transparency in the publication of waiting list data.
Billy Kelleher also wants the National Treatment Purchase Fund to be expanded in budget 2018.
He said the future of healthcare report is silent on the issue of funding and it should be paid through general taxation and within the resources of the State and also within the stability and growth pact.
Meanwhile, Labour leader Brendan Howlin said he believes there can be flexibility on the stability and growth pact to allow €3 billion from the proceeds of the sale of AIB to be put into a health transition fund.
He said he believes the argument is winnable for once-off windfalls and that some pressures in the health system had not been accounted for in the report.
Mr Howlin said the cost of consultant pay claims were not taken into account but welcomed the shift to primary care and a single-tier health system.
Plan comes in for some criticism
Solidarity-PPP TD Mick Barry TD has dissented from the report.
He said it was a missed opportunity to advocate for an Irish NHS and that all charges in public healthcare should be abolished.
The Private Hospitals Association, meanwhile, has said the report is a missed opportunity to provide public-private partnership.
PHA CEO Simon Nugent said the committee had spent too much time obsessed with publicly-owned delivery systems rather than taking a holistic view of the overall health assets in the State.
"The report is fixated on public hospitals and public health systems while a highly efficient private system is ignored even though it operates alongside it with a similar spread of services across the country.
"The committee appears to have got bogged down with ideology. It has put philosophy over practicality.
"It is disappointing that the committee did not decide to partner the public and private systems of healthcare for patients to make real progress quickly for those waiting longest for treatment. I would urge that the Mid-Term Review of the Government's Capital Plan doesn't make the same mistake this summer."
The Irish Patients' Association was more positive, saying: "We welcome the proposal to legislate for universality of access with strict waiting times.
"For the first time there is all party recognition that 'the Irish health service as it stands at the moment is not providing the population with fair or equitable medical care.'
"This is a result of many past governments 'tinkering' with the challenges and indeed the vested interests."
The IPA added: "We have participated and witnessed many strategies and published plans in the past, which ultimately faded away, in the health reform industry mill.
"Time will tell if today is truly an historic day for our health care system."