Fine Gael members have begun voting on their next party leader with the result to be announced on Friday.
The two contenders are Minister for Housing Simon Coveney and Minister for Social Protection Leo Varadkar.
Almost 21,000 members are eligible to take part in the vote to choose the new party leader, and most likely the next taoiseach.
TDs and senators will have the biggest say, with 65% of the total vote.
Councillors will have 10% while members will have a 25% say.
Minister for Finance Michael Noonan has said he will be happy to work with either Mr Varadkar or Mr Coveney as taoiseach, but would not reveal who he would be voting for.
Speaking in Limerick, Mr Noonan said the Fine Gael leadership race was a very interesting one with favourable publicity for the party.
He said young people in particular were responding to it and moving towards the party.
The final hustings debate, which took place in Cork last night, was marked by sharp exchanges between the leadership contenders.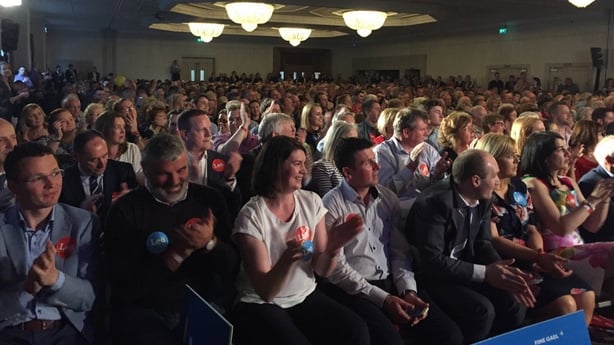 In his opening address, Mr Coveney said he wanted to lead a party which was about creating a stronger, fairer society.
He said the two candidates for leadership were offering to take the party in different directions, and after years of recession people were asking for "a bit of compassion".
In response, Mr Varadkar said one of his core values was compassion, and he did not agree with what Mr Coveney was trying to say about him.
He told the crowd that he remembered falling over water meters during the last government to knock on doors to explain why medical cards were being taken away from sick children.
"That will never happen if I am leader, that will never happen again," he said.
He said there were "enough people who want to misrepresent our party as being uncaring, without us saying these things about each other".
"In my view its divisive, its dishonest and it's not a good way to seek a mandate," he added.
We need your consent to load this rte-player contentWe use rte-player to manage extra content that can set cookies on your device and collect data about your activity. Please review their details and accept them to load the content.Manage Preferences
The sharpest exchanges came at the end of the debate when Mr Varadkar said there was an attempt to create an ideological debate in the party which he said does not exist.
"Simon and I have been in the same party for 20 years, and been in the same government for six years and I don't remember in all that time us having a big clash in ideologies," he said.
He added, "the difference is I'm putting forward a programme of substance that actually documents decisions I would make, not something broader which would cover up the fact that I'm not willing to make choices or decisions".
Mr Coveney responded by criticising Mr Varadkar's plans if he were to become taoiseach that he has laid out.
What Leo is doing is committing to spend money that we don't have yet. Not difficult to win votes on the back of that.
Mr Varadkar replied: "So the grand vision for Ireland isn't going to cost any money?"
Mr Coveney said: "The difference between the approach I have and Leo [has], is that I want to plan first, and then fund the pieces, instead Leo couldn't wait for that, because there was an election under way and he wanted to commit to projects all over the country".
Earlier questions from the floor ranged from the arts to integration to the funding of hospitals services in Waterford.
Addressing a question on the arts, Mr Varadkar accused Mr Coveney of trying to suggest that he had pledged to boost funding for the arts only because there were votes in it.
"I love the arts, I try to take time off once a week to go to the theatre or the cinema," he said.
Asked who from the opposition they would like to appoint to cabinet, Mr Coveney said it would be Eamon Ryan as minister for climate change.
Mr Varadkar said he was concerned that Mr Coveney has mentioned Mr Ryan during three out of four hustings events and said he has concerns about some of the Green Party's red-line issues such as the impact its policy on live animal exports would have on agriculture.
To jeers from Coveney supporters he said he would not answer the question himself, because an endorsement from him could damage that person's career.
Answering a question on what more could be done to integrate new communities in Ireland, Mr Vardakar spoke of his own background.
"My mum is from Waterford and my dad is from India, that's where I get the year round tan and the funny surname," adding that he is an example to young people from different backgrounds that anyone can aspire to become the leader of the country.
Mr Varadkar also dismissed suggestions that Fine Gael was an elitist party.
We're not elitist. Living standards have been battered by the recession. If we're improving people's lives its hard to accuse us of being elitist
Mr Coveney said Fine Gael was a broad family and was a party, which could have open debate where talented people challenge each other, and to jeers from the floor said "and sometimes not so talented people are there too" he said.
"There's got to be room for everybody," he said.
Both candidates said they would not appoint a Brexit minister and asked if they would allocate additional resources for cardiology services in Waterford, both said they would be guided by the advice of clinicians.