Fresh arrests have been made connected to the Manchester suicide attack as police continue to hunt down Salman Abedi's suspected accomplices.
Greater Manchester Police said a 19-year-old man had become the latest suspect detained over last Monday's atrocity, which left 22 dead.
The teenager was arrested during an armed raid on an address in the Gorton area of the city.
A 25-year-old man was earlier held on suspicion of terror offences in the Old Trafford district.
Police have said they have arrested a large part of the network behind the bombing, which killed 22 people at a concert hall.
Home Secretary Amber Rudd said members of the suicide bomber's network are still potentially at large.
Asked during an interview on BBC television whether some of the group were still at large, Ms Rudd said: "Potentially. It is an ongoing operation."
Prime Minister Theresa May said developments in the investigation into the bombing meant intelligence experts had decided to lower the threat level from its highest rating "critical", meaning an attack could be imminent, to "severe".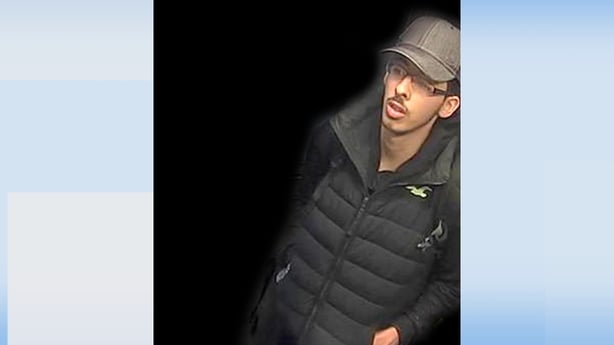 Police have issued a photograph of Abedi, a 22-year-old Briton born to Libyan parents, taken on Monday night before he blew himself up and said they believed he had assembled his bomb in an apartment in the city centre.
British officials have confirmed he had recently returned from Libya and the officers said police needed information about his movements from 18 May when he returned to Britain.
Abedi was known to British security services before the bombing, the government has said, but Ms Rudd declined to comment on exactly what had been known about him.
Media have reported that people who knew Abedi had raised concerns about him and his views as long ago as five years before he carried about Monday's attack.
We need your consent to load this rte-player contentWe use rte-player to manage extra content that can set cookies on your device and collect data about your activity. Please review their details and accept them to load the content.Manage Preferences
Ms Rudd also said that the so-called Islamic State group, was trying to "weaponise" young Britons and defended the work of the security services following claims warnings about Abedi were not followed up.
Abedi had been a former "subject of interest" to MI5, but Ms Rudd said: "The intelligence services are still collecting information about him and about the people around him.
"But I would not rush to conclusions, as you seem to be, that they have somehow missed something."
She added: "What this reminds us is the scale of the problem that we have, the enemy that we have, Daesh, that is trying to weaponise the young people in our society."
UK looking to 'increase pressure' on internet firms over extremist material
Britain is looking at a range of options to put pressure on internet companies to do more to take down extremist material, British Security Minister Ben Wallace has said.
The British government has previously complained technology companies are not doing enough to tackle the use of their networks both to promote extremist ideology and for communication between militant suspects.
"We are going to look at the range of options. We have seen the Germans have proposed perhaps a fine, we are not sure whether that is going to work but there are range of pressures we can put on to some of these companies," Mr Wallace told BBC Television.
"We think they have the technology and the capability to change the algorithms they use," he said, adding that one issue was the way the companies linked posts to other similar material online.
Mr Wallace said some companies were "being difficult" but there was evidence that others were trying to improve their work on the issue.
Thousands take part in Manchester run
Thousands of people took to the streets of Manchester for the Great Manchester Run as the latest large-scale event took place in the wake of the terror attack.
Armed police mingled with spectators as crowds gathered to watch the runners, including mayor of Greater Manchester Andy Burnham.
Mr Burnham said going ahead with the event was a difficult decision. He said it had to happen in order not to hand a victory to terrorists.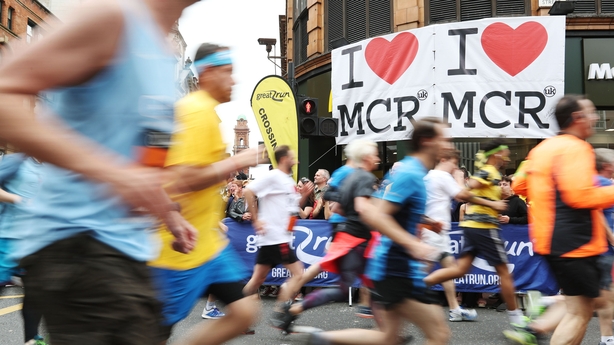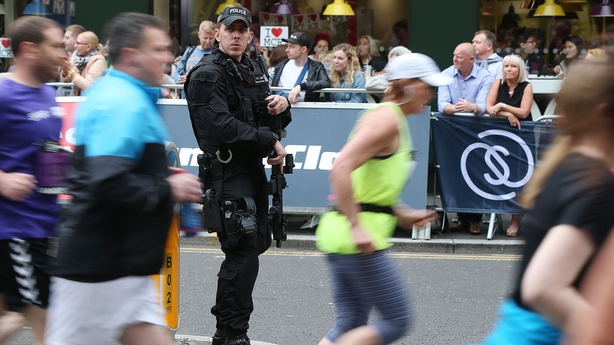 Participants, including comedian John Bishop and former England and Manchester United captain Bryan Robson, stood on the 10k start line under the banner #RunForManchester, many wearing yellow ribbons in solidarity with the victims of the Manchester Arena attack and their families.
Speaking ahead of the run, Mr Burnham told reporters: "It was a difficult decision and we took advice from the police and the security services.
"But the consensus always was that if we were to cancel that's a victory for those who seek to disrupt our way of life and I don't think we were prepared to give them that victory."
He praised the "incredible response" from the public, who he said refused to be divided after such an attack.