Minister for Social Protection Leo Varadkar has dismissed suggestions Simon Coveney is closing the gap in the race to become the next leader of Fine Gael.
Mr Varadkar was speaking in Longford just hours after the party held its first hustings event in Dublin.
Asked directly on his take of last night's proceedings, Mr Varadkar opted instead to focus on his decision to visit Longford and address local employers at a business seminar.
"It's a pleasure to be here in Longford to meet some members of the business community and Fine Gael members, to talk to them about the new benefits my department has in place to support people who are self employed," he said.
"More importantly [my visit] is to hear from them and about some of the issues that affect them as business people, issues such as rates and infrastructure to make sure the economic recovery is broad based and visits all part of the country."
Mr Varadkar, who currently has a strong lead over Mr Coveney in the leadership race, attempted to clarify his much publicised comments of rewarding "people who get up early in the morning".
When asked why he chose to reference certain sections of society such as private and public sector workers, parents, the self-employed and not farmers, of which Longford is home to a large cohort, Mr Varadkar was again forthright in his response.
"I think everyone knows farmers do get up early in the morning. I will certainly work that into my speech in the next little while.
"What I am talking about is ensuring Fine Gael as a party champions and prioritises people who work in the country, people who are in employment in the private and public sector, self employed, farmers but also people like carers for example and parents."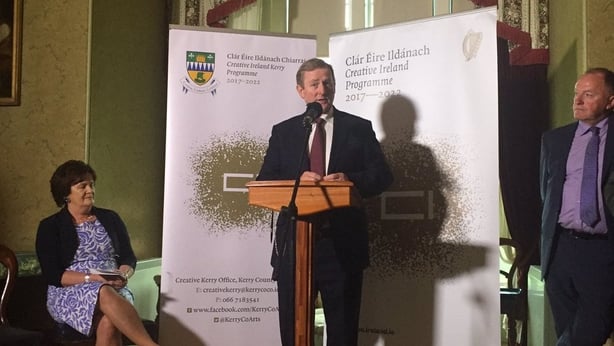 Meanwhile, Taoiseach Enda Kenny has said he hopes Fine Gael will continue to stand for what it has always believed in after a new leader takes over the party.
Speaking in Killarney, Co Kerry, Mr Kenny described the Fine Gael leadership contest as very exciting for the party.
He said he hopes Fine Gael will continue to stand for the country, for public service and for the opportunity for people to live their lives and follow their dreams.
Mr Kenny said Fine Gael is having what he described as a very orderly transfer of responsibilities, with "two great candidates" contesting the leadership.
He said people would make up their own minds on how to vote, and that was as it should be. He wished both candidates the best of luck.
Mr Kenny was speaking at Muckross House in Killarney, where he launched Kerry's programme for Creative Ireland, a series of cultural events following up on the year of centenaries in Ireland in 2016.
Different visions of Fine Gael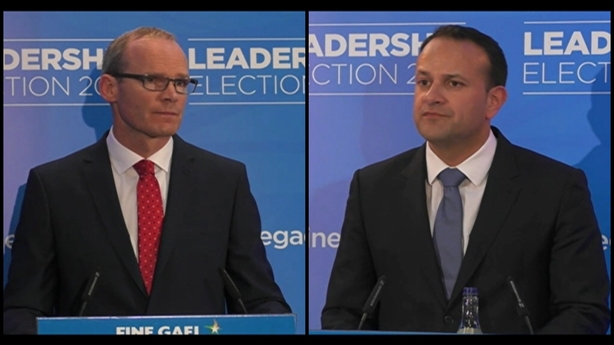 The first hustings in the Fine Gael leadership contest were marked by differences in how the two contenders view what the party stands for.
There were also some exchanges between Mr Varadkar and Mr Coveney about the level of preparedness for the contest.
From the outset of the debate last night both candidates stressed that whatever the outcome they would work with each other after the leadership contest.
However as the debate continued, differences emerged over how they defined Fine Gael.
Mr Varadkar elaborated on his vision of Fine Gael when he spoke about a party for those who get up early in the morning.
He said he was speaking about people who work in the public and private sectors, commuters, the self-employed, carers who look after loved ones, parents who get the children ready for school, people who volunteer in their communities.
However, Mr Coveney said he wanted to unify communities, not divide them.
He said while they have to represent those who get up early in the morning, they also have to ask why others are not getting up.
Mr Coveney said he wanted to represent the man in the sleeping bag as well as those creating jobs.
He also said he was deeply concerned at the direction Mr Varadkar was moving the party.
Mr Coveney also suggested that his opponent had been preparing for the contest for the past 12 months.
However, Mr Varadkar denied this, stating his preparations lasted three months and he was unapologetic saying you could do a lot in that period.
He also reminded those present that they could face an election at any time.
Similar events will take place in Carlow, Galway and Cork over the next three days.