Several hundred members of Fine Gael are attending the first hustings involving the two contenders for the party leadership, Leo Varadkar and Simon Coveney, in Dublin tonight.
The husting at Dublin's Red Cow Hotel was opened by party chairman Martin Heydon and hosted by businessman Gavin Duffy.
Both candidates have outlined their policy priorities and have travelled around the country to canvass for support since the contest was launched last Thursday.
Mr Heydon has said the leadership contest and the regional hustings are "an opportunity to take stock of where the party is at" and what its priorities are in an improved economy.
Speaking on RTÉ's News at One, he said he expects a good atmosphere at the hustings, saying it will be civil "but with plenty of tension too" given what is at stake.
He said it was an opportune time at the end of Enda Kenny's leadership of Fine Gael to look at where the party is at in Government and discuss how to develop society.
Full house in Dublin tonight for the first @FineGael leadership hustings #FGLE17 @rtenews pic.twitter.com/PR1a3zBkgv

— Martina Fitzgerald (@MartinaFitzg) May 25, 2017
Addressing the audience, Mr Varadkar elaborated on what he meant by his comments about representing those "getting up early in the morning".
He said he is talking about people working in the public and private sector, the self-employed, carers getting up to mind loved ones, parents getting up to mind children.
He said "I am asking for your support because I believe that I am the best candidate to widen Fine Gael's appeal and to broaden the base of our support"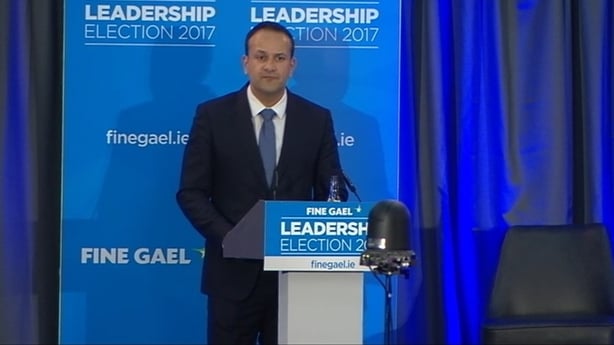 Mr Varadkar also reiterated his claim that Sinn Féin is the greatest threat to everyone's prosperity.
Mr Coveney told the crowd that the party has to ensure they represent everybody, even the man in the sleeping bag tonight.
He said "who's asking the question why aren't they getting up in the morning...why isn't our party helping those people not getting up in the morning".
He said "we need to help them to contribute to a stronger society ... surely that is what Fine Gael must represent."
Mr Coveney also told those gathered to "make sure the path you vote for by voting for a certain candidate is a path you are comfortable with that allows you to sleep at night."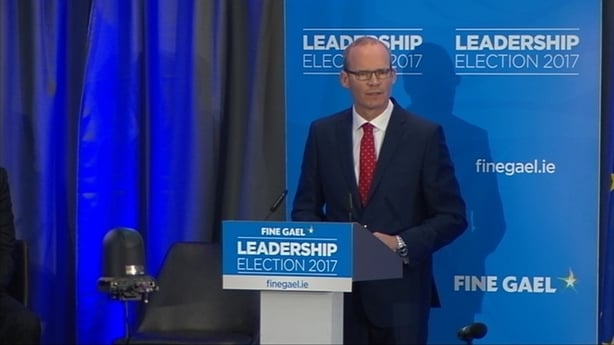 Both candidates also indicated they would continue to work together regardless of the outcome of the contest.
Most members of the parliamentary party, which has a 65% say in the contest, have indicated who they will be supporting.
Forty-six have publicly endorsed Mr Varadkar, compared to 20 for Mr Coveney.
The remaining seven members are not expected to publicly state their preference.
Although he faces a huge task, Mr Coveney believes he can convert some of his opponent's supporters and win over the two other constituencies made up of members and councillors.
In today's debate, each candidate will address members and elected representatives for around ten minutes before a question and answer session.
There will be a live stream of the debate on the Fine Gael website and also on its Facebook page.
Three similar events are also planned over the weekend in counties Carlow, Galway and Cork.
SIPTU chief says leadership contest immaterial
The General President of SIPTU, Jack O'Connor, has said it is immaterial whether Mr Coveney or Mr Varadkar become Fine Gael leader as both are centre right politicians competing for the leadership of what he described as the most right wing party in the State.
Mr O'Connor, who was recently elected Chairman of the Labour Party, said he meant no disrespect to either candidate, as they were both competent people, who probably acting in the public interest as they see it.
He said it was the role of the trade unions and the labour movement to ensure that Fine Gael would never secure a majority in the Oireachtas on their own without someone to curtail their ardour on the privatisation agenda.
Asked about recent comments by Mr Varadkar proposing a restriction on the right to strike, he said Mr Varadkar was displaying in public what his party had pursued in the last government, but which Labour had prevented them from doing.
He said anti-trade union legislation was intended not just to curtail the capacity of workers in essential services to improve their pay and conditions, but was designed to open the way for privatisation by neutralising the ability of unions to fight it.