Minister for Housing Simon Coveney has said he can see where a case can be made to ensure that vital services of the State are not disrupted during industrial disputes.
However, Mr Coveney said he would like to speak to his rival for the Fine Gael leadership, Leo Varadkar, before he committed to supporting the policy announced by the Minister for Social Protection in his manifesto for leadership.
Answering questions from journalists before a meeting of party members attended by over 300 people in Athlone this evening, Mr Coveney said his opponent's manifesto was very different to his own because of the lack of costings for many of the policies outlined.
He said it was a matter for the media to speak to Mr Varadkar about these issues, but he would continue to make his argument to the members of the party and hope to persuade TDs and Senators to support him.
Mr Varadkar defended his proposed policy to restrict the right to strike in essential services, saying it would be wrong to categorise it as a strike ban.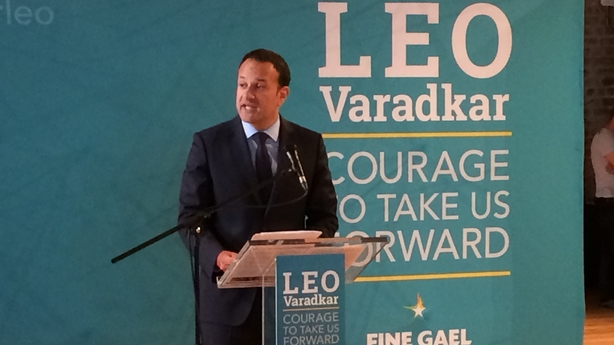 In his manifesto, he proposes making Labour Court rulings binding in essential services, and restricting the right to strike once a determination has been issued.
Speaking on RTÉ's Six One, he said the essential services could include air traffic control and emergency services; "life and death things", but that ultimately the services should be a matter for the Oireachtas to determine.
"I think it would be wrong to categorise it as a strike ban. It's not that.
"What I am saying is that if a dispute is protracted and if it goes to the Labour Court and bear in mind, both the union and the employer has to agree that if it goes to the Labour Court that should be the end of it.
"Both the unions and the employer should accept the outcome of the Labour Court. And that's what I am proposing."
Unions have described such potential legislation restricting the right to strike as disproportionate, and pledged to resist it.
Leo Varadkar defends his proposed policy to restrict the right to strike in essential services pic.twitter.com/wrJJ8lqoUV

— RTÉ News (@rtenews) May 22, 2017
While outlining his tax proposals, Mr Varadkar said there is a degree of an "entitlement culture" in Ireland where some people believe that everything should be free, adding that they are often supporters of the far-left.
He said he does not accept that culture and is bringing forward honest centrist politics.
He said his policy document, which was launched today, is an "ideas paper" and he is happy to produce costings for any of the detailed proposals.
Minister Varadkar said having read his policy paper, he hopes some people who have committed to supporting his opponent for the Fine Gael leadership, Simon Coveney, may change their mind, adding that the contest is continuing.
Public service unions have warned that they will resist any move by Mr Varadkar to restrict the right to strike in essential services if he becomes taoiseach.

Meanwhile Mr Coveney has described the ongoing leadership contest as competitive, saying people are responding to what he is saying.
Speaking on the same programme, the Minister for Housing said he is taking his case to the Fine Gael membership and said the future of the party and the country needs to be discussed.
Simon Coveney wants to ensure there are institutions of the State that can be fully trusted pic.twitter.com/7qEZhbj29V

— RTÉ News (@rtenews) May 22, 2017
He said the Fine Gael party needs to change and a stronger society needs to be built.
Mr Coveney said he took the ministry of housing because he believes it is the most important domestic brief in Government.
Minister Coveney said there is not sufficient trust in the institutions of the State and Fine Gael needs to fix that.
He said he and the party will do it. He said the trust that people have in their government is fundamental to the success of politics and governance.
Unions hits out at proposed ban
General Secretary of the Irish Nurses and Midwives Organisation Liam Doran said a ban on strikes in essential services would revolutionise the way industrial relations are carried out in Ireland - but not for the better.
He said that if Mr Varadkar became taoiseach, and his proposals became policy, the issue would move centre-stage - but that its deliverability was questionable.
He queried what the Government could realistically do if members decided to reject a Labour Court recommendation, asking whether it would seek to penalise 40,000 members such as nurses.
Mr Doran said public service workers were determined to hold on to their right to strike in situations where they did not believe their pay and conditions were appropriate and the next taoiseach would have bigger problems ensuring quality, properly-staffed public services.
The National Bus and Rail Union criticised the plan saying the entitlement to protest "is fundamental" in any democratic society.
General Secretary Dermot O'Leary said he was "not at all surprised with Leo 'Thatcher' Varadkar" but he said he would be "amazed and appalled" if Fianna Fáil, through its Supply and Confidence arrangement, "was to support such a draconian attack on workers in this country".
In his Taking Ireland Forward policy document, Mr Varadkar launched his priorities with a range of commitments on social welfare, tax and infrastructure.
He promised to merge the Universal Social Charge and Pay Related Social Insurance into a single social insurance payment and to extend existing contributory benefits such as parental leave.
He also pledged to restore the bereavement benefit and introduce new benefits for medical and treatment-related expenses.
Mr Varadkar is also promising to increase the back-to-school clothing and footwear allowance, reduce the cost of school transport and cap voluntary contributions in the education system.
He is pledging full employment by 2019, increasing capital spending and reducing the marginal rates of income tax.
He also says that nobody should pay more than 50% in income tax, which is also pledged by his opponent.
In terms of the self-employed he is committing to equalising the tax credits and rates and he is also promising a new spatial strategy.
Mr Varadkar also said he would phase out the first-time buyers' scheme if the review finds it to be an inflationary effect on property prices.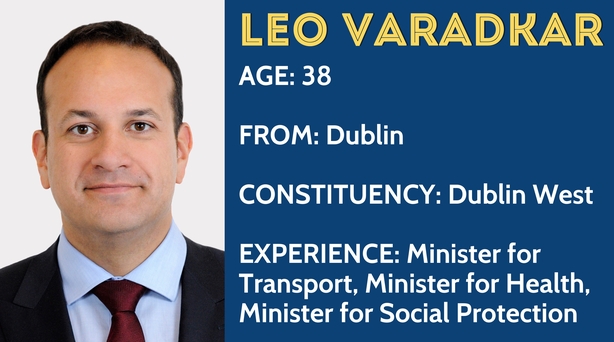 Meanwhile, Wicklow TD Andrew Doyle has declared that he will support Mr Varadkar in the contest, bringing his supporters within the Parliamentary Party to 46.
Twenty members of the Parliamentary Party have declared for Mr Coveney, who was meeting with party members and councillors in Athlone today.
He has said he is aiming to win back the support of some TDs who have declared for Mr Varadkar.
Following the declarations so far from TDs, senators and MEPs, Mr Varadkar has more than 40% support compared to Mr Coveney's 17%.
Already, Mr Coveney has promised to establish an anti-corruption agency and to deliver the greenest government in the history of the State.
Despite the huge gap in support between himself and Mr Varadkar, he insists this contest is not over.
Last night in Tipperary, Mr Coveney told a gathering of over 300 party members that Fine Gael's best chance of making gains at the next election are outside Dublin, which is Mr Varadkar's home patch.
Today, he takes that message to Fine Gael supporters in the midlands.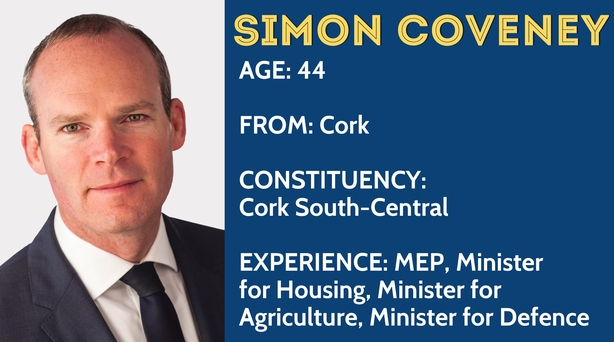 Fine Gael MEP Seán Kelly has said the leadership contest is an exercise in democratic engagement.
Speaking on RTÉ's Morning Ireland, he said Fine Gael has not had a change in leadership in 15 years and it is important that everyone feels part of the process.
It would be a damp squib, he said, if one of the candidates said it was all over and cancelled the hustings.
Members should have an opportunity to assess both leaders, he said, adding that he believes that Fine Gael will have a more united party afterwards.
Fine Gael TD Maria Bailey said there are over 21,000 members of the Fine Gael party and those members are entitled to question both men running for leadership.
Ms Bailey, who supports Mr Coveney, said that Mr Varadkar's supporters came out quicker than Mr Coveney's supporters, but said there is still an opportunity to win them back through discussion and through dialogue.
Speaking on the same programme, Ms Bailey would not speculate on who might change their vote in favour of Mr Coveney.
---
Further analysis by Micheál Lehane, RTÉ's Political Staff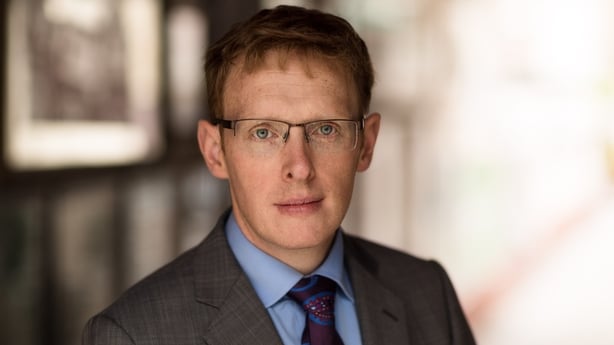 It is a very big task for Simon Coveney to win the leadership contest, there are two parts to it: He needs to win nearly all of the membership and the councillors, and he needs to turn some of those people who have publically declared for Leo Varadkar. That seems very difficult.
The Coveney side talks about the momentum and the early momentum going with Leo Varadkar last week.
But if you think back about it, and from speaking to people in the months leading up to this, there was work going on from the Varadkar side that dated back months.
There were meetings at people's homes that had been put into place and detailed discussions had taken place, long before Simon Coveney's side had spoken to them.
I think that kind of methodical stitching was what the early days of the Varadkar campaign was based on. It was not a sudden momentum, it was about planning that the Coveney side didn't seem to have quite as much done in that regard. The notion that people can be turned is difficult to see.
Simon Coveney hopes that somehow, once the debates start and once you start looking at policy, that the membership will reignite this and create a force that will get people to reconsider.
That would suggest that membership has the power to influence their TDs who are thinking about their seats and thinking about the next election in a kind of way and at a scale that we have not seen before.
You would think it is optimistic if not impossible.