Greece's parliament has approved pension cuts and tax hikes sought by the country's lenders to unlock vital financial aid, as angry demonstrators protested in central Athens over new austerity.
The leftist-led government hopes that legislating the measures, four days before euro zone finance ministers meet in Brussels, will convince its lenders to release a €7.5bn bailout tranche and grant it further debt relief.
It is now up to the lenders to make good their promises, Prime Minister Alexis Tsipras told journalists.
"We deserve and we expect from Monday's Eurogroup a decision regulating debt relief which will correspond to the sacrifices of the Greek people," he said, referring to the upcoming meeting of euro zone finance ministers.
Lenders have agreed in principle to debt restructuring but not on details.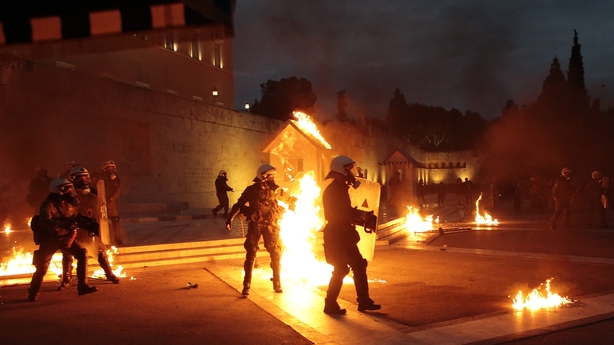 Shortly before the measures were approved just before midnight, some protesters hurled petrol bombs and firecrackers at police guarding the legislature. They responded with tear gas.
Greece has seen its national output shrink by a quarter since it was first forced to seek external financial aid in return for spending cutbacks in 2010.
The government hopes a conclusion by lenders of its reforms progress, coupled with a restructure to bring down a mountain of overhanging debt, will allow Greece to be included in the European Central Bank's asset-buying programme and return to bond markets in the coming months.
Athens needs aid to repay debt maturing in July.
It agreed to adopt more austerity, which will be implemented in 2019 and 2020, to convince the International Monetary Fund to participate financially in its latest €86bn bailout.