The sixth round of UN-backed Syria peace talks open in Geneva today.
Under pressure from international backers, the two sides have agreed to discuss a new constitution, reformed governance, new elections and the fight against terrorism, but they differ sharply over what those agenda items mean.
President Bashar al-Assad, backed by Russia and Iran, is keen on discussing "terrorism", a term he uses broadly to describe all adversaries.
Opposition negotiators have demanded Mr Assad's removal, something his backers think is fanciful in the face of his military advances in the civil war, now in its seventh year.
UN mediator Staffan de Mistura said the United States, which has supported the opposition in the past, was increasingly engaged and interested in the process, and he hinted at high-level diplomacy going on behind the scenes.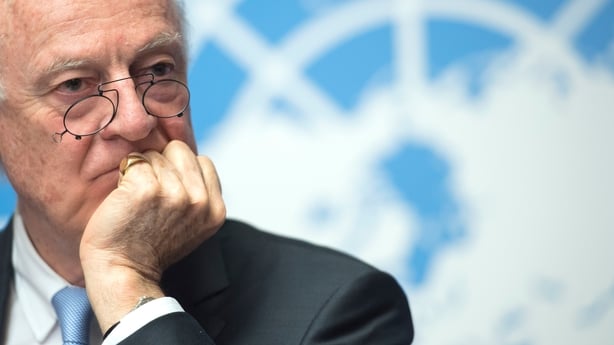 "Everything is connected. There are big important meeting staking place, that will be taking place. There are discussions taking place in capitals. They do have an impact on what we discuss. But I am not going to elaborate now," Mr De Mastura said.
The talks come on the heels of a deal by Russia, Turkey and Iran to arrange and monitor 'de-escalation zones' in Syria to ease the fighting.
Opposition negotiator Nasr al-Hariri told reporters he wanted a comprehensive ceasefire across Syria.
"The road to Syria's freedom runs through Geneva," he said.
This round of talks is due to end on Saturday.