The chief Brexit negotiator for the European Commission has expressed regret that Brexit is happening.
Michel Barnier told a joint sitting of the Dáil and Seanad that he would have liked to have seen the UK stay in Europe, with Ireland and the 26 other member states.
"But we are where we are," he said.
Mr Barnier said that for 44 years, Irish people shaped the union and helped turn Europe into a more open and innovative continent.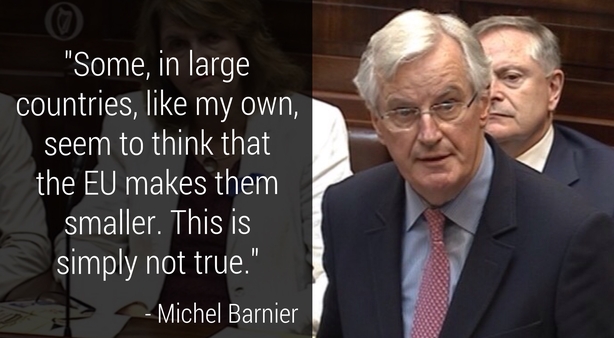 He noted a number of Irish European commissioners including Patrick Hillery and Peter Sutherland, who established the Erasmus programme.
Mr Barnier told the joint committee that being part of a common project and identity does not prevent a country from keeping its own identity and making a name for itself in the world "as Enda Kenny reminded us all in his excellent St Patrick's Day speech in Washington".
The EU has made travel easier, he said, and he pointed out that he travelled to Ireland on a well-known low-cost carrier. There was laughter when he said there was no coffee, but more seat space.
He said a member state loses benefits such as access to foreign markets; banks, insurance or investment funds can providing services throughout the single market, based on their establishment in Dublin and reliance on the European arrest warrant.
We need your consent to load this rte-player contentWe use rte-player to manage extra content that can set cookies on your device and collect data about your activity. Please review their details and accept them to load the content.Manage Preferences
Mr Barnier said Brexit will come at a cost and that he was fully aware that some member states will be more affected than others.
"As the EU's chief negotiator, my objective is to reach a fair deal", he said.
Michel Barnier: 'Our objective is clear: we want these negotiations to succeed. I want us to reach a deal.' pic.twitter.com/HrdkapDyhJ

— RTÉ News (@rtenews) May 11, 2017
He added that Ireland is in a unique position due to the historical and geographical ties with the UK, because of the shared border and strong economic links.
And while he said many in Ireland may fear the return of tensions in Northern Ireland, he reassured the Irish people: in this (Brexit) negotiation Ireland's interest will be the union's interest.
Michel Barnier: 'I want to reassure the Irish people: in this [Brexit] negotiation Ireland's interest will be the Union's interest.' pic.twitter.com/1LO3t6jT1P

— RTÉ News (@rtenews) May 11, 2017
He expressed the importance of the Good Friday Agreement and pointed out that he was the European Commissioner in charge of the PEACE programme.
"I will work with you to avoid a hard border", he said and added that "nothing should put peace at risk".
Michel Barnier: 'Brexit changes the external borders of the EU, but I will work with you to avoid a hard border.' pic.twitter.com/HqxsXH760v

— RTÉ News (@rtenews) May 11, 2017
Mr Barnier also described Ireland's preparatory work ahead of Brexit as "remarkable". However, he said the specific issues that Ireland faces deserved all of Europe's attention.
He said combined strength needed to be used to deliver solutions that benefit all member states and that if negotiations are conducted with mutual respect there is no reason Europe cannot maintain a strong relationship with the UK.
He said he would listen carefully to the views of the Taoiseach and all the party leaders and expressed his honour in addressing both houses.
Ceann Comhairle: 'Agreement can be reached'
Underlying the significance of the upcoming Brexit negotiations, Ceann Comhairle Seán Ó Fearghaíl on behalf of the Oireachtas issued an invitation to Michel Barnier to address both houses, an honour normally reserved for visiting prime ministers and presidents.
Introducing Mr Barnier, the Ceann Comhairle said he firmly believed that sitting democratic national parliaments can contribute effectively to public debate on matters of concern to the union.
He expressed hope that agreement can be reached protecting interests of the union and the member states while maintaining strong relationship with the UK.
Mr Barnier will also meet Taoiseach Enda Kenny and Minister for Foreign Affairs Charlie Flanagan in Government Buildings. The upcoming Brexit negotiations will be at the top of the agenda.