Efforts to contain a forest fire in Cloosh Valley in Co Galway are being hampered by increased wind speeds in the area.
The blaze is out of control again across the 4,000 hectare site.
Adjacent bogland is also burning, as fire crews, Air Corps personnel and Coillte staff battle the blaze.
This morning the fire was brought under control on two of the three fronts where it was burning.
This evening, the situation has deteriorated and it is again out of control across the country's biggest forest.
Coillte and Air Corps helicopters are continuing to douse the flames from the air while fire service personnel from Clifden and Galway work with forestry staff and local volunteers on the ground.
The flames are being fanned by the windy conditions and an effort to bring them under control is likely to continue through the night.
This afternoon construction workers at Cloosh Valley Wind farm were taken off site as a safety precaution.
Coillte says millions of euro worth of trees have been destroyed and it could take up to 25 years to replenish the stock.
Over 1000 litres of water are dropped each time with our @Bambi_Bucket. pic.twitter.com/zzvfoIsSVb

— Irish Air Corps (@IrishAirCorps) May 9, 2017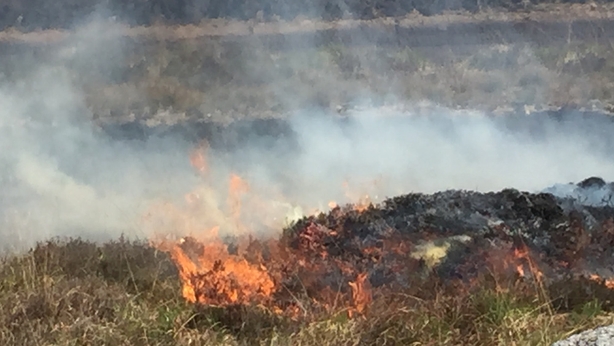 2 of our helicopters are assisting local services in battling fires in Galway at the moment. @defenceforces #DefendProtectSupport pic.twitter.com/Ej8NZDeaLL

— Irish Air Corps (@IrishAirCorps) May 9, 2017
Speaking on RTÉ's Morning Ireland, Managing Director of Coillte Forest Gerard Murphy said that the scale of the fire was "frightening" and the worst he had seen in over 20 years.
Gerard Murphy, MD of Coillte Forest: The scale of the gorse fire in the Cloosh Valley, Co Galway is 'frightening' https://t.co/ep6yXTE2yL pic.twitter.com/GvXaZiNfST

— RTÉ News (@rtenews) May 9, 2017
He said that awareness needed to be raised about the dangers of fire and its effects, both socially and environmentally.
The forestry agency has said these fires have been started either maliciously or in an ill-judged attempt to clear vegetation.
They have destroyed natural habitats and could threaten residential properties, he said.