Emmanuel Macron was elected president of France this evening with a business-friendly vision of European integration, defeating Marine Le Pen, a far-right nationalist who threatened to take France out of the European Union, official figures showed.
With more than 44 million of France's 47 million registered voters accounted for, official Interior Ministry figures confirmed Mr Macron had been elected president with 65.31% of valid votes cast so far.
About 12.5% of votes cast were either blank or spoiled, the official figures showed, while 24.7% of the voters accounted for abstained.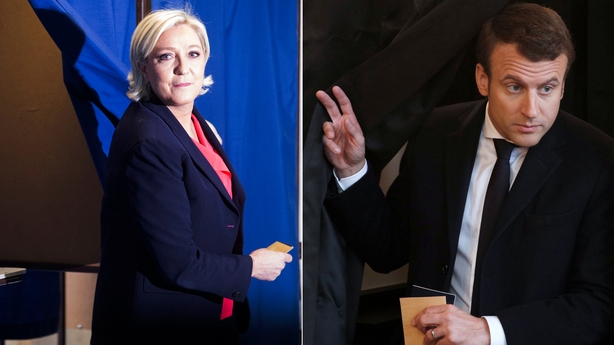 The centrist's emphatic victory, which also smashed the dominance of France's mainstream parties, will bring huge relief to European allies who had feared another populist upheaval to follow Britain's vote to quit the EU and Donald Trump's election as US president.
The 39-year-old former investment banker, who served for two years as economy minister but has never previously held elected office, will now become France's youngest leader since Napoleon with a promise to transcend outdated left-right divisions.
Even so, it was a record performance for the National Front, a party whose anti-immigrant policies until recently made it a pariah in French politics, and underlined the scale of the divisions that Mr Macron must try to heal.
Macron: Europe and the World expect that we defend liberty, that we bring about a new humanism. The task before us is immense.

— Tony Connelly (@tconnellyRTE) May 7, 2017
Ms Le Pen's high-spending, anti-globalisation 'France first' policies may have unnerved financial markets but they appealed to many poorer members of society against a background of high unemployment, social tensions and security concerns.
The 48-year-old's share of the vote was set to be almost twice that won by her father Jean-Marie, the last National Front candidate to qualify for a presidential runoff, who was trounced by Jacques Chirac in 2002.
"I know the divisions in our nation, which have led some to vote for the extremes. I respect them," Mr Macron said in an earnest address at his campaign headquarters, shown live on television.
"I know the anger, the anxiety, the doubts that very many of you have also expressed. It's my responsibility to hear them," he said. "I will work to recreate the link between Europe and its peoples, between Europe and citizens."
We need your consent to load this rte-player contentWe use rte-player to manage extra content that can set cookies on your device and collect data about your activity. Please review their details and accept them to load the content.Manage Preferences
Mr Macron's immediate challenge will be to secure a majority in next month's parliamentary election for En Marche! (Onwards!), his political movement that is barely a year old, in order to implement his programme.
However, at least one opinion poll published in the run-up to the second round of the presidential election has indicated that this could be within reach.
World leaders congratulate Macron on win
Mr Macron had a "brief and cordial" phone call with Ms Le Pen shortly after estimates showed he had won, Mr Macron's team said.
Outgoing French President Francois Hollande congratulated his successor in this evening's election, the French president's office said.
"I called Emmanuel Macron this evening to warmly congratulate him on his election to the presidency," Mr Hollande was quoted as saying in a statement.
Congratulations to Emmanuel Macron on his big win today as the next President of France. I look very much forward to working with him!

— Donald J. Trump (@realDonaldTrump) May 7, 2017
Jean-Claude Juncker, the president of the European Commission, told Mr Macron: "I am delighted that the ideas you defended of a strong and progressive Europe, which protects all its citizens, will be those that you will carry into your presidency".
Congrats @EmmanuelMacron -an outstanding result & strong signal of confidence in the future of EU in which France will play significant part

— Enda Kenny (@EndaKennyTD) May 7, 2017
European Council president Donald Tusk said on Twitter: "Congratulations to French people for choosing liberty, equality and fraternity over tyranny of fake news."
The President of Ireland Michael D. Higgins has written to Mr Macron to convey his best wishes.
In his message, President Higgins said Mr Macron's many references to the need for renewal of European purpose, based on European values and a commitment that his presidency will engage not only with French but European and global matters, will be welcomed by all those seeking a positive discourse on contemporary issues, which are perceived as threats by many. 
Macron told German Chancellor Angela Merkel in a telephone call this evening after the result that he would travel to Berlin soon for talks.
I warmly congratulate @EmmanuelMacron on his success and look forward to working with him on a wide range of shared priorities.

— Theresa May (@theresa_may) May 7, 2017
However, the reception was not all positive. Former Ukip leader Nigel Farage, who backed Ms Le Pen's bid for the Elysee Palace, said: "Macron offers five more years of failure, more power to the EU and a continuation of open borders. If Marine sticks in there, she can win in 2022."
We need your consent to load this rte-player contentWe use rte-player to manage extra content that can set cookies on your device and collect data about your activity. Please review their details and accept them to load the content.Manage Preferences