The head of An Garda Síochána's internal audit system has told an Oireachtas committee he believes he was "duped" when he was told that action would be taken in relation to financial irregularities at the Garda College in Templemore.
Speaking before the Public Accounts Committee, Niall Kelly said there was a different culture in the force and he said he got caught in "circling the wagons" as late as 2015.
Mr Kelly said in his view certain laws were broken; procurement legislation was breached but these issues need to be further investigated.
The committee was told that repayments of over €140,000 to the Office of Public Works for the rental of its land began in 2014.
It also heard that a previous deputy commissioner in charge of the College had said that it was the force's money, not the government's.
Garda's head of internal audit Niall Kelly -there was 'a culture of circling the wagons & I got caught trying to bang into wagons' @rtenews pic.twitter.com/NzFwWFBDyP

— Conor McMorrow (@ConorMcMorrow) May 4, 2017
Garda Commissioner Nóirín O'Sullivan said she did not know about the financial irregularities until 2015 and said they should not have happened.
Ms O'Sullivan also said she could not account for the mindset of previous commissioners and has identified cultural reform as a key tenet of the forces' reform programme.
She said she wants to empower people to raise issues such as these so that they can be addressed.
Earlier, Ms O'Sullivan described An Garda Síochána's accounting practices at the Garda College, which led to financial irregularities as unacceptable and not fit for purpose.
An internal garda audit showed poor financial management, a large number of bank accounts, and thousands of euro spent on entertainment, presentations, sponsorship and donations to charity.
The report identified over €124,000 which was collected from land owned by the Office of Public Works that was bought but never used for a tactical training centre.
The commissioner told the PAC that the practices, which had evolved over four decades, were not in line with corporate or current Government practices.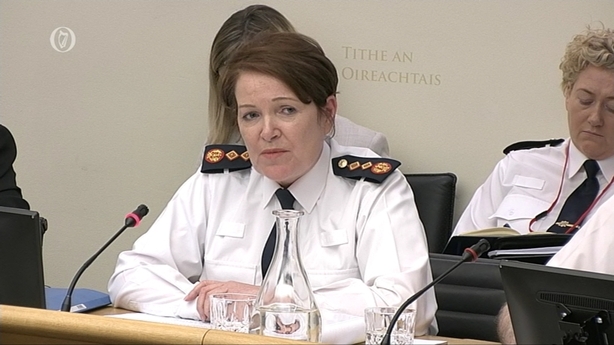 TD calls transfer of garda funds 'embezzlement'
Earlier, a Fine Gael TD suggested that the transfer of €100,000 from An Garda Síochána to the Garda Boat Club, which is a private organisation, amounted to "embezzlement".
Alan Farrell told the committee that "the issue that is very galling to me is the one specific incident."
He said "for a period of time Templemore were charging for the laundry service which led to large sums of money being accrued, which led to money being transferred all over the place up to and including investment accounts and all the rest of it."
Mr Farrell said one of the troubling aspects of this is that "the monies that were transferred to the sports field, then ended up being transferred to the tune of €100,000 to the Garda Boat Club."
He noted that the Garda Boat Club is a private organisation and run by current and former staff and their families.
"€100,000 of money was sent to a private institution, the runners of which are not auditable or answerable to the gardaí. The biggest issue I have with that is that they are public funds and they are in a private organisation. There's a term for that - embezzlement.
"I have no doubt that the individuals using those sums were using the money for gardaí, former gardaí and all the rest of it but the bottom line is it's public money."
He asked "who controls the boat club, and has the €100,000 been returned?"
The force's Chief Administrative Officer, Joseph Nugent, said the deputy used the word "irregular" and that is where we need to stay at the moment.
He said Assistant Commissioner John O'Driscoll is undertaking fact finding to see if further investigation is required.
Ms O'Sullivan said: "If at any stage we had identified the suspicion of any illegality, from the content of what we have at the moment, that would be dealt with in a different way."
Too early to tell whether crime was committed
The head of Human Resources in An Garda Síochána said it is too early to say whether or not a crime has been committed as regards financial irregularities at the Garda College in Templemore.
John Barrett told the committee that more work needed to be done to establish this.
Sinn Féin TD David Cullinane told Ms O'Sullivan there had potentially been a litany of breaches in law and attempts over a number of years to frustrate accountability.
Social Democrats TD Catherine Murphy said the finances were "pretty shocking" and asked how €100,000 could be transferred from a garda account in Templemore to a private entity, the Garda Boat Club.
Deputy Commissioner Donal Ó Cualáin said the club and others were for the use of members of the gardaí.
Ms O'Sullivan said the audit report highlighted a funding model developed that would not be acceptable by today's standards.
The committee had to suspend briefly to allow Ms O'Sullivan to clear up a discrepancy between herself and Mr Barrett about the extent to which she was made aware of the financial irregularities at Templemore.
Ms O'Sullivan said the irregularities were raised briefly after a long meeting at the college in July 2015, however Mr Barrett said the issue was raised during a two-hour meeting.
Under questioning from Sinn Féin deputy leader Mary Lou McDonald, Ms O'Sullivan also rejected the assertion that she did not act on internal legal advice to inform the minister about the matter.
Labour TD Alan Kelly said it was incredible that the force's internal auditor, Niall Kelly, was not furnished with copies of reports on the irregularities despite repeated requests.
Ms O'Sullivan said she did not inform the then minister for justice about the financial irregularities at Templemore in 2015 in spite of being legally advised to do so.
She told the PAC that she did not disregard legal advice under Section 41 of the Garda Síochána Act which requires the Commissioner to advise the minister of certain matters.
She said she set up a group to discover the full extent of the issues and that group included representatives of the Department of Justice.
She said she needed a "holistic view" to be able to fully inform the minister, who was notified more than a year later in September 2016.