Vaccines could prevent hundreds of cases of cancer caused by HPV-related infections in Ireland each year, according to the National Cancer Registry's latest report.
130 people, the majority of them women, die from HPV (Human Papilloma Virus) associated cancers annually.
Up to a hundred are attributable to HPV types covered by the vaccine given in Ireland.
Recent figures show HPV vaccination rates among young teenage girls have dropped from 87% to 50%, due to controversy over the vaccine's safety.
The National Cancer Registry is a publicly appointed body that collects and classifies information on all cancer cases that occur in Ireland.
In its latest report, the registry estimates that HPV infection causes up to 420 cancer cases every year and suggests that effective use of the current HPV vaccine could, over time, prevent up to two thirds of all related cancers in Irish women and up to half of those in men, if the vaccine scheme was extended to include boys.
Overall, rates of HPV associated cancers increased by around 2% per year over the course of the last two decades.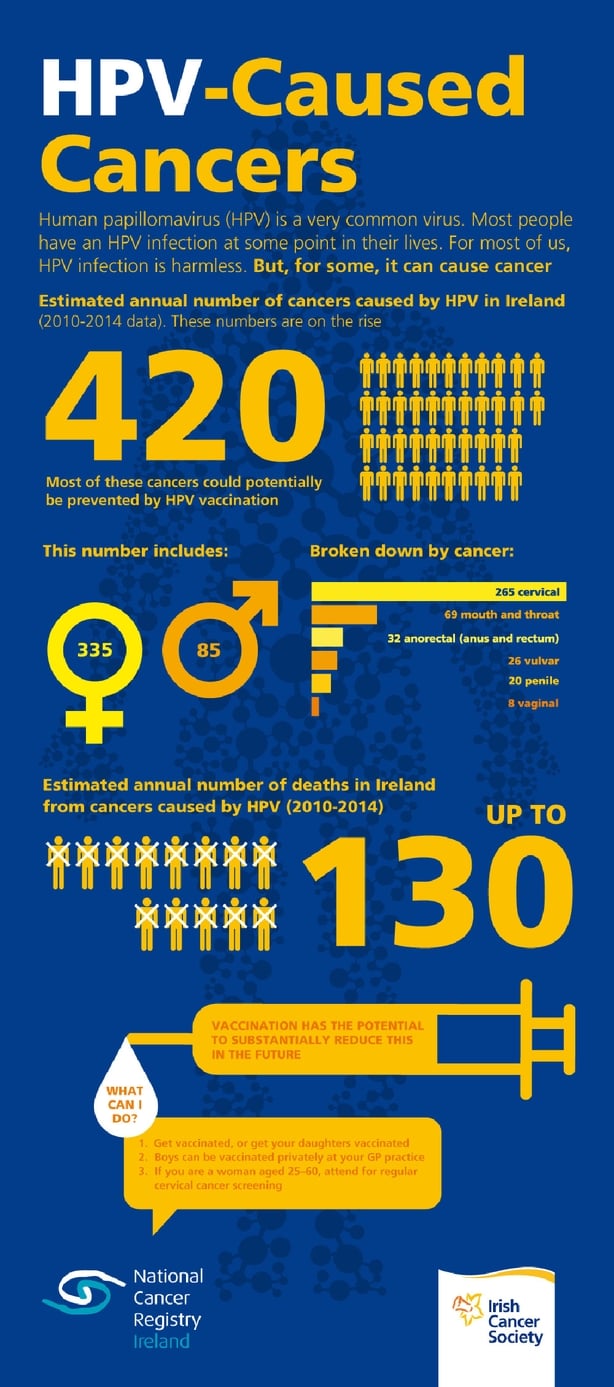 The registry says cancers associated with HPV infection are potentially highly preventable and a recent downturn in the uptake rate of the HPV vaccine among young Irish girls is "very concerning" and needs to be addressed urgently.
An extension of the vaccination programme to boys is currently being considered by the Department of Health.