Specially trained sniffer dogs will be used to search a number of islands in Blacksod Bay next week, as efforts continue to locate two missing Coast Guard crew members.
Paul Ormsby and Ciarán Smith have been missing since the Irish Coast Guard helicopter Rescue 116 crashed into Blackrock Island, off the Mayo coast, last month.
A massive search effort over the last six-and-a-half weeks has failed to find any sign of the men. 
Dogs trained to detect the presence of human remains will be used to search the Dubhoileán Beag and Inis Gé islands, which lie to the east and north east of the area where the helicopter went down. 
Gardaí want to ensure that every effort is made to rule out areas of interest in Blacksod Bay.
Further searches of Blackrock Island are not planned at this point in the operation.
An exclusion zone around the crash site remains in place, meaning divers or fishermen are not permitted close to the island at present.
More shoreline searches along the Mayo and Donegal coast will take place over the weekend.
Superintendent Tony Healy, who is overseeing the search, says a detailed review of evidence gathered over the last number of weeks is continuing. 
The garda investigation is focussed on the deaths of the four crew members and the chain of events that led to the crash in the early hours of 14 March.
There are a number of aspects to the ongoing inquiry.
Documentation is being compiled in relation to the deaths of Captain Dara Fitzpatrick and her colleague Captain Mark Duffy. Their remains were found in the aftermath of the fatal crash.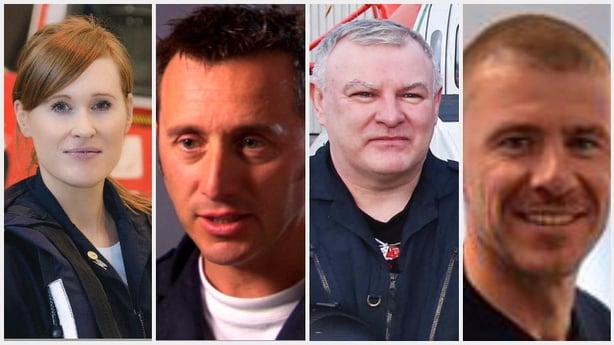 Officially, the two other crew members are listed as missing persons until such time as their remains are located. 
It is understood that gardaí are also looking at safety and navigational aids worn by the four Coast Guard crew members and examining possible issues with other alert systems.
 
A separate inquiry, by the Air Accident Investigation Unit, is also proceeding.
After it published a preliminary report into the crash this month, the AAIU is continuing to gather data and assess information related to the final journey of Rescue 116. 
Discussions are continuing with the manufacturer of a Ground Positioning Warning System that was on board the helicopter, regarding the absence of Blackrock Island on a terrain database.
The firm - Honeywell - has said information about the lighthouse and the island itself was not supplied by the company from which it sources data relating to the Irish coastline.
As well as carrying out a detailed examination of all debris recovered since the crash, investigators are in contact with a number of other manufacturers and service providers.
It is thought that this process will continue for several months
 
The AAIU may publish another preliminary or interim report before the investigation is finally completed.