The Minister for Justice and the Garda Commissioner have said rank-and-file gardaí must, like other ranks, accept responsibility for more than 14,000 wrongful convictions and almost a million false breath tests.
The Garda Representative Association has already rejected collective responsibility and says the blame for the irregularities lies with management.
However, Tánaiste Frances Fitzgerald told the association's annual conference that the failures were failures of the entire organisation and all gardaí must resolve to ensure it never happens again.
Garda Commissioner Nóirín O'Sullivan said the interim report to establish what happened and why will be presented to the Policing Authority on Thursday and either the gardaí involved made up the figures or cannot count.
The commissioner also said that she empathised with gardaí who have been assaulted and said she herself had been attacked and spat at a number of times as a frontline garda.
She said she knows what it is like to wait at home for a family member to see if they recover from a serious injury.
Minister Fitzgerald said she would examine the legislation in this issue and see if it needed to be strengthened but she felt it may be underused.
Calls for counter-terror training for rank-and-file gardaí
Delegates at the conference of rank-and-file gardaí said there is no reason why a terror attack similar to recent attacks in Sweden and the UK cannot happen in Ireland.
The GRA is seeking specialist training to deal with potential terror threats from abroad.
Gardaí from border counties said they have long been involved in counter-terrorism, but are now looking for special training to deal with foreign threats.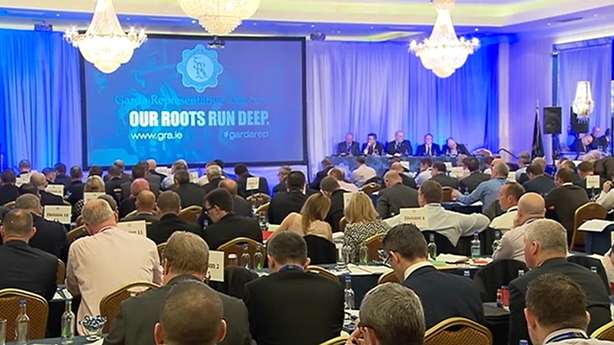 Delegates from Donegal, Cavan and Monaghan are seeking practical and tactical training.
They say while the specialist units such as the Emergency Response Unit and the Armed Support Unit are trained in counter-terrorism, frontline gardaí are not.
The GRA also said there is still a shortage in the supervisory ranks in Bailieboro in Co Cavan in spite of the recommendations of the O'Higgins Commission report.
The commission identified failings in garda investigations and highlighted the absence of supervisors in the district.
Gardaí have also criticised the practice of filling positions in the police service without interviews and have again called for measures to tackle assaults on gardaí.
The GRA says over 5,400 gardaí have been injured on duty since 2006. Five have been killed.
It says the seriousness of these offences is not being recognised by the courts and it wants new legislation to address it.
Delegates earlier voted overwhelmingly to seek mandatory prison sentences for assaults on all emergency personnel.
Gardaí in Blanchardstown in Dublin want an end to what they say is the practice of members being transferred to other positions without consultation.
Gardaí in Louth say while they will await the outcome of the Garda Síochána Ombudsman Commission's investigation into An Garda Síochána's dealings with Crevan Macken, who shot and seriously injured Siobhan Philips before killing Garda Tony Golden, their thoughts are with the victims and their families.