Investigators are trying to find out whether the man who shot dead a policeman in Paris had accomplices, a prosecutor said, adding that he had shown no previous signs of radicalisation despite a long prison record.
The gunman, identified as Karim Cheurfi, opened fire on a police vehicle parked on the Champs Elysees in Paris late yesterday, killing one officer and injuring two others before being shot dead.
The attack, which was claimed by the so-called Islamic State, overshadowed the last day of campaigning for Sunday's presidential election first round.
Cheurfi, 39, a French national who lived with his mother in the eastern Paris suburb of Chelles, had spent some 14 years in prison from 2001 for crimes including gun attacks on law enforcement officers.
"The investigations will now focus on determining ... the potential help that he may have benefited from," Paris Prosecutor Francois Molins told a news conference today.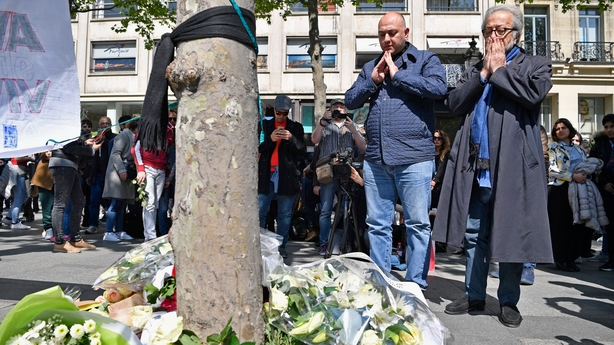 "He was not on the security watch list and had shown no signs of radicalisation despite his many years in prison."
But Mr Molins confirmed police had found a note with handwritten messages defending IS near his body, addresses of police establishments in his car and a Koran.
Police believe he had "opened fire on the officers in the knowledge he would be killed by them", a source close to the investigation said.
As well as the assault rifle used in the attack, a pump action shotgun and knives were in his car, Mr Molins said. Three of his family have been placed in detention, the French interior ministry said.
Cheurfi served 10 years in prison after firing on two plainclothes officers in 2001 as they tried to apprehend him in a stolen car. While in detention, he shot and wounded a prison officer after seizing his gun.
Released on probation in 2015 from a further two-year jail term imposed for lesser offences, Cheurfi was arrested again in February after threatening to kill police officers – but he was released for lack of evidence.
Before that arrest he had travelled to Algeria for about a month despite probation conditions forbidding him to leave the country, Mr Molins said, adding that the judge had opted not to send Cheurfi back to prison.
We need your consent to load this rte-player contentWe use rte-player to manage extra content that can set cookies on your device and collect data about your activity. Please review their details and accept them to load the content.Manage Preferences
Mr Molins made no comment on other potential suspects. A French interior ministry spokesman initially confirmed yesterday that a second man was being sought, based on information from Belgian security services.
"It's too early to say how or whether he was connected to what happened on the Champs Elysees," ministry spokesman Pierre-Henry Brandet said.
"There are a certain number of leads to check. We are not ruling anything out."
IS, which has hundreds of French-speaking fighters, claimed responsibility for the Champs Elysees shooting soon afterwards, in a statement identifying the attacker as "Abu Yousif al-Belgiki (the Belgian)".
"We don't understand why Islamic State has identified the wrong person," said a police source. "What does seem clear is that Islamic State was planning something."
Coming just days after police said they had foiled another planned Islamist attack, arresting two men in the southern city of Marseille, the Champs Elysees shooting dominated the final day of election campaigning.