Eighteen months after Crevan Mackin murdered Garda Tony Golden, the Garda Ombudsman has confirmed to RTÉ Investigates that it has launched an investigation into the murder of Garda Golden and the maiming of Siobhan Phillips.
Mackin killed Tony Golden on 11 October 2015 and shot and maimed his partner Siobhán Phillips, before killing himself.
Garda Golden had accompanied Ms Phillips to the home she shared with Mackin after he took a statement from her about a sustained beating she had endured at the hands of Mackin.
25-year-old Mackin had convictions in Northern Ireland for criminal damage, possessing extreme pornography and gun and ammunition possession.
In January 2015, less than halfway through a three year suspended sentence for the latter crime, he was arrested after gardaí found explosives material at his home in Omeath, Co Louth.
According to transcripts of his subsequent interrogation at Dundalk Garda Station, seen by RTÉ Investigates, Mackin admitted illegally buying and importing parts for six guns and materials that could be used in bomb-making, including pipe bombs.
He also admitted during questioning to storing two pistols at a derelict cottage in Louth.
Mackin's sister, who requested we do not use her name, told RTÉ Investigates that her brother confessed to her, after he was released on bail in 2015, that he had been making money from illegal arms sales to paramilitaries.
He had "been buying parts for guns that have been decommissioned," she said.
He then added or replaced parts from other guns to re-commission the weapons, she said, and sold them "on to republicans."
Although Mackin admitted to gun possession and importing materials that could be used in bomb making, the interrogation transcripts show he consistently denied IRA membership. However, the office of the Director of Public Prosecutions instructed gardaí to charge him not with firearms or explosives crimes but with IRA membership, the very offence he had not admitted.
Mackin's solicitor at the time, Paul Tiernan, told RTÉ Investigates that he found it "very strange that someone who had admitted possession of firearms and who had admitted the importation of component parts for firearms should have been treated in this way" and "that he wasn't charged with possession of those firearms."
Mr Tiernan added that "It would be highly unusual. In the vast majority of cases the strongest evidence against people is their own admissions."
Transcripts of the interrogations show that while Mackin admitted importing parts for six guns, only two were found at the time. The other weapons remained unaccounted for.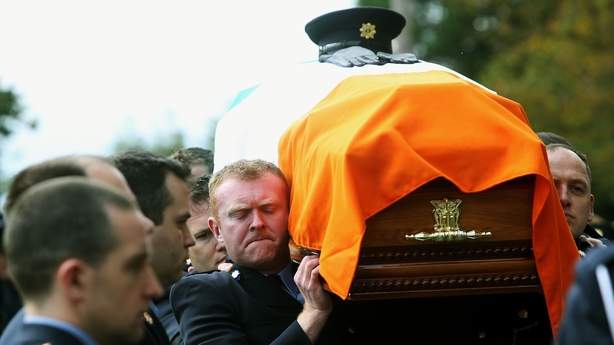 Sean Phillips, the father of Siobhan, told RTÉ Investigates that he was angered that Mackin was allowed out on bail given his history and his admissions.
"This guy should never have been out. What the hell was that boy doing out and who thought it was a bloody good idea to let him out. That's nuts," Mr Phillips said.
In a letter to Ms Phillips, GSOC said that its investigation would examine allegations that some gardaí were aware that Mackin had access to explosives and firearms and "may not have pursued" recovery of these items.
The Ombudsman also said it would investigate a complaint that Siobhán Phillips's father and stepmother "may not have been treated properly" at Dundalk Garda Station when they went with Siobhán to complain about the beating of their daughter by Mackin.
The Phillips family say that they were not allowed to make a statement at the station and were directed to give a statement at Omeath Garda Station the following day.
Separately, Mackin's sister formally complained to GSOC last August about issues relating to garda dealings with her brother.
Although that complaint was made almost seven months ago the investigation was notified in a letter to Ms Phillips written on Wednesday of last week - the same day that RTÉ Investigates sent a list of 15 questions about the incident to Garda Commissioner Nóirín O'Sullivan.
The GSOC letter stressed that the allegations being investigated "are not proven but due to their seriousness it was decided by the Ombudsman Commission that they must be investigated in the public interest."