At least 43 people were killed in a suicide car bomb attack on buses carrying Syrians evacuated from two besieged government-held towns, a monitor said in an updated toll.
The Syrian Observatory for Human Rights said most of the dead were evacuees, but they also included several rebels who had been guarding the buses at a transit point in Rashidin, west of Aleppo.
The Observatory said the attack targeted residents evacuated from the northern towns of Fuaa and Kafraya under a deal reached between the regime and rebels.
A reporter in rebel-held Rashidin saw several bodies, body parts and blood scattered on the ground.
"The suicide bomber was driving a van supposedly carrying aid supplies and detonated near the buses," the Observatory said.
It warned that the death toll was likely to rise given the "several dozen wounded" at the blast site.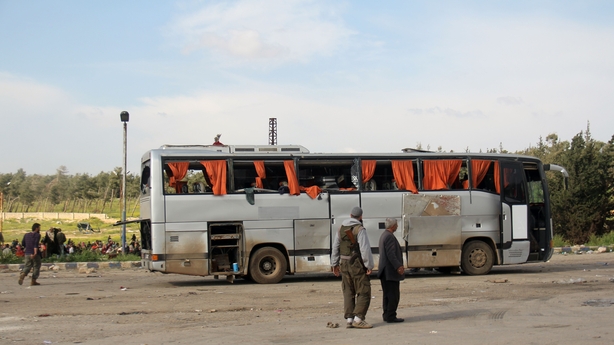 State television said the car bombing had been carried out by "terrorist groups", a term the regime applies to all armed opposition groups.
It was not immediately clear if rebels at the transit point were among the dead.
The attack took place as thousands of evacuees from Fuaa and Kafraya waited to continue their journey to regime-controlled Aleppo, the coastal province of Latakia, or Damascus.
More than 5,000 people who had lived under crippling siege for more than two years left the two towns, along with 2,200 evacuated from rebel-held Madaya and Zabadani, yesterday.
Thousands of evacuees from Fuaa and Kafraya were stuck on the road in Rashidin when the bomb went off.
The evacuation, brokered by regime ally Iran and rebel backer Qatar, is set to see more than 30,000 people evacuated in two stages.
The deal had stipulated that in the first stage 8,000 people, including 2,000 loyalist fighters, leave the two towns but in the event just 5,000, including 1,300 fighters left, the Britain-based Observatory said.
Evacuees were left stranded as differences emerged over the number of loyalist fighters leaving, a rebel source said, refusing to elaborate as "negotiations are under way".
We need your consent to load this rte-player contentWe use rte-player to manage extra content that can set cookies on your device and collect data about your activity. Please review their details and accept them to load the content.Manage Preferences
Thousands of evacuees from Madaya and Zabadani were also stuck in government-controlled Ramusa, south of Aleppo.
The deal to evacuate the towns was the latest in a string of such agreements, touted by the government as the best way to end the fighting. Rebels say they have been forced out by siege and bombardment.
The regime has retaken several key rebel strongholds including eastern Aleppo since a Russian military intervention in September 2015.
Minister for Foreign Affairs Charlie Flanagan said: "The bomb attack on evacuees in Rashidin in Syria is a heinous crime.
"It seems like an attack designed to provoke and to undo even limited local progress.
"It is an attack on people at their most vulnerable. I condemn it and call for those responsible to be brought to justice," said Mr Flanagan.