The Labour Court has said that it will issue a recommendation aimed at resolving the ongoing Bus Éireann strike by lunchtime.
However, leaving the court last night, Acting CEO at Bus Éireann Ray Hernan said it was regrettable that unions had not been prepared to lift their pickets until the recommendation is delivered.
He said this meant it was unlikely that services would be restored before Friday.
In a statement, the company said the main issue "remained to be the composite hourly rate for our driver grade."
They also said they asked unions "that staff might return to work ahead of the recommendation, but this was rejected."
.@ingridmileyRTE has the latest as the Labour Court says it will issue a recommendation on Bus Éireann dispute by lunchtime tomorrow pic.twitter.com/mwjINLnjbT

— RTÉ News (@rtenews) April 12, 2017
Speaking outside the Labour Court, representatives of both SIPTU and the NBRU expressed satisfaction with what they called a fair hearing at the Court.
SIPTU Divisional Organiser Greg Ennis said there were a number of sticking points "across all grades."
He added that the pickets would be lifted once the recommendation is issued, but not until then.
He said at that point members "will take a considered view of that recommendation, we will ballot our members and a decision will be forthcoming thereafter."
NBRU General Secretary Dermot O'Leary said it was "a sad day that we had to come all the way to the Labour Court to try resolve this dispute."
In a subsequent statement, Mr O'Leary accused the company of "outright brass-neckery" by implying workers would not cooperate with a request to return to work prior to the issuing of the recommendation.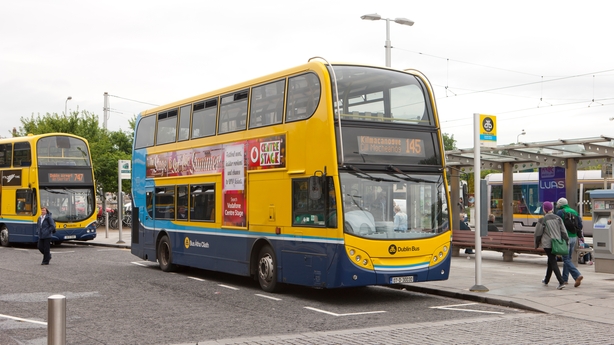 Meanwhile, SIPTU has declined to confirm whether 78% of Dublin Bus drivers belonging to the union had voted to back industrial action in support of their striking colleagues at Bus Éireann.
The union has been balloting its members at both Iarnród Éireann and Dublin Bus for some weeks.
Yesterday afternoon, Solidarity/People Before Profit TD Bríd Smith issued a statement welcoming what she described as the "overwhelming" vote from Dublin Bus drivers to support their Bus Éireann colleagues.
The statement did not refer to the fact that drivers belonging to the National Bus and Rail Union were not being balloted.
However, in a statement issued a short time later SIPTU said its Dublin Bus ballot would not be complete until today, as it is still counting votes across all grades.
The union said that following the completion of the ballot an "official and correct" result will be released by the union.
Even if the overall ballot backs industrial action, SIPTU's Dublin Bus members cannot take action until it has served at least seven days strike notice.
The Iarnród Éireann ballot result is not due until 21 April.
However, both ballots may be overtaken by events if the Bus Éireann dispute is resolved in the meantime.