Talks on the Bus Éireann dispute at the Workplace Relations Commission are said to be slow, with indications they will continue late into the night.
Sources say the prospect of a deal is only 50-50, while one union source said "it is inch by inch".
At this stage it looks unlikely there will a resumption of Bus Éireann services this weekend.
Talks to resolve the dispute are continuing at the WRC, as the 14th day of the strike causes further travel disruption nationwide.
The dispute centres on cost-cutting measures at the company.
Yesterday, the focus was on drivers and their work practices and on rostering.
No agreement has been reached so far but sources say there is a very strong resolve not to leave the talks unless there is something substantial to vote on.
A Union source says they are hopeful but not optimistic about these talks.
Both SIPTU and the NBRU have said their members will continue to place pickets on bus stations across the country during the talks.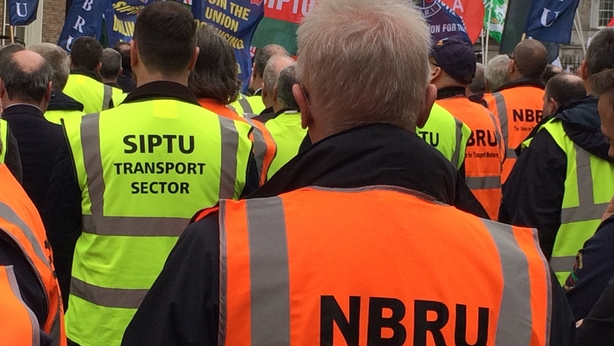 Since 24 March 1,900 Bus Éireann staff have been on strike in a dispute over cuts to pay and conditions, which management insists are essential to avert the prospect of insolvency at the loss-making company.
The strike is costing the company €500,000 per strike day.
In addition to the NBRU and SIPTU, three other unions are involved: Transport Salaried Staffs' Association; Technical Engineering & Electrical Union and the Unite trade union.
---
The view from Cork - Southern Editor Paschal Sheehy
If the Bus Éireann strike has brought a blessing, it is that it's been conducted in relatively benign weather.
Members of the Naomhóga Chorcaí currach club have brought getting to work during the bus strike to a fine art.
For others, it's meant a long walk twice a day.
The absence of buses is hitting trade in most towns and cities across the country.
In Cork, the impact has been compounded because bus services within the city have been hit, along with regional and Expressway services.
Traders say business is down between 30% and 50% since the strike began.