Members of the Women's National Team did not take part in a FAI training camp in Dublin, ahead of mediation talks this evening.
PFA Ireland Player Executive Ollie Cahill said that the players had not taken the decision lightly.
The players, along with their Professional Footballers' Association of Ireland and SIPTU representatives will attend the talks with the Football Association in a bid to resolve a row over payment and compensation.
The talks come as FAI Chief Executive John Delaney was today elected to the UEFA executive committee, the European Governing body of football, at their Annual Congress in Helsinki.
Earlier, former manager Noel King described comments by a solicitor representing the women's football team at a news conference yesterday as "outrageous" and "completely wrong".
Speaking to RTÉ's Morning Ireland, Mr King said that the investment in women's football is on a par with their male counterparts and that the latest crisis was not helping anybody.
He was referring to the comments by PFAI solicitor Stuart Gilhooly that women were being treated like fifth-class citizens and the dirt on the FAI's shoe.
Mr King said: "For that man to say that; it really throws it in my face and all the people who worked with us to try and get the women's game up to the level it's at today."
Former manager Noel King describes comments by a solicitor representing the Ireland women's team as "outrageous" and "completely wrong" pic.twitter.com/Q8jNjCBLy0

— RTÉ News (@rtenews) April 5, 2017
The FAI has said it is deeply disappointed that members of the women's squad have threatened to withdraw from playing for their country if their payment and compensation demands are not met.
The squad will decide whether to train today ahead of the game against Slovakia on Monday or withdraw their services.
Member of the Oireachtas Sport Committee Solidarity TD Mick Barry said the demands outlined at yesterday's news conference struck him as very modest including a €300 match day fee and compensation for loss of earnings for being away from work while representing their country.
Republic of Ireland International Karen Duggan said the "crux of the issue" is that the women's national soccer team wanted to be represented by the PFAI.
She said the players had not been shown any deal from the FAI and it had not been forwarded to the PFAI.
Ms Duggan said it would be a very simple thing to resolve if dialogue was opened between the FAI and the PFAI.
She added: "I find it a bit baffling and don't really understand why it hasn't been resolved before all of this. We're in this position now, we're standing together as a team, but we want to train, we want to play matches. That's all we want to do - concentrate on football and play to the best of our ability."
Mr Barry said he wanted to hear from Mr Delaney that he will end the situation where the members of the women's national soccer team are being treated like fifth-class citizens.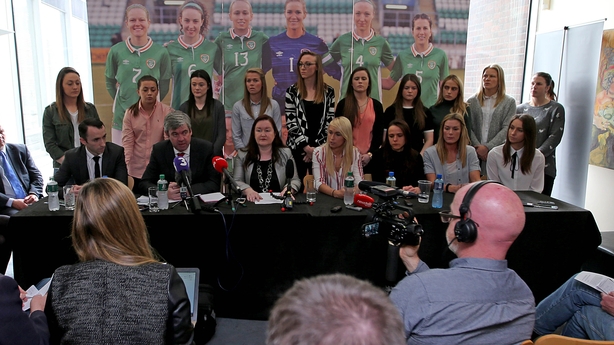 Oir Cttee 4 transport, tourism and sport to invite JDelaney + top FAI officials to attend next Weds' mtg if players row not resolved today.

— Mick Barry TD (@MickBarryTD) April 5, 2017
He said union representation by the PFAI was a basic right and he wanted to hear Mr Delaney and the FAI say "hands up - we were wrong and we're going to sort this - and we're going to sort it quickly".
Regarding a statement from the FAI that they are working to resolve the issues, Mr Barry said the fact that the women felt they needed to go public at Liberty Hall yesterday showed they were clearly frustrated that there has been, in their eyes, no real negotiations taking place and that this issue has rumbled on for years.
He said they felt the FAI is now point-blank refusing to talk to their chosen representatives in the form of the PFAI.
"So it would seem to me that the Football Association of Ireland which, by the way, is in receipt of millions of euro worth of public monies is acting like an anti-union employer, taking a stonewalling approach towards these women and trying to run the women's national soccer team on peanuts and that's not a runner in the 21st century," he added.