The death toll from a suspected chemical weapons attack on a rebel-held Syrian town has risen to 86, 30 of them children, a monitoring group has said.
"There were also 20 women among the dead and the death toll could rise further because there are people missing," the Syrian Observatory for Human Rights said.
The UN Security Council has met to debate a Western-drafted resolution condemning the air strike.
But Moscow, which holds a veto, defended its Damascus ally saying that while Syrian aircraft had carried out a strike, the chemicals were part of a "terrorist" stockpile of "toxic substances" that had been hit on the ground.
Rebel groups led by former Al-Qaeda affiliate Fateh al-Sham Front vowed revenge for yesterday's strike in the town of Khan Sheikhun in Idlib province in the northwest.
Some victims of the attack have symptoms consistent with exposure to a category of chemicals that includes nerve agents, the World Health Organisation said earlier.
The UN health agency said this morning the attack in Idlib province appeared to have involved chemical weapons.
The attack left dozens suffering respiratory problems and symptoms including vomiting, fainting and foaming at the mouth.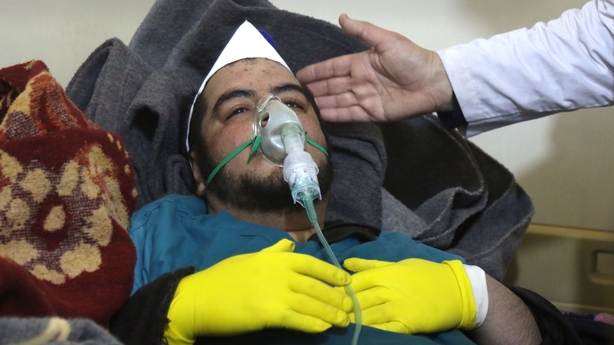 The WHO pointed to the "apparent lack of external injuries reported in cases showing a rapid onset of similar symptoms, including acute respiratory distress as the main cause of death".
"Some cases appear to show additional signs consistent with exposure to organophosphorus chemicals, a category of chemicals that includes nerve agents," it said.
UN chief Antonio Guterres has said the attack shows war crimes continue in Syria.
"The horrific events of yesterday demonstrate unfortunately that war crimes are going on in Syria [and that] international humanitarian law is being violated frequently," Mr Guterres said as he went into a Syria aid conference in Brussels.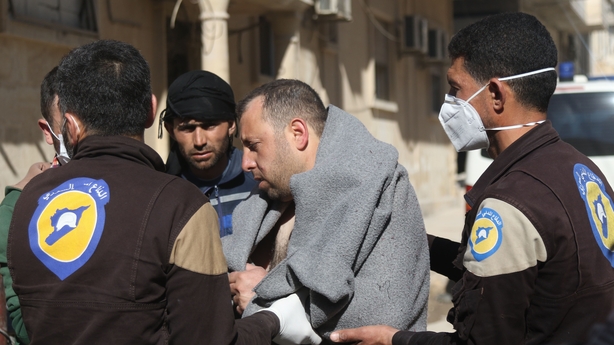 EU President Donald Tusk said Bashar al-Assad's regime is chiefly responsible for yesterday's suspected chemical attack.
"The Syria regime [has] the primary responsibility for the atrocities," Mr Tusk said, adding: "but all those who support the regime share the moral and political responsibility".
A minute of silence was observed at the Brussels conference for the victims of the Syria conflict and those who died yesterday.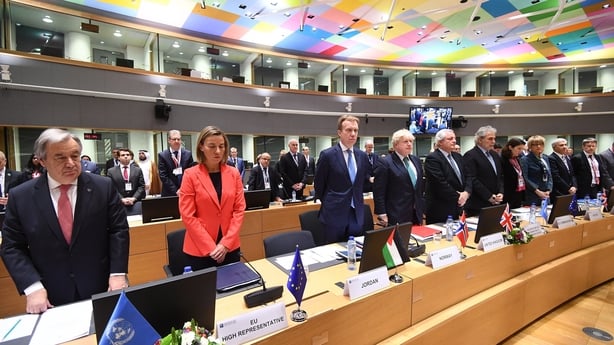 The Brussels conference, co-chaired by the EU and UN, is a follow up to last year's London meeting which raised €10bn for humanitarian aid programmes in the devastated country.
It is also meant to support UN-sponsored peace talks in Geneva where mediator Staffan de Mistura has reported some very modest progress in solving a conflict which has claimed more than 320,000 lives and displaced most of the Syrian population.
Earlier, British Foreign Secretary Boris Johnson said all the evidence pointed to Mr Assad's forces being responsible for the attack.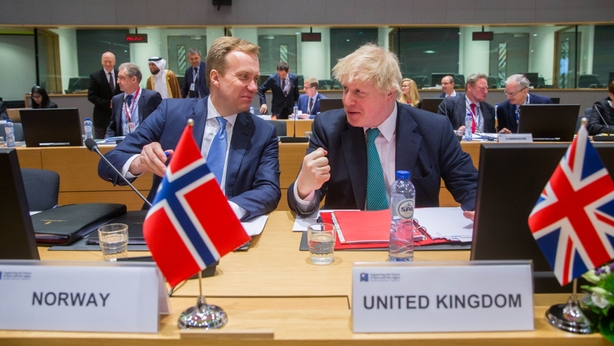 "All the evidence I have seen suggests this was the Assad regime... using illegal weapons on their own people," Mr Johnson said as he arrived for the aid conference.
Mr de Mistura said the "horrific" chemical attack had come from the air.
Syria agreed to destroy its chemical weapons in 2013 under a deal brokered by Moscow and Washington.
The Security Council backed that deal with a resolution that said in the event of non-compliance, "including unauthorised transfer of chemical weapons, or any use of chemical weapons by anyone" in Syria, it would impose measures such as sanctions.
The draft resolution recalls that decision.
An investigation by the United Nations and the OPCW, found Syrian government forces were responsible for three chlorine gas attacks in 2014 and 2015 and that militants of the so-called Islamic State had used mustard gas.
Pope Francis has condemned the attack as an "unacceptable massacre".
At his midweek public audience in St Peter's Square, he said: "We watch horrified as the latest events in Syria unfold.
"I completely deplore the unacceptable massacre that took place in Idlib province yesterday, where dozens of defenceless people, including many children, were killed."