The Bus Éireann dispute escalated today when pickets were placed on Dublin Bus and Irish Rail depots leading to the widespread cancellation of services.
This wildcat action caused disruption across the country as trains, buses and DARTs were all severely disrupted this morning.
The Minister for Transport Shane Ross described the action as illegal and insisted, once again, that he will not intervene.
Taoiseach Enda Kenny said both sides in the ongoing Bus Éireann dispute need to go back to the Workplace Relations Commission to resolve their issues and end the widespread disruption for commuters.
Meanwhile, SIPTU is to ballot members employed as Bus Éireann school bus drivers on industrial action due to the threat to their jobs resulting from the wider crisis in the company.
In a statement this afternoon, SIPTU's Willie Noone said the SIPTU National School Bus Drivers Committee decided to begin the process of balloting its members in sympathy and support of their colleagues in Bus Éireann.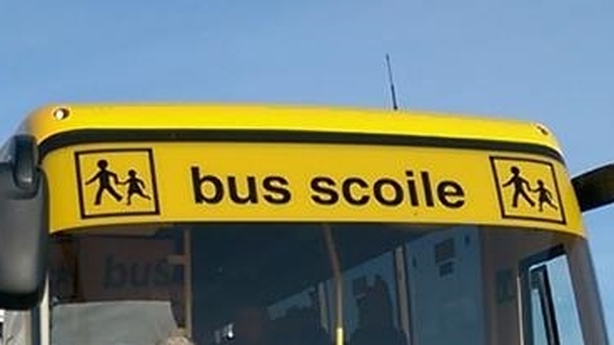 "Although they are employees of Bus Éireann these workers have to date not been party to the ongoing dispute at the company.
"However, it is now known that their livelihoods will also be adversely affected in the circumstances that their employer is not able to continue trading.
"This leaves our members with no other option but to consider industrial action to protect their jobs and the services they provide."
The ballot is scheduled to be completed by 21 April.
SIPTU's Greg Ennis, speaking on RTÉ's Drivetime, said a ballot of the union's members at Dublin Bus and Iarnrod Éireann will also be completed by 21 April.
We need your consent to load this rte-player contentWe use rte-player to manage extra content that can set cookies on your device and collect data about your activity. Please review their details and accept them to load the content.Manage Preferences
Mr Kenny said it was not for Minister for Transport Shane Ross to get involved.
He said that the "root cause" of the problem is the loss-making service Expressway, which cannot be subsidised because it is a commercial service
Kenny: 'Root cause' of Bus Éireann problem is loss-making service Expressway, which cannot be subsidised because it is a commercial service pic.twitter.com/DzgdBk7Xwq

— RTÉ News (@rtenews) March 31, 2017
Earlier, Mr Ross said today's wildcat action by bus workers makes him more determined than ever not to intervene in the dispute.
Workers and management urged to return to WRC
Minister for Social Protection Leo Varadkar echoed the view that Mr Ross is right not to intervene in the dispute, saying it would set a precedent where "every dispute will be escalated to the minister".
Speaking on RTÉ's News at One, Mr Varadkar also said Bus Éireann is an important company but is not essential as most of what it does can be replaced by private companies.
However he added that it would be a bad thing in terms of transport policy if the company folded, saying it should still have an important role.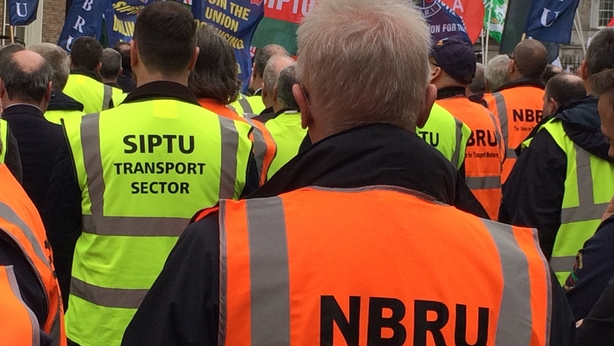 Speaking to RTÉ News earlier, Mr Ross said the action this morning was clearly orchestrated, although he took at face value the unions' assurances that they were not involved in organising the pickets.
Mr Ross said the place for the company and the unions involved to settle the dispute was in the WRC and the Labour Court.
The strike at Bus Éireann is continuing nationwide this afternoon, but Dublin Bus and rail services have resumed with delays after the disruption.
In a statement, Bus Éireann said escalation of this action in an illegal manner will not resolve the matter, adding that they "can only engage on the basis of good faith".
The company also said trust must be restored before talks between the parties can resume.
The General Secretary of the NBRU has said he has no doubt that there were NBRU members involved in today's wild cat action, but it was not sanctioned by the union.
Speaking on RTÉ's Six One News, Dermot O'Leary said while he can control union policy, he cannot control people's anger.
He appealed to NBRU members to ensure a wildcat strike does not happen again and appealed to the Minister Ross to intervene in the dispute.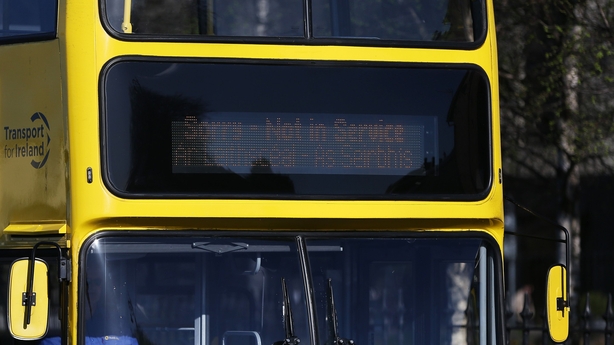 Iarnród Éireann said all its services resumed after a significant number of services were cancelled early today.
DART services resumed after hours of cancellations and delays over the peak morning period.
Barry Kenny of Iarnród Éireann said there was no notice, official or otherwise, of the picketing and it was planned to have maximum effect.
The first the rail company knew of the disruption was when secondary Bus Éireann pickets started appearing this morning, the first one was at Connolly Station at 4am. 
"I do not condone any secondary picketing by anybody in any industry" - Dermot O'Leary NBRU General Secretary pic.twitter.com/WyZG6sVOm6

— RTÉ News (@rtenews) March 31, 2017
Mr O'Leary apologised for people being discommoded and said he was extremely angry when he heard of the action.
Mr O'Leary said, however, that Bus Éireann drivers were frustrated and it is an "absolute disgrace" how they are being treated by the company.
1,900 Bus Éireann staff have been on strike since last Friday in a dispute over cuts to pay and conditions, which management insists are essential to avert the prospect of insolvency at the loss-making company.
Speaking on RTÉ's Morning Ireland, Mr O'Leary said he had warned for some time about the potential of the strike to spread to other parts of the CIÉ group, but hoped that people would get back to work in the next few hours.
Earlier, Mr Ross said he regrets the impact of this "new unofficial and unjustified protest" on passengers.
In a statement, he said he is "actively monitoring developments".
Transport Minister Shane Ross says he will not intervene in an industrial relations dispute but appeals to both sides to begin talks pic.twitter.com/ymVtRkk99k

— RTÉ News (@rtenews) March 31, 2017
He urged both parties to get back to the Labour Court and sort out their differences, but said it would be "illegal" for him to give State aid to Expressway and "utterly inappropriate" for him to use taxpayers' money to sort out the dispute.
Mr Ross said the pickets are "not part of the fair conduct of strikes".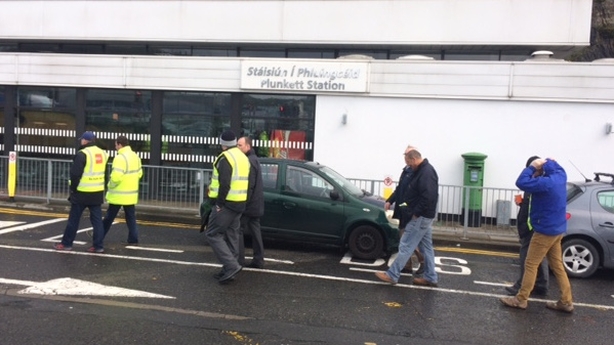 Willie Noone, Transport Sector Organiser with SIPTU, said he has no idea who organised the flash strike by bus workers this morning, and added that no member of his union was involved in organising the wildcat action.
He said he has no doubt that it will happen again because, he said, feelings of frustration among workers are high.
"It's clear from people on the picket lines that this action is more than likely going to happen again," he said.
Mr Ennis said the union regrets the action but understands the frustration of Bus Éireann workers.
All DART services had been cancelled but resumed shortly after 10am but with knock-on delays and cancellations.
Frustrated commuters at Bray Station. No DART services due to flash strike. pic.twitter.com/6UjTDfPuvP

— Petula Martyn (@petulamartyn) March 31, 2017
Passengers are advised to check with Iarnród Éireann before travelling.
Luas said all its services are operating normally but that its car parks are all full.
#Luas Green and Red Lines operating normally

— Luas (@Luas) March 31, 2017