The agencies involved in the search for three missing Coast Guard crew members are meeting to discuss how best to progress the operation, after sea conditions again impeded dives to the wreckage of Rescue Helicopter 116.

All relevant operation commanders are meeting on board the Granuaile in Blacksod Bay this evening to plan the next phase of the recovery effort.

Attempts to remove the body of one crew member from the aircraft, using a remotely operated vehicle (ROV) were not successful this afternoon.
The machine was not able to free the trapped remains and it is thought fresh dives to the site will be needed to progress this part of the operation.
The search operation has focused on locating the bodies of Captain Mark Duffy, winch operator Paul Ormsby and winchman Ciarán Smith.
Captain Dara Fitzpatrick was transferred to Mayo University Hospital after being recovered from the water in a critical condition by an RNLI lifeboat crew after the helicopter crashed on 14 March, but was later pronounced dead.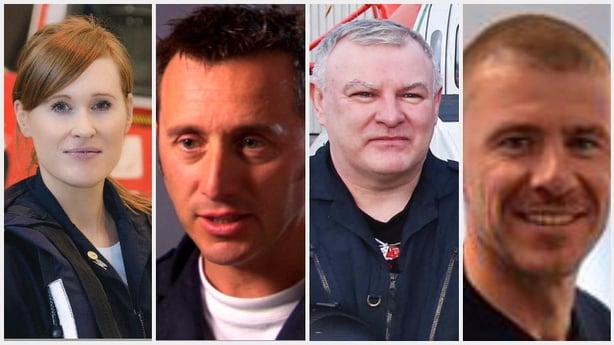 There's still no official confirmation regarding the identity of the crew member found in the cockpit of the aircraft.
Gardaí say his identity will not be confirmed until such time as the body is brought ashore.

There is no sign of his two colleagues on board the wreckage of R116, which is located in 40 metres of water off Blackrock Island.

Naval Service and Garda divers spent the day at sea, reviewing the situation.
However, sea swells around the wreckage meant it was not safe to progress with diving.

Additional underwater cameras have been deployed to survey a wider area around the wreckage, in the hope that the missing crew members may be located close to the helicopter.

Conditions at sea are expected to ease later, opening the possibility of dives tomorrow.

Extensive searches were carried out on shoreline areas north of Blackrock throughout the day.

An air-based sea surface search by Coast Guard helicopter crews has been expanded to take in a wider area.
Areas west of the Inishkea Islands, around Downpatrick Head and up to Donegal Bay have been taking place today.
VIDEO: Gardaí confirm body of one Rescue 116 crew member located in wreckage. Search for his colleagues ongoing. More on @rtenews pic.twitter.com/BFQXS3SSWB

— Pat McGrath (@patmcgrath) March 25, 2017
Meanwhile the flight recorder was taken on board the Commissioners of Irish Lights' vessel, Granuaile.
It will be taken to Dublin before being brought to the UK. The AAIU said the reorder appears to be in very good condition with no external damage visible.
However it will have to be examined in the UK before it is clear if it has sustained any damage or not.
The black box contains both cockpit voice recordings and data on the history of the flight.
There was no indication of any danger moments before the Sikorsky S92 vanished, with the crew's final transmission: "Shortly landing at Blacksod."