Search agencies are hopeful that weather conditions will allow for dives to the wreckage of Coast Guard Rescue Helicopter 116 in the morning. 
Final preparations have been made to send Naval Service divers to the site after the aircraft was located off Blackrock island earlier this week. 
Specialist equipment was loaded onto boats at Blacksod Pier this evenin in anticipation of favourable sea conditions tomorrow. 
Earlier today underwater cameras were used to carry out further examinations at the wreckage of the helicopter that crashed off the Mayo coast last week.
The Marine Institute's Holland 1 Remotely Operated Vehicle (ROV), was deployed off Blackrock Island for the second day in a row.
It is being used to survey the helicopter ahead of planned dives.
The data gathering exercise around the wreckage of Rescue 116 is proceeding, as the wait for families of the three missing crew members continues.
Relatively calm conditions at Blackrock allowed search teams to send down the high tech ROV to the area 40 metres below sea level.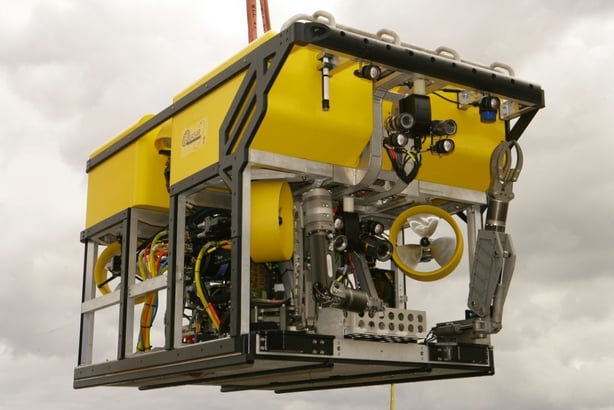 It is being operated from the Commissioners of Irish Lights' Granuaile vessel, with images from below water sent back to the ship in real time.
Winds are forecast to decrease to Force 3 or less, leading to hopes that fair conditions will be favourable for Naval Service and Garda divers to operate at some stage tomorrow.
However, search coordinators have emphasised that all decisions will be based on hour by hour appraisals, with the safety of all involved paramount.
It is hoped that the three missing Coast Guard crew members, Captain Mark Duffy, Winch Operator Paul Ormsby and Winchman Ciarán Smith, are still with the wreckage.
The LÉ Samuel Beckett last night relieved the LÉ Eithne as the main on-sea co-ordination vessel in Blacksod Bay.