IDA Ireland has been accused of wrongly blocking more than 50 potential job creators from accessing a cash reward for introducing overseas companies to the idea of investing in Ireland.
The Connect Ireland initiative offered an incentive to members of the public, the diaspora or anyone else with connections to Ireland for introducing potential foreign investors Ireland.
However, RTÉ's Morning Ireland has learned that in some cases connectors complained that when the IDA was considering an application under the scheme, the agency incorrectly stated it was already actively engaged with the proposed companies about potentially locating in Ireland.
Connect Ireland was launched in 2012 in the middle of the recession.
The idea was born at the Global Irish Economic Forum the previous year, where influential Irish and Irish-connected business and cultural leaders gathered at Dublin Castle.
The initiative, founded by entrepreneur Terry Clune, incentivised the diaspora to introduce companies to the idea of creating employment in Ireland.
If the company came, the connector received €1,500 per job.
When the initiative was launched there was a high profile advertising campaign featuring stars like Saoirse Ronan, Martin Sheen and Michael Flatley.
Connect Ireland was contracted by IDA Ireland, and to make sure that the two organisations were not working on the same job leads, the contract included a clause that IDA Ireland could red-light or block involvement with the Connect Ireland initiative if it was already actively engaged with a company considering locating in Ireland in the previous six months about an identified potential project.
Since 2012, Connect Ireland says there have been 3,000 potential job leads made through the initiative.
It is understood that 702 of them were blocked by IDA Ireland.
In 147 cases that decision was appealed and over a third of those decisions – 57– were subsequently overturned.
Those figures, while not disputed by IDA Ireland, have not been confirmed by the agency on the basis that it would be inappropriate to comment on operational matters arising under a current contract.
There is an ongoing legal dispute between the parties and IDA Ireland is denying the Connect Ireland claims in full.
Connect Ireland itself was extremely unhappy with the volume of these decisions and Mr Clune met with both Taoiseach Enda Kenny and Minister for Jobs, Enterprise and Innovation Mary Mitchell O'Connor to raise his concerns.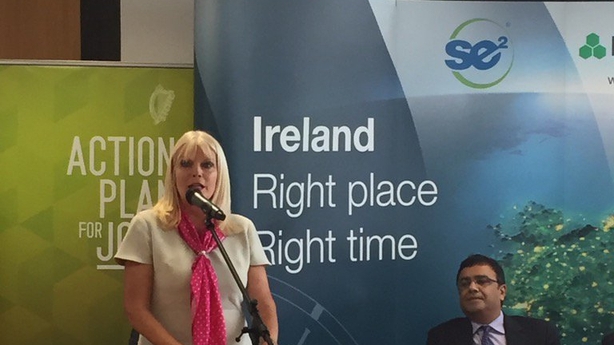 Morning Ireland has seen letters written by Mr Clune to both the Taoiseach and the minister last summer in which he alleged that in many cases IDA Ireland wrongfully claimed to be in active dialogue with a company and Connect Ireland warned this was causing enormous reputational damage and was negatively impacting on job creation.
Connect Ireland complained that IDA Ireland was not collaborating with them and in fact was appearing to do the opposite.
Mr Clune claimed "large numbers of jobs" were being lost to Ireland. IDA Ireland rejects this and cites the job creation record of both agencies in its defence.
One company, which was initially blocked from the scheme by IDA Ireland, was eCOMM, which in 2014 was based in London.
Connector Sean Moran knew a lot about the company because it is owned by his brother Noel.
He was aware they were considering expanding and could potentially locate in Ireland in the family's home town of Navan.
He contacted Connect Ireland with the lead but says that IDA Ireland wrongly blocked the firm from participation in the initiative.
"IDA Ireland said it was a non starter because they said that Noel was in discussions with IDA which he wasn't. They just said no, full stop. It was very strange and I suppose only for Noel's perseverance it definitely wouldn't have happened," Sean Moran said.
While there was some communication with IDA Ireland on a previous occasion it related to a different company and a different project.
Noel Moran says the whole process took years to resolve.
"Obviously everyone is working with the same objective I guess and at the end of the day we all want to create jobs back home if at all possible but there does seem to be a lot of red tape and a lot of hoops that you have to jump though.
"I don't think it should be as difficult for someone looking to set up jobs or relocate back home, the process could certainly be a lot more streamlined and a lot easier for sure."
After two appeals, IDA Ireland reversed the red flag, eCOMM engaged with Connect Ireland and ultimately did locate in Navan where it is employing 65 people and planning further expansion.
"Ultimately we got it sorted, and once we were engaged with the IDA they were very helpful," Noel Moran added.
IDA Ireland has said it would be inappropriate to comment on operational matters arising under a current contract.
CEO of Connect Ireland Joanna Murphy said they were surprised at the volume of red lights issued by the IDA.
"Quite shockingly in many cases our connectors had a relationship in the company which allowed them to know whether they had thought about Ireland as an opportunity as yet.
"In a lot of cases some of our connectors were saying to us there was no dialogue and they hadn't been heard of before."
Ms Murphy added that "we took that very seriously, and we do take that very seriously, and so we escalated that within IDA in as many occasions as the evidence was brought to us."
A report by consultants DKM into the scheme noted that IDA Ireland was not given additional funding from central government to pay for the initiative, and that Connect Ireland jobs do not count towards IDA Ireland's job targets.
The DKM report warned that the separate targets mean the two organisations are "effectively in competition".
IDA Ireland has decided not to renew the Connect Ireland contract and it expires on 26 March.
In a statement, IDA Ireland clarifies that its board has decided not to tender for a new 'Succeed in Ireland' programme, the umbrella term for the Connect Ireland initiative.
It says IDA Ireland's board may decide to tender in the future for a remodelled 'Succeed in Ireland' programme, but it will not continue with the existing scheme, which it says has failed to meet its targets.
IDA Ireland says Connect Ireland had a target of 5,000 jobs over four years. This contract was extended for one year in 2016.
To date, IDA Ireland has verified 535 jobs under the initiative - just 10% of the original target. It says over 1,500 jobs were announced in IDA client companies in one seven-day period in February this year.
Connect Ireland disputes the number of verified jobs and says 1,046 jobs are already on the ground in Connect Ireland companies with a further 1,300 to come on stream the next three years.
Connect Ireland is lobbying hard to have the contract extended, potentially within the Department of Jobs, Enterprise and Innovation.
It says with the new US administration and Brexit, there is a strong argument to continue the scheme.
Both Mr Clune and Ms Murphy appeared before the Oireachtas Jobs, Enterprise and Innovation committee yesterday arguing for a bridging contract to allow the scheme to continue.
A number of TDs and Senators strongly criticised a decision by IDA Ireland not to attend. The agency said it was precluded by the ongoing legal dispute.
Minister Mitchell O'Connor has asked her department to commission a review of the Connect Ireland initiative after the conclusion of the current contract on Sunday.
The department says it will help provide a better understanding of the scheme's results and its wider contribution to employment generation in the State.
That review may also consider the development of a new programme.