A financial settlement for former Clerys workers has been announced, after a campaign by former employees following the controversial closure of the landmark Dublin store in June 2015.
Details are confidential but as well as a "goodwill payment", each of the former 135 workers will also be given a "process to recognise" their services when it comes to employment in the new development.
Ethel Buckley of SIPTU announced that there will also be employment opportunities for local people in the northeast inner city.
An understanding concerning fair working conditions in the redevelopment has also been agreed.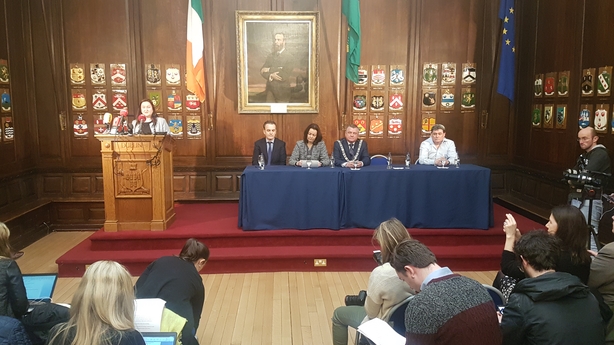 The deal was announced at Dublin's Mansion House by Lord Mayor Brendan Carr.
It follows SIPTU's surprise decision to withdraw its objection to Natrium's plans to redevelop the Clerys site.
Dublin City Council had granted planning permission for a high-end retail, office and 176-room hotel development.
But SIPTU and a number of other objectors appealed and were granted an oral hearing by An Bord Pleanála, which began yesterday.
Deirdre Foley, a director of the Natrium Consortium that bought Clerys in 2015 for €29m, was present for the announcement and said the new development will be completed in three years.
Following Natrium's purchase, the operating side of the business was sold for a nominal amount and put into liquidation with the loss of 460 staff and concession-holder jobs.
Natrium held onto the Clerys building with plans for a €150m redevelopment.
The former workers were left without a redundancy deal and the taxpayer had to pay the €2.5m bill for statutory redundancy.
However the Workplace Relations Commission started an investigation, which included the seizure of documents from the offices of Ms Foley's company D2 Private.
During a subsequent court hearing the WRC stated it had evidence that the High Court had been "misled" during the original liquidation application.
Ms Foley denied the allegations. The WRC investigation is ongoing.