Former Northern Ireland first minister David Trimble wrote to Martin McGuinness earlier this month to express his appreciation for his work in helping to bring about devolution following the Good Friday Agreement.
In the letter, dated 12 March, Mr Trimble says that "without knowing the detail of how the republican movement moved to that point, I and my colleagues believed that you were indispensable".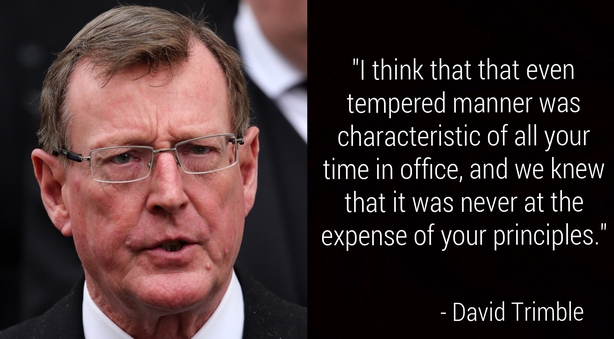 He adds that given the current political situation in Northern Ireland, there are many who "think that if you were at the helm, we would face this prospect with greater optimism".
Sinn Féin President Gerry Adams described his friend as a great man who was very family-centred and had a great affinity with people, adding "we wouldn't be where we are without him".
Mr Adams said that Mr McGuinness led the IRA when there was a war and then led the IRA into peace and that Mr McGuinness "genuinely believed in reconciliation, even if it made people uncomfortable".
Speaking on RTÉ's Morning Ireland, Mr Adams spoke of how they both met 45 years ago, saying they were from similar backgrounds and both had a conviction that partition was wrong and needed to be ended.
He said Mr McGuinness never went to war but war came to him, to his streets and his community.
He described how they got to know each very well in the late 1970s when "we set about the modernisation of the Sinn Féin party, which was a very good party and made up of very good people, but was a second cousin to the army - the IRA.
"We believed we need to have a radical, republican people-centred democratic movement and we set about building that and that brought about many challenges". 
We need your consent to load this SoundCloud contentWe use SoundCloud to manage extra content that can set cookies on your device and collect data about your activity. Please review their details and accept them to load the content.Manage Preferences
The Sinn Féin leader said both he and Mr McGuinness always believed in dialogue and people like Mitchel McLaughlin, who was a friend of Mr McGuinness, was a "pioneer in that regard".
He added: "As Fr Alex Reid and Fr Des Wilson engaged with me in the first instance and then John Hume and Martin was central to all of that and when the British did a bit of outreach, we nominated Martin and Gerry Kelly as our representatives at that time".
To the victims of IRA violence, Mr Adams said that life was short and while he understood that people might not want to forgive, failure to do so was corrosive.
He said that he himself had forgiven those who had shot him and who had beaten him. 
"I was beaten in prison, I was interned ... I've forgiven the special branch men, the British officers. Life's too short, the only thing that unforgiveness does, although I understand why people mightn't forgive, is corrodes".
He said that Mr McGuinness understood forgiveness and dealt with people on an emotional level and reached out to everyone. 
Sinn Féin described Martin McGuinness as an 'inspirational Republican'; DUP has said that history will record differing views and opinions pic.twitter.com/wWs7ZIElMy

— RTÉ News (@rtenews) March 21, 2017
The former Minister of State and special adviser to a number of taoisigh, Martin Mansergh said Mr McGuinness was mild, courteous and firm, and that he got on with him well personally.
Speaking on RTÉ's Drivetime, Mr Mansergh said they had quite different views on the struggle, but negotiations were about how to move beyond that.
Mr Mansergh said he liked him and knew that Sinn Féin wanted to take part in politics. He said on the last meeting with him, he said to him that he thought it was a tremendous achievement to sustain the NI executive for ten years with people who were on polar opposites.