The chairman of the US House of Representatives Intelligence Committee has flatly denied that there had been a wiretap on Trump Tower in New York, but said it was possible other surveillance was used against Donald Trump.
"Let me be clear: We know there was not a wiretap on Trump Tower.
"However, it's still possible that other surveillance activities were used against President Trump and his associates," Republican Representative Devin Nunes said in his opening statement at a hearing on Russia's involvement in the 2016 US presidential election.
Mr Nunes said "numerous" current and former US officials had leaked potentially classified information, and that his committee intended to identify them to bring them to justice.
US Representative Adam Schiff, the top Democrat on the House Intelligence Committee, said it was not known whether any Americans helped Russia in the alleged hacking campaign.
"We do not yet know whether the Russians had the help of US citizens, including people associated with the Trump campaign," Mr Schiff said at the congressional hearing.
It is no crime for Mr Trump or his associates to have ties to Russia, he added.
"On the other hand, if the Trump campaign, or anybody associated with it, aided or abetted the Russians, it would not only be a serious crime, it would also represent one of the most shocking betrayals of our democracy in history," he said.
Mr Nunes and Mr Schiff have called FBI Director James Comey and NSA Director Admiral Mike Rogers to testify as part of their committee's probe into allegations that Russia interfered in US elections.
Earlier, President Donald Trump dismissed as "fake news" allegations that he worked with Russia, which US intelligence says tried to tilt the US election in his favour.
FBI chief "James Clapper and others stated that there is no evidence Potus colluded with Russia. This story is FAKE NEWS and everyone knows it!" Mr Trump said on Twitter.
"The Democrats made up and pushed the Russian story as an excuse for running a terrible campaign. Big advantage in Electoral College & lost!" he added.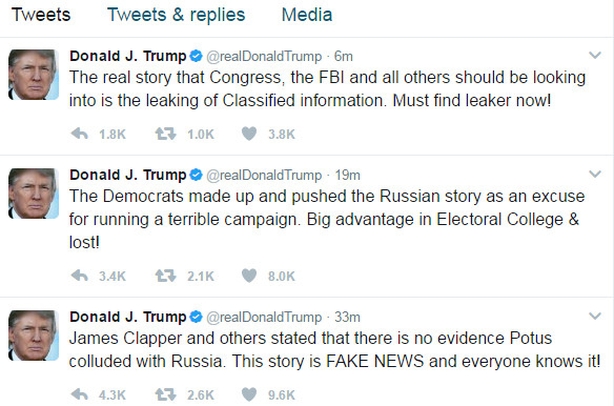 Russia denies attempting to influence the election.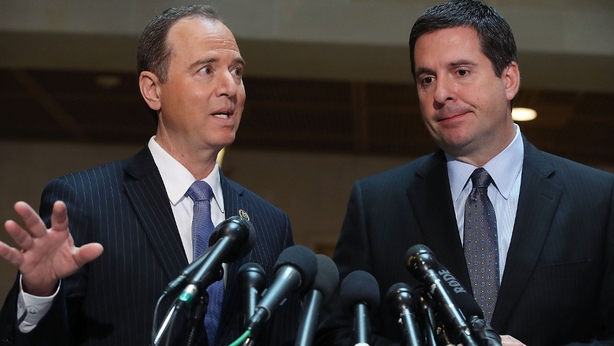 Mr Trump fired his first national security adviser, Michael Flynn, last month after he failed to disclose contacts with Russia's ambassador before Mr Trump took office on 20 January.
Last week, new information surfaced about more than $65,000 that Mr Flynn was paid in 2015 by companies with links to Russia.
Attorney General Jeff Sessions, a former senator, recused himself from investigating the matter after it was revealed that he did not answer accurately when he was asked during his confirmation hearing about his contacts with Russian officials during the election.
He failed to disclose that, as a senator, he had met with Russia's ambassador to the United States, Sergey Kislyak.
Mr Trump's fellow Republicans have joined Democrats in Congress in saying that they were frustrated by what they consider the intelligence community's failure to provide enough information about any contacts with Russia, as well as Mr Trump's wire tap claim.