Taoiseach Enda Kenny has confirmed that the Government will move forward with plans to hold a referendum to allow Irish citizens resident outside the state - including in Northern Ireland - the right to vote in Irish presidential elections.
In a speech at the Famine Memorial in Philadelphia, he confirmed the Government had taken a decision to move forward with plans to hold a referendum to give the right to vote in presidential elections to Irish citizens abroad, including those in Northern Ireland.
Mr Kenny said the decision, taken at a cabinet meeting last week was a "clear recognition of the importance that Ireland attached to her citizens wherever they were".
We need your consent to load this rte-player contentWe use rte-player to manage extra content that can set cookies on your device and collect data about your activity. Please review their details and accept them to load the content.Manage Preferences
The move was recommended by the Constitutional Convention in 2013 and last July the Diaspora Minister Joe McHugh said there was a commitment to hold a referendum.
An options paper will be published later this month outlining arrangements on how to register citizens abroad, and how to facilitate voting outside of Ireland.
This will then be discussed during the Global Irish Civic Forum in Dublin in May.
The referendum is unlikely to be held this year, and assuming it passes, would come into effect for the presidential election after the one set for 2018.
Addressing an Irish American dinner in Philadelphia last night, the Fine Gael leader vowed to press US President Donald Trump (below) to help the thousands of Irish people who are in the US illegally.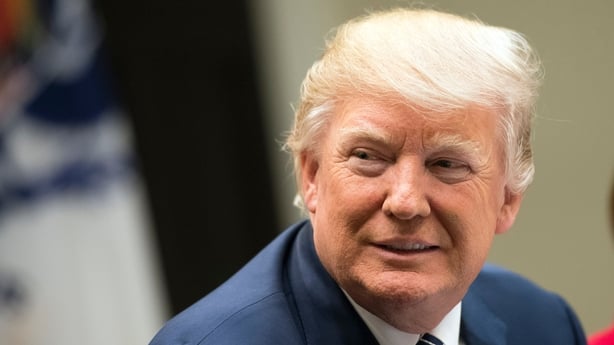 He said the "plight" of the undocumented would be an "absolute priority" in his planned engagements with the administration in Washington.
During his speech at the 246th annual Friendly Sons of St Patrick event, the Taoiseach also expressed hope that Ireland's economic links with the US would be strengthened, not weakened, under the new president.
With such worldwide focus on Mr Trump's controversial immigration policies, Mr Kenny's efforts to lobby the president on behalf of illegal Irish immigrants will draw intense scrutiny in the coming week.
Mr Kenny said last night: "It will be no surprise to anyone here that one of my absolute priorities in meeting Vice President Pence, President Trump and other senior political figures this coming week is to renew the strong case on behalf of the hard-working, tax-paying Irish people in the United States who for too long now have been living in the shadows, and want nothing more than to continue making their contribution to this great country.
"We all understand that immigration reform is a politically sensitive issue. However, I truly believe that a US immigration system that addresses the needs of the undocumented Irish, and provides for future legal flows, will be of huge benefit to America."
Mr Kenny said Ireland's economy continued to emerge from its recent crisis with "renewed strength and confidence" and, as such, was well placed to absorb the risks posed by Brexit.
"While there may be troubled waters ahead with the decision of our nearest neighbour, the United Kingdom, to leave the EU, I am confident that we are prepared to withstand the challenges ahead," he said.
Noting that the US remained Ireland's largest source of inward investment, employing up to 150,000 people in more than 700 operations, he highlighted that Irish companies were also making their mark in the US.
"In the other direction, more than 700 Irish companies employ close to 100,000 Americans across all 50 states," he said.
"We look forward to seeing more and more Irish companies set up operations here in the US and strengthening the US economy."
Mr Kenny said the economic ties meant more Americans than ever before were visiting Ireland.
"Last year, we welcomed 1.6 million visitors from North America - one in 10 of all American visitors to Europe now visits Ireland," he said.
The Taoiseach's visit to Philadephia is the first of a number of eastern seaboard cities he is visiting on top of his scheduled political meetings in Washington on Wednesday and Thursday.
He will be in Boston tomorrow and Tuesday morning before heading to Rhode Island. His visit will conclude in New York on Friday.