The Dutch embassy in Ankara and consulate in Istanbul have been sealed off for "security reasons", Turkish foreign ministry sources said today, as tensions soar between Turkey and the Netherlands.
"Entry to and exit from the Dutch embassy in Ankara and the consulate in Istanbul have been closed for security reasons," the sources said.
"The residences of the embassy's charge d'affaires and the chief consul were also subjected to the same treatment," the sources added.
The move comes after the Hague said it would refuse to let Turkish Foreign Minister Mevlut Cavusoglu (below) land in the Netherlands for a rally to gather support for a referendum on boosting the powers of President Recep Tayyip Erdogan.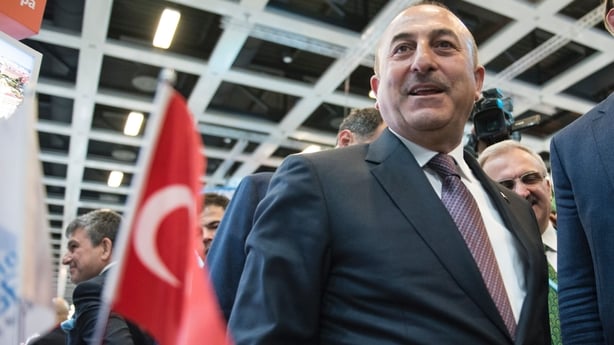 The ban infuriated Turkey and prompted Mr Erdogan to brand the Netherlands "Nazi remnants, fascists" following the decision.
In response, Dutch Prime Minister Mark Rutte said Mr Erdogan was "way out of line".
The Dutch government cited public order and security concerns in withdrawing landing rights for Mr Cavusoglu's flight.
However it said Mr Cavusoglu's threat hours earlier of political and economic sanctions if travel permission were withdrawn made the search for a reasonable solution impossible.
Mr Cavusoglu had been due to fly to Rotterdam to marshal support among the Turkish community for extended powers for Mr Erdogan - a potentially divisive issue in Turkey where a referendum will take place next month.
Meanwhile, Turkish Family Minister Fatma Betul Sayan Kaya (below) travelled by road to the Netherlands from neighbouring Germany after the Dutch government revoked landing rights for the plane carrying Mr Cavusoglu.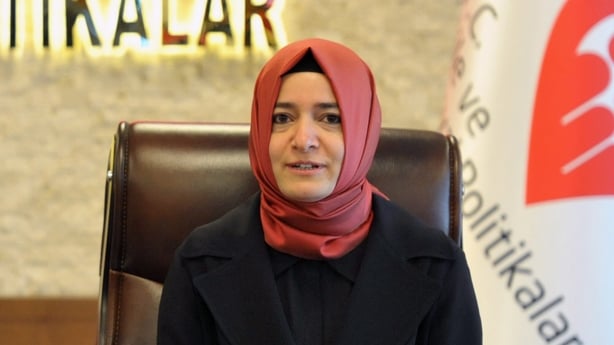 Dutch TV footage showed police stopping the minister's convoy 30 metres from the Turkish consulate in Rotterdam and preventing her from entering the building.
The Dutch government said it did not want Turkish politicians campaigning among Turkish emigres in the Netherlands.
Several hundred demonstrators waving Turkish flags gathered outside the Turkish consulate in Rotterdam this evening, demanding to see the Turkish minister.
Police erected metal barriers and patrolled on horseback to keep the demonstrators away from the consulate as the crowd grew with more pro-Turkish protesters arriving from Germany.