Francois Fillon has urged his conservative party to rally around him, saying he was the only legitimate candidate despite calls by many in his camp for him to pull out of the French presidential race over allegations of misuse of public funds.
"It is time for everybody to get their act together and comeback to their senses," he told senior party members gathered to discuss the crisis, according to a text.
Mr Fillon, who overwhelmingly won primaries organised by The Republicans party and their allies in November, added: "I call on all the women and men of goodwill to rally, respect the message our voters sent during the primaries and unite behind my candidacy, which is the only legitimate one."
Earlier, Alain Juppe, another former prime minister, ruled out replacing the scandal-hit Mr Fillon in the coming election but offered no alternative candidates, leaving conservative heavyweights scrambling to find a way to get their party back in the race.
Mr Fillon's poor showing would leave favourite and centrist Emmanuel Macron to fight out the second round on 7 May with far-right leader Marine Le Pen.
Polls have suggested that Mr Juppe as a candidate would have made the second round comfortably.
"Our country is sick," Mr Juppe told a news conference in Bordeaux, the western coastal city where he is mayor.
"For me it is too late but it is not too late for France," the 71-year-old said.
Earlier this morning, former French President Nicolas Sarkozy called for Mr Fillon and Mr Juppe to meet with him in a bid to hammer out a solution to the crisis.
Mr Sarkozy said on his Twitter feed that the aim of the meeting was to ensure a "dignified and credible way out from a situation which cannot last any longer and which is the source of deep concerns among French people".
Mr Juppe did not mention Mr Sarkozy's plan but had some harsh words for Mr Fillon.
Mr Fillon has so far stood firm and refused to give up his candidacy despite calls to do so from several senior members of the party, and even though opinion polls show him losing an election that is less than 50 days away.
Once the frontrunner, he is mired in a scandal over hundreds of thousands of euros of public money he paid his wife to be his parliamentary assistant.
He denies allegations she did little work for the money, but suffered a serious blow last week when he learned he could be placed under formal investigation for misuse of public funds.
A meeting of senior party officials is scheduled for this evening.
Hollande warns over Le Pen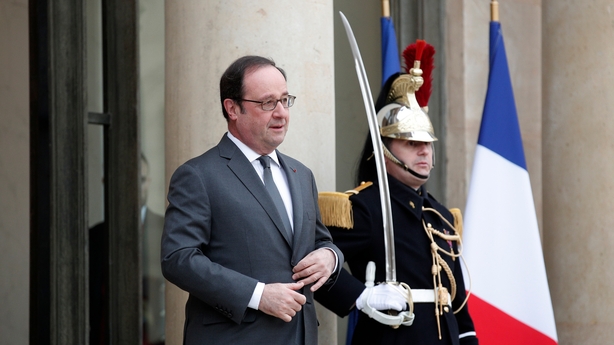 Meanwhile, outgoing President Francois Hollande was warned that Ms Le Pen could win the election in France, and vowed to "do everything" in his power to stop it happening.
Polls suggest that Ms Le Pen, leader of the National Front, is likely to win the first round of France's election on 23 April.
However, surveys also indicate she would then lose in the deciding second-round run-off on 7 May either to the centrist and pro-business Emmanuel Macron or conservative Mr Fillon.
But with Mr Fillon's campaign in turmoil, analysts have warned that the election is extremely difficult to predict.
"There is a threat" of Ms Le Pen winning the election, Mr Hollande acknowledged in comments to French daily Le Monde, part of an interview with six European papers.
"The far-right has not been so high [in the polls] for more than 30 years but France will not give in," vowed the president.
France "is aware that the vote on 23 April and 7 May will determine not only the fate of our country but also the future of the European project itself," he added.
Ms Le Pen has vowed to ditch the euro as France's currency if elected and hold a referendum on the country's membership of the European Union.
Mr Hollande, who has battled stubbornly high unemployment throughout his five-year term and has suffered low poll ratings, decided last year not to run for a second term.
He said it was his "last duty ... to do everything to ensure that France is not convinced by such a plan" of taking the country out of the EU.