The Citizens' Assembly has heard from a variety of organisations drawn from opposing sides in the debate about the constitutional restrictions on abortion.
Today's sitting was extended substantially to accommodate speakers from 17 advocacy groups on either side of the debate on the Eighth Amendment.
Yesterday, the assembly heard recordings of testimonies by six women whose lives have been affected by the legal restrictions on abortion in Ireland.
This weekend is the last occasion in which substantive material will be presented to the assembly before the focus will turn to voting on recommendations that will be presented to the Oireachtas.
We need your consent to load this rte-player contentWe use rte-player to manage extra content that can set cookies on your device and collect data about your activity. Please review their details and accept them to load the content.Manage Preferences
In her opening statement today, Chairperson Ms Justice Mary Laffoy acknowledged that although the sitting had been extended to accommodate 17 groups she was aware that others are disappointed or frustrated that they are not presenting.
She explained that the final decision on who would present was hers and she made the choices based on the extent to which the submissions provided by a group addressed the Eighth Amendment of the Constitution; the extent to which the submissions covered new material not previously considered by the Assembly; and the need to ensure balance on either side of the debate, today, over the course of the weekend and across the work programme of the Assembly in its entirety.
Ms Justice Laffoy (below) told the assembly that even with an extended timetable it was not been possible to accommodate all groups that wanted to attend.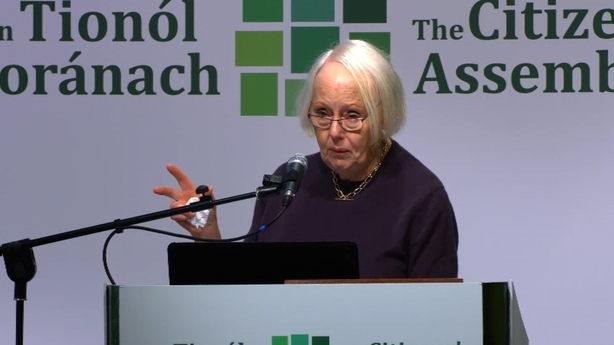 The assembly members heard presentations from: Doctors for Life Ireland; Doctors for Choice; the Union of Students in Ireland; Youth Defence; the National Women's Council of Ireland; Women Hurt; Parents for Choice; Every Life Counts; The Irish Family Planning Association; Family & Life; the Pro-Life Campaign; Amnesty International; The Iona Institute; the Coalition to Repeal the Eighth Amendment; the Irish Catholic Bishops; Atheist Ireland and the General Synod of the Church of Ireland.
All papers and presentations made by the groups are available on the Assembly website www.citizensassembly.ie
The Assembly meets again on 22, 23 April to focus solely on formulating, agreeing and voting on recommendations to the House of the Oireachtas.
In her closing statement, Ms Justice Laffoy thanked all of the speakers who gave presentations today.
"I think the members will agree that we have heard wide-ranging, diverse and often conflicting arguments on the issue," she said.
She told the 100-strong Assembly: "I am confident we will meet our deadline of providing a report with our recommendations to the Houses of the Oireachtas by June."