Fianna Fáil has said excessive water usage can be identified and curbed by using existing water framework and the use of district water meters.
In its policy paper submission to the Oireachtas Future Funding of Domestic Water Services Committee, the party said it wants the charges abolished in full but accepts the recommendation from last year's Expert Commission on the need to curb excessive water usage.
It believes this can be achieved through district water meters and the existing meter framework as currently conducted in Scotland and Wales.
It also noted that the committee did not hear any evidence that there was any wide-scale abuse here and the vast majority of wastage can be attributed to leakages.
Fianna Fáil reaffirms its position that it accepts the need to curb excessive water usage through existing legislation which it says would satisfy the "polluter pays principle" and EU laws.
The legislation allows for those who abuse water to be fined up to €5,000 and the Fianna Fáil paper says it is willing to strengthen or amend this legislation.
In the paper, Fianna Fáil also states that it is disappointed and surprised that Minister for Housing, Planning and Local Government Simon Coveney intervened by outlining advice he had from the Attorney General on Ireland's legal obligations under the water framework directive.
While it is accepted that the Attorney General provides advice to Government it would be unprecedented that the Attorney General would advise the Oireachtas, the paper reads.
The Committee had a full session in February where various legal opinions were listened to and debated.
The paper points out that the State lost €22m on its water charges regime in 2015 and that the EU statistic agency Eurostat ruled that Irish Water is a non-market agency and must stay on the State balance sheet.
Fianna Fáil says this was the reason Irish Water and water charges were introduced.
It adds that no additional revenue will be available for investment in the water infrastructure due to domestic water charges and the billing system needs to be scrapped.
It reaffirms that funding of domestic water services should be financed via general taxation.
It also states that the party's own legal advice is clear that its proposals are permissible under the EU laws.
Fianna Fáil also opposes the commencement of any further phases of the metering programme to tackle leaks and wastage levels.
Instead, it wants the €148m under spend on metering to date to be set aside for the roll out of improvements to the district metering programme to help detect leaks.
It also wants the EPA to receive a research grant to support the development of water conservation methods and the Building Energy Rating (BER) system to be amended to include water conservation as a core element of its assessment of homes.
It also believes the Department of Housing should maintain the current levels of subsidisation for group water schemes and supports for capital spending and private wells as agreed in the Confidence and Supply arrangement.
It calls for a review in co-ordination with the National Federation of Group Water Schemes to assess the amount of additional investment required to equalise treatment between public mains users and private or group water schemes users.
Fianna Fáil wants those who paid their water charges to be refunded by Revenue once proof of payment is provided.
It says this should be cross referenced with Department of Social Protection Water Conservation Grant payments information to ensure there is no over payment.
Coveney: No final decision on water charge refunds
Minister Coveney has said it is "not necessarily the case" that Fine Gael is open to refunding water charges.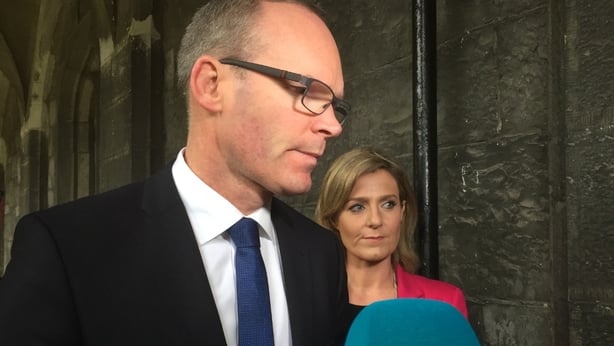 Speaking in Galway this morning, Mr Coveney said it was now accepted that water charges would be abolished for the vast majority of households.
But he said he was awaiting a recommendation on refunds from the Oireachtas Committee on water charges.
He would not be drawn on his own views on the matter but said people who had paid charges should not be disadvantaged.
Minister Coveney said there was still no agreement on how to deal with people with excessive levels of usage and said any solution had to be compliant with the European Water Framework Directive.
He said while he would work with Fianna Fáil to try and find solutions, he would not recommend a course of action that he knew to be both illegal and irresponsible.
The minister said he wanted to reassure the public that there was no intention to ever privatise the country's water infrastructure.
He said there might be a need for a constitutional amendment to enshrine that position but that he was confident agreement on that issue could be easily achieved.