RTÉ Investigates has learned that the Health Information and Quality Authority has warned St John of God Community Services that it may stop the charity from running residential services for the intellectually disabled at its campuses in Kildare and Louth, where over 170 people live.
During the past 18 months, a number of HIQA inspection reports have reflected an increasing dissatisfaction with how St John of God is running its institutional-style residences for the intellectually disabled, including failures to provide a safe environment for some residents.
Senior officials from HIQA issued the warning last week when they met with the board of trustees of St John of God Community Services.
RTÉ understands that HIQA told last week's meeting that should another serious safety issue emerge in the next six months; the authority may start a legal process that could result in either the closure of the charity's campus-based residential services or the handing over of their management to another provider such as the Health Service Executive.
With 760 people living at 80 so-called designated centres, St John of God Community Services is one of Ireland's largest providers of residential care for those with an intellectual disability.
In 2015 the HSE paid it €131m to operate its services, which includes clinics, training and day services as well as homes.
In a letter to staff written yesterday in the wake of the meeting with HIQA, Brother Fintan Brennan Whitmore, the acting group chief executive of St John of God Hospitaller Ministries, said: "We are targeting the next six months for an intensive all-out commitment to change our way of doing things."
He added: "You should also be aware that during this six-month period should a serious safety issue be identified in any of our designated centres there will be serious consequences for the entire organisation."
The letter also referred to St John of God's "repeated failure to achieve compliance particularly in our congregated settings despite the fact that 46 of our 80 designated centres have achieved their Certificates of Registration".
It also said: "following a lengthy meeting with HIQA on 22nd February 2017 we have undertaken to give a priority focus to our congregated settings and to radically address all shortcomings" in areas including "governance, leadership and management arrangements" and "health, safety and risk management processes" and "safeguarding and safety for residents".
In a statement to RTÉ, St John of God Community Services said it "accepts the findings of the HIQA inspections and the challenges of achieving compliance with regulation in campus-based services."
It added that the board of the charity "has undertaken to submit a plan to HIQA, outlining the measures that are being and will be implemented in all designated centres to achieve compliance with the regulations..."
HIQA officials have previously expressed frustration that prior pledges by St John of God to remedy problems highlighted by HIQA inspections have not been honoured.
Last month, RTÉ Investigates revealed that HIQA issued formal notices proposing the closure of four of the eight units at Drumcar.
St John of God was given 28 days to appeal those notices or submit alternative proposals.
Separately, RTÉ has also learned that HIQA issued a notice of proposal to close the 12-bed Ravenswell residential unit run by St John of God in Bray, Co Wicklow.
In an internal St John of God email sent last Monday, staff were told that the charity has 28 days to implement HIQA recommendations or the facility may be deregistered under section 51 of the Health Act 2007.
RTÉ understands that a recent HIQA inspection of Ravenswell highlighted what the authority saw as significant governance and managerial failings and a serious safety concern.
It emerged that a latex glove was left on the floor near a resident who has a potentially life-threatening tendency to ingest inedible objects.
This was the second such incident discovered by HIQA at the home.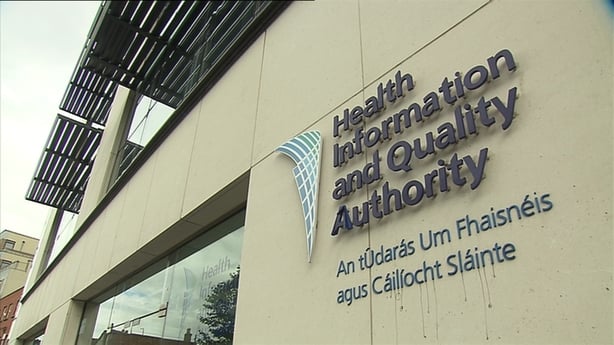 In late 2015 a HIQA inspector who noticed latex gloves left lying around requested that they be kept out of reach of service users who may ingest them.
St John of God Community Services told RTÉ that it is "in the process of preparing a submission to appeal" the HIQA notices to cancel and refuse registration for Ravenswell "and is confident that actions are being implemented and will continue to be implemented to bring this centre into compliance and further develop the quality and standard of services and supports provided to residents."
While generally complimentary of St John of God's frontline staff and many of its homes, HIQA inspection reports have been especially critical of the charity's larger institutional-style homes which have high rates of non-compliance with HIQA standards compared to its smaller houses in the community.
One HIQA inspection report last year on an institutional unit at St John of God's Drumcar campus in Louth said: "Because of behavioural issues that one of the residents presented with... two [other] residents could only access their home when this resident was in bed".
The inspectors wrote that this was "not in any way meeting the assessed needs of any of the three residents".
This arrangement, where two residents were unable to access their home for much of the day due to safety fears, was first spotlighted by HIQA inspectors in May 2016 and was still continuing as late as last month.
HIQA inspectors also discovered that at Drumcar some residents' bank accounts were inappropriately accessed to pay for medical equipment and services that St John of God should have supplied. "Residents were being charged substantial sums of money for furniture, medical aids and medical appointments," according to a HIQA report.
One resident "assessed as needing a body brace was charged €552 for this specialist medical appliance" while another "was charged €2,499 for a specialised armchair and a dexa bone density scan."
A HIQA inspector in January found that two months after HIQA brought this practice to the attention of a senior St John of God executive "a resident in this centre was inappropriately charged for a medical device that should have been provided by the service."
Declan Moore, the Regional Director for St John of God North East Service, has described this practice as "financial abuse".
At one Drumcar unit HIQA also found "an absence of governance and management systems which fundamentally resulted in negative outcomes to residents."
At another it found that "Staff were not available to respond to [resident] behaviours that were challenging."
HIQA also found physical problems with buildings at Drumcar that harmed the dignity of the residents.
For example, the toilets at one unit were accessed from a communal area, meaning that "occupants of the communal area were aware of all activities being undertaken in the bathroom," one report stated.
Also, some bedrooms were too small and had windows at such a high level that residents could not see out.