An air accident report into a helicopter crash in Abbeyshrule in Longford has concluded that the location where the pilot attempted to land was "inappropriate and wholly unsuitable for a helicopter landing."
The accident happened in July 2015 when the helicopter attempted to land on a canal bank adjacent to the Rustic Inn guesthouse.
The incident was captured on CCTV and on mobile phone footage.
The report says the main rotor blades made contact with a timber clad wall of the building and this caused the tail to swing rapidly towards the wall and collide with it. The helicopter was destroyed.
The two people on board were uninjured. There was no fire following the crash, the report notes.
There was however substantial damage to the building.
One person inside the building at the time received minor injuries.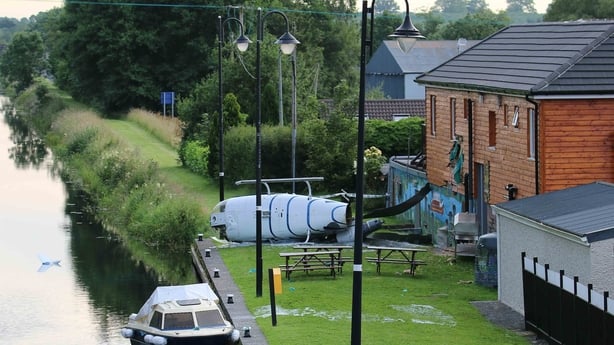 The report, by the Air Accident Investigation Unit, has found that while the helicopter was operating on a valid Permit Maintenance Release Certificate, the pilot's 'type rating' for the helicopter type was not valid at the time of the accident.
It also states that because the helicopter was an ex-military aircraft, permission to operate it in Ireland was required from the Irish Aviation Authority.
The IAA told the investigation that a request for such permission was not received.
It says the location for the attempted landing on a narrow canal bank was very confined and contained a number of obstacles.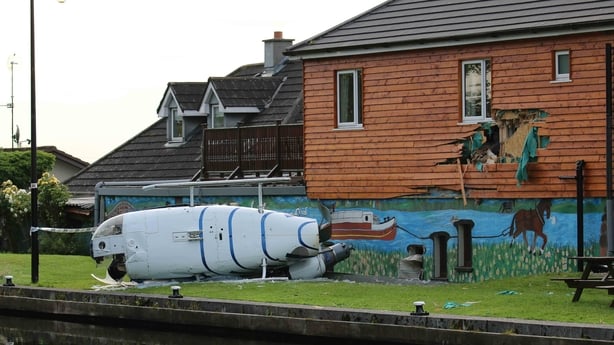 The report also says prior permission to land on the canal bank was not sought from either Waterways Ireland or from the owner of the guesthouse.
The report concludes that the probable cause of the accident was a "loss of clearance" between the main rotor blades and the adjacent building.
The report does not make any safety recommendations.