Minister for Transport Shane Ross has rejected suggestions that he should intervene directly in the Bus Éireann dispute.
He said to do so would mean "cutting across the role of not just the company but also trade unions in terms of agreeing work practices and terms and conditions".
He said external interference would be "unnecessary and unhelpful".
He also said ministerial intervention would overlook the established role and expertise of the Workplace Relations Commission and the Labour Court in assisting employers and employees in settling often very contentious disputes.
Mr Ross also said there are no issues with the publically-funded part of Bus Éireann's business.
He said Bus Éireann is fully compensated for the Public Service Obligation and school transport services it provides.
He added: "The core issue that must be resolved is how to tackle the unsustainable losses on Expressway commercial services, which of course cannot be subsidised by the taxpayer."
Mr Ross also rejected suggestions that he, or the Government, is seeking a very low-cost employment model for Bus Éireann. 
"This is not the case," he said.
We need your consent to load this rte-player contentWe use rte-player to manage extra content that can set cookies on your device and collect data about your activity. Please review their details and accept them to load the content.Manage Preferences
He called on Bus Éireann and unions to "engage in serious discussions and reach an agreement that will restore Bus Éireann to a sustainable future".
The minister also said he sees no reason why both sides cannot re-enter talks at the earliest possible date.
He said that should be done at the earliest opportunity and said they should happen without any pre-conditions.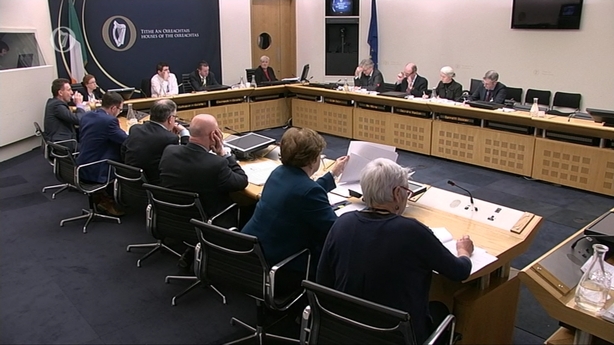 Fine Gael TD Peter Fitzpatrick called on the minister to directly intervene and said Mr Ross should tell Bus Éireann to withdraw its letter outlining the proposed cuts.
Mr Ross said the suggestion of his intervention is a distraction and he said he had no money to offer to solve the dispute.
He also said he would not be telling the company to withdraw the letter.
"I won't, I won't get involved at all", Mr Ross said.
"It would be wrong for me to say that I am on one side or another in this dispute so I am not going to enter into this dispute by taking sides."
Mr Fitzpatrick said the letter was an obstacle to progress.
Responding to Fianna Fáil's Robert Troy, who said he did not have confidence in the minister, Minister Ross said "If you don't have confidence, then you should be asking me to stay out of the dispute".
"Let's have a few suggestions from you about why I should intervene and what I should do", he said.
Meanwhile, Labour Party leader Brendan Howlin accused Mr Ross of waiting for a solution for the dispute to fall from the sky.
Speaking in the Dáil, he said that would not happen and called on the Taoiseach to direct Mr Ross to sit down with the National Transport Agency, Bus Éireann and the trade unions before it gets to a point of "no return".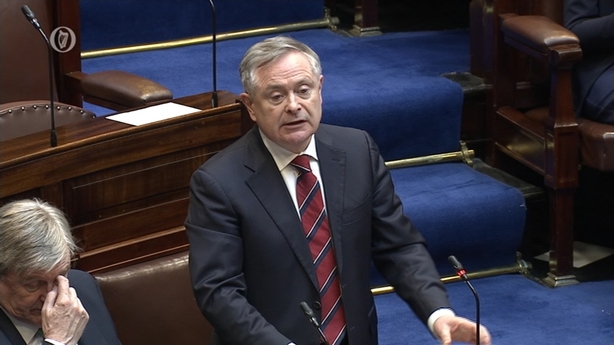 Mr Howlin said it would result in enormous damage to the company and the people dependent on public transport.
The Taoiseach acknowledged that a solution would not fall from the sky, however he said Mr Ross briefed Cabinet yesterday and that he had the full support of Government.
Once again, Enda Kenny appealed to unions and Bus Éireann management to use the Workplace Relations Commission to find a solution.