The Taoiseach has told the Dáil that the terms of reference for a commission of inquiry into abuse at a foster home in the southeast will be published next week.
Enda Kenny was responding to questions from Sinn Féin's Mary Lou McDonald about the treatment of 'Grace' - a young woman with profound intellectual disabilities who stayed at the home for almost 20 years.
Mr Kenny said "the very least this house can do is apologise to 'Grace' and her family.
"Her treatment is a disgrace to us and our country".
We need your consent to load this Oireachtas TV contentWe use Oireachtas TV to manage extra content that can set cookies on your device and collect data about your activity. Please review their details and accept them to load the content.Manage Preferences
The HSE today published two reports commissioned several years ago on failures at the home where 47 children were placed over two decades up to 2013.
The HSE has since reiterated its apology to all those affected.
Ms McDonald asked who in the HSE has been held responsible and whether arrests have been made in the criminal investigation.
"Grace was left in the home for nearly 20 years, despite a litany of sexual abuse allegations and neglect. She was forgotten, abandoned by those in the health service charged with ensuring her care," she said.
"It is quite frankly vile and disgusting.
"It's not enough to produce shocking reports - we need accountability," Ms McDonald said.
In response, Mr Kenny said he did not have details about the criminal investigation and said it was a matter for the Garda Commissioner and the Minister for Justice to give those details.
He said the Government had agreed to set up a commission of investigation and Minister of State with responsibility for Disabilities Finian McGrath would bring the terms of reference to the Cabinet next Tuesday.
Mr McGrath said: "I cannot emphasise too strongly how concerned I am about the serious allegations addressed in the reports and the need to establish the facts of the matter for once and for all. This is the least that the individuals at the centre of this case, and their families, deserve."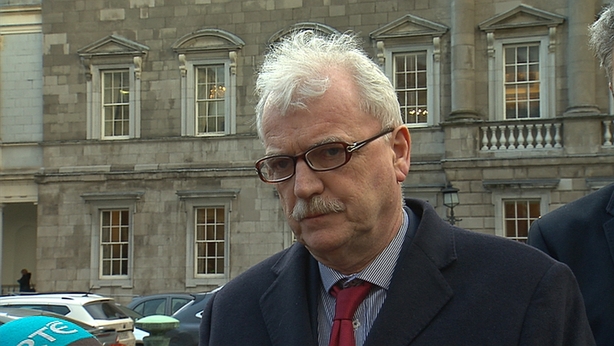 He said he hoped to get an interim report within three months.
Mr McGrath added that there could be no guarantee there is no abuse going on at present but said new procedures and systems had been introduced over the past number of years.
Social Democrat joint leader Róisín Shortall said the Dáil was discussing yet another scandal involving the negligence and incompetence of State agencies.
She said the response of the Government was to set up a commission of investigation, when what was needed was accountability.
She asked whether it was still possible that some of the people involved in the care of 'Grace' are still involved in child protection.
Mr Kenny said he did not have that information.
Fianna Fáil leader Micheál Martin has called for a Dáil debate next week on the two reports, describing them as "utterly shocking".
The Taoiseach agreed to the request, describing a debate as "appropriate".