The National Bus and Rail Union and SIPTU have announced that they will commence an all-out strike at Bus Éireann next Monday, after management announced cost-cutting measures will be imposed.
Bus Éireann management has told staff that the company has no option but to implement changes to work practices from 6 March that will result in "immediate cost savings".
They have also warned that there will be redundancies and impact on pay - but says the moves are necessary to save the company.
Three routes will also be closed: the Dublin-Clonmel route on 12 March, Athlone-Westport on 16 April, and the Dublin-Derry route on 28 May.
There will also be a reduction in services on the Dublin-Limerick and Dublin-Galway routes, from 12 March.
We need your consent to load this rte-player contentWe use rte-player to manage extra content that can set cookies on your device and collect data about your activity. Please review their details and accept them to load the content.Manage Preferences
In a letter to staff issued after this morning's board meeting, acting Chief Executive Ray Hernan says the company will implement further changes to terms and conditions.
A review of all structures to be finalised by the end of March will result in job losses in some areas but will provide opportunities in others, the letter says.
Mr Hernan acknowledges some changes will impact on pay, but in doing so will safeguard the maximum number of jobs possible.
He denies that the company's objective is to become a low-cost operator, adding that it is committed to protecting basic pay rates.
NBRU General Secretary Dermot O'Leary said it was annoying and disgraceful that the company has done this without going back to the Workplace Relations Commission.
He said there was also a danger that train services would be affected at the seven depots shared with Irish Rail as colleagues have said they would not want to pass pickets.
Mr O'Leary appealed again to the company to go back to the WRC.
School bus services are not affected.
SIPTU Sector Organiser Willie Noone said members are "amazed at the attitude displayed by this letter which completely discounts the views of the majority of elected representatives, the public and its workforce".
Speaking on RTÉ's Six One News, Mr Noone said the company has been disingenious in saying that it could not obtain agreement with the union.
He said that this evening the company had tabled a number of items which the union would have no difficulty discussing, though there are a number of other items which SIPTU would need further clarification on. 
These include re-deployment with no parameters, subcontracting with out any parameters and an unknown number of routes facing closure.
Ross calls for 'constructive' engagement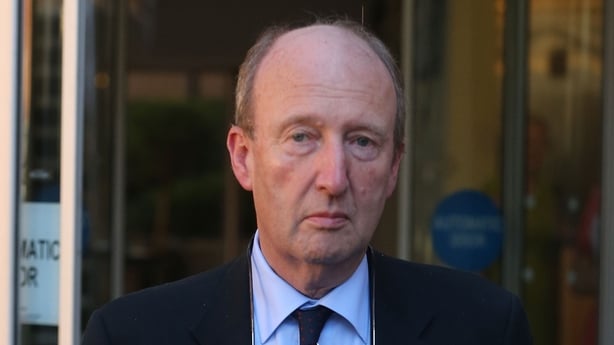 Minister for Transport Shane Ross has urged Bus Éireann management and unions to "engage urgently in a constructive manner".
Responding in a statement issued by his office to the announcements of cost-cutting plans strike action, the minister welcomed the board of Bus Éireann's willingness to undertake further discussions.
He added that it is necessary to resolve the "difficult industrial relations situation, which threatens to greatly inconvenience the travelling public, especially those in rural Ireland".
The statement continued "in relation to the small number of route changes announced by the company, the minister is aware that the National Transport Authority is conducting a transport needs assessment in relation to affected areas and will ensure continued public transport connectivity".
The NBRU subsequently criticised Mr Ross and his colleagues in the Independent Alliance.
Mr O'Leary said: "The minister and his Independent Alliance colleagues are indicted of standing idly-by and allowing the decimation of a number of socially and economically vital bus services into rural Ireland; it is frankly appalling that those elected to both protect and enhance vital public services should be left hide in the shadows, in the hope that the dispute between Bus Éireann and its staff will provide cover for their political cowardice.
"The NBRU has been out campaigning over the last three months alerting people to the fact that their vital bus service were under threat, we met with many politicians from all parties and none, and however those habitual Leinster House plinth dwellers were nowhere to be seen."

He said the union will not engage in any discussions on route closures and concluded "surely the day has come when even the most anti-union of Fine Gaelers will say enough is enough with regard to the inactivity of the Minister for Transport, and realise that it is their rural constituents that are going to suffer by the inaction of a Dublin-based minister".
Company warns of insolvency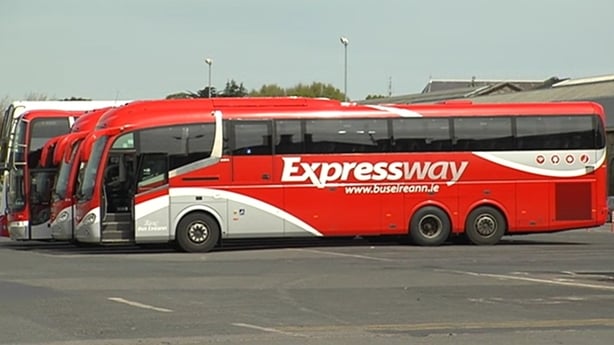 The company says it is losing €50,000 a day and warns it could be insolvent by May without drastic action.
In a statement, the company said the plans follow the failure to reach agreement with unions at the Workplace Relations Commission last week.
"These measures are vital to ensure that the company remains solvent, and can continue to trade as a going concern.
"The company must deal with its challenges directly, and the Board have a duty to ensure Bus Éireann is financially sustainable and therefore must take the necessary steps to secure this."
It added: "Further dialogue aimed at urgently resolving these challenges would be welcome."
NBRU warns Dublin Bus not to move buses out of shared depots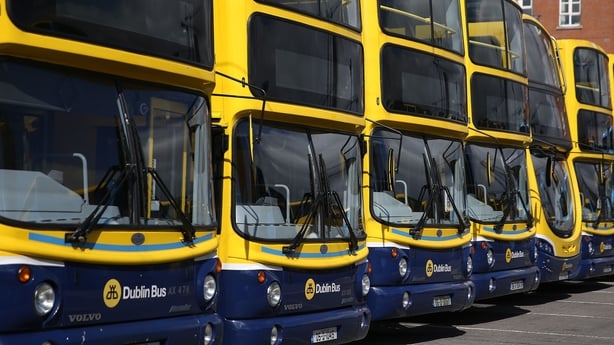 Meanwhile, the NBRU has warned Dublin Bus not to move buses out of depots shared with Bus Éireann in order to avoid their staff being involved in potential flashpoints if industrial action commences at Bus Éireann.
Last Friday, asked whether this was a possibility, Dublin Bus said it was not planning movement of any of its services to other locations "at this time".
However, it noted it always looks at contingency plans in the event of industrial action.
In today's letter, NBRU General Secretary Dermot O'Leary expressed concern that Dublin Bus may "stand accused" of placing a number of its staff centre stage in the Bus Éireann dispute.
He acknowledged that while Dublin Bus might seek merit in making contingency plans to facilitate its own business, there is a real danger that others, particularly those whose livelihoods are under threat at Bus Éireann, might view such actions in a completely different light.
He stressed that the NBRU has advised members in Dublin Bus and Iarnród Éireann that it is not in official dispute with those companies, and will not condone any attempts to unlawfully impede Dublin Bus operations.
However, he also warned that "... the actions of Dublin Bus may, inadvertently at least, open up a new flank to what, even prior to its commencement, may become a very nasty industrial relations dispute."
He said the NBRU will not be a party to any intervention that, viewed through the prism of an impending industrial dispute, would be interpreted as a manoeuvre to frustrate Bus Éireann staff in their pursuance of a genuine trade dispute.