SIPTU has warned members at Bus Éireann that an indefinite strike is now becoming unavoidable and that they must prepare for a hard battle which will not end in the short term.
In a bulletin to members, SIPTU Organiser Willie Noone blamed the strike on the "inertia and inaction" of Minister for Transport Shane Ross and his department, and the National Transport Authority.
He also accused TDs from rural areas of propping up the Government or going into hiding.
He told members it is glaringly obvious that the company and Mr Ross are proceeding with their plans to exit Expressway services, and to use their financial difficulties as the reason to eliminate all conditions of employment for the majority of Bus Éireann employees.
He said the company still has not given SIPTU a definitive plan which shows how they can continue with Expressway Services whilst shedding jobs, closing locations and making employees work less hours.
Mr Noone outlined arrangements for pickets and placards, stressing that all SIPTU members will be expected to participate in the strike action.
He noted that they will have to register on the picket lines to ensure strike pay can be processed as quickly as possible.
He stressed that Bus Éireann's school bus drivers are not involved in the dispute at this point in time.
Mr Noone concluded with a warning regarding politicians, stating: "In circumstances where rural TDs would give the same assurance regarding defending services in their areas this dispute could be avoided and members are asked to remind their local representatives of this fact and the fact that an election is not too far away."
Resolution 'will be reached' in Bus Éireann row
Speaking on RTÉ's Drivetime, Mr Ross has said there will be a resolution in the Bus Éireann dispute.
He said: "We will resolve it in a way that will ensure, wherever they [commuters] are in the country, that connectivity will continue."
He said while he accepts that Bus Éireann could be insolvent by May, he is determined it should have a viable future.
Mr Ross said while the State subvention to the company was initially cut, it was increased in the last two years and will be further increased over the coming years.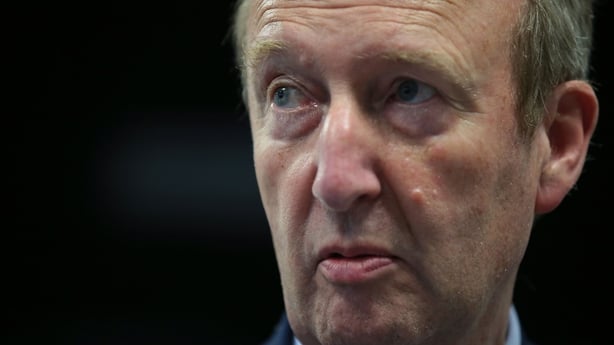 Earlier this week, talks between unions and Bus Éireann management broke down at the Workplace Relations Commission.
Bus Éireann had warned that it could reach insolvency by May and difficult decisions had to be made urgently to avoid that prospect.
Union representatives blamed management for the breakdown of the talks while Bus Éireann said the unions had "no intention of reaching an agreement" that will address the company's financial crisis.
National Bus and Rail Union General Secretary Dermot O'Leary said that if the company's management implemented cost-cutting proposals, unions will go ahead with their all-out indefinite strike.
Mr Ross repeated his view that it would be wrong for him, as a shareholder, to intervene in the dispute.
He said he was happy to discuss policy issues in a different forum when the industrial dispute is over.