The Government has decided not to oppose a bill to end mandatory retirement ages saying it wanted to support measures aimed at facilitating fuller working lives.
Sinn Féin's TD for Wicklow John Brady has welcomed cross-party support for the bill, saying the Organisation for Economic Co-operation and Development had shown the more older people in the workforce the better for the economy.
Mr Brady said sustaining the State pension was one of the greatest challenges facing the economy and many workers struggled to achieve the necessary 520 pension contributions to qualify.
He also said thousands of people were being forced to sign on for Job Seekers' Allowance on reaching 65 because of changes to the qualifying age for the State pension.
However, he said he feared this would be a "short lived Government" and the bill would not progress fast enough.
Minister of State for Justice David Stanton said the Government had decided not to oppose the bill and wanted to support measures aimed at facilitating fuller working lives.
However, he warned there were serious technical problems with the bill as drafted.
Mr Stanton said it should be noted that there is no retirement age in the private sector where retirement is decided by contract, but there are mandatory retirement ages in the civil and public services.
The bill was referred to the Oireachtas Justice Committee.
Fianna Fáil has also proposed similar Private Member's legislation.
FF disputes Govt's claim over housing units
Fianna Fáil's housing spokesman Barry Cowen has disputed the Government's claim that 8,500 social housing units are presently under construction.
During Leader's Questions in the Dáil, Mr Cowen said only 1,829 were actually under construction and just 652 were built last year.
He also asked why 500 acres of zoned residential land in Dublin was not being developed.
Tánaiste Frances Fitzgerald stood over the figure that the construction of 8,500 units was under way and rejected Mr Cowen's assertion that the housing targets would not be met.
She said the four Dublin local authorities confirmed they would meet a point where children and families would not be using hotels by the middle of this year.
She also said that a €32m fund would be announced today to deal with repair and leasing and local authorities will work to ensure those in need of housing are met.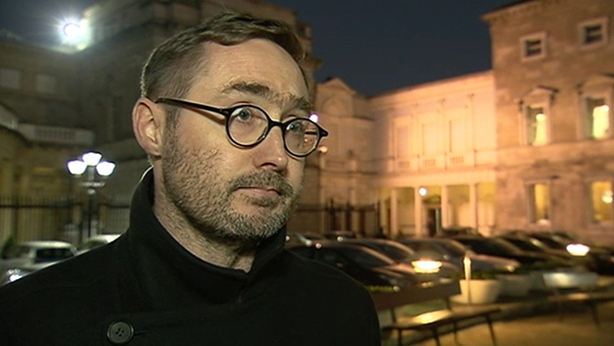 Sinn Féin's housing spokesperson has also said there are not enough social houses being built to meet the level of demand.
Speaking on RTÉ's Drivetime, Eoin Ó Broin said the Government's targets on social housing construction are not ambitious and are not being met.
Mr Ó Broin sad he does not believe a Government target of 3,200 social housing units for this year is deliverable.
He said the Government needs a more aggressive policy in connection with rehousing families who are currently in emergency accommodation in Dublin.
Meanwhile, the Independent Alliance has launched a bill, which aims to keep people in their homes and avoid repossessions.
The bill allows courts to consider the social impact of repossession on homeowners and their dependents.
Speaking at the launch, Dr Padraic Kenna of NUI Galway said the bill would enable courts to conduct a proportionality assessment in relation to home repossessions.
Dr Kenna said they were modest proposals and involved one or two actions to existing legislation in a small way. Independent Alliance TD Kevin Boxer Moran said he hoped to bring it forward as a government bill.
Brexit more important than Kenny 'lap of honour' - senator
There have been opposing views in the Seanad over the timeline of the Taoiseach's departure from office.
Labour Senator Aodhán Ó Riordáin said Enda Kenny needed to be reminded that he is not just the leader of Fine Gael but he is the Leader of the country.
He said Brexit was far more important than the future leadership of "the great Christian Democratic movement" in Ireland and requested that Mr Kenny return to the Seanad to discuss the Brexit negotiations rather than doing a "prolonged lap of honour".
Fine Gael Senator Gabrielle said as far as most of the Fine Gael party was concerned, there was no "lap of honour" on the Taoiseach's behalf.
She said Mr Kenny had never looked for that kind of that admiration and always put the country first.
Memo on children's hospital costs to be sent to Cabinet
An updated memorandum will be sent to Cabinet regarding the cost of the Children's Hospital according to the Tánaiste.
Frances Fitzgerald was responding to the Sinn Féin deputy leader in the Dáil who asked how the Government could stand over the spiralling costs of the hospital.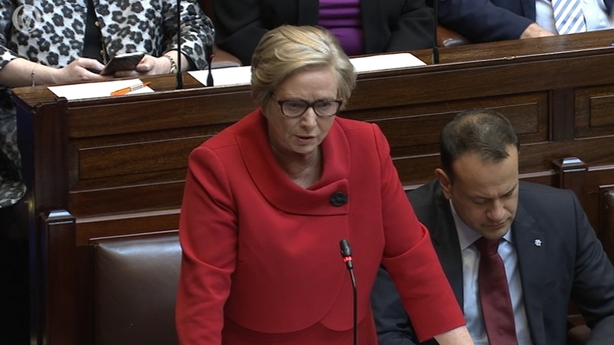 Mary Lou McDonald accused Fine Gael of spending the past two weeks gazing at its own navel and indulging in its obsession over who would be leader.
Minister Fitzgerald the original estimate cost of the hospital was €630 million, but that was based on an expected rate of building inflation at 3%, which she said has since risen to 9% .
She said the updated capital costs have been put in final brief and submitted to the Health Service Executive and the Minister for Health will bring updated memorandum for the hospital to Cabinet.
Pringle says insulin pumps could save €800m in diabetes treatment
Independent TD Thomas Pringle told the Dáil that €800m could be saved on the treatment of diabetes if patients had access to insulin pumps.
He said there are 666 patients in Donegal with Type 1 diabetes, but only 20 have access to insulin pumps and that €1.3bn a year was spent on treating diabetes with €800m on treating complications.
The Tánaiste said she would ask the Minister for Health to liaise directly with Mr Pringle regarding the situation in Donegal and added that additional funding had been given to primary care centres, for specialist interventions in diabetes.