Three Government ministers - Richard Bruton, Frances Fitzgerald and Simon Harris - have not ruled themselves out as candidates in a Fine Gael leadership contest when the Taoiseach stands down.
Enda Kenny is to address a Fine Gael Parliamentary Party meeting on Wednesday on the matter.
Minister for Education Richard Bruton has said he wanted to discuss with colleagues where the party and the country was going at a time of remarkable change.
Minister for Housing Simon Coveney, who is also expected to be a contender, has said he hoped there would not be any further ultimatums or threats from a minority within the party ahead of the Taoiseach's statement.
Fine Gael ministers have also been commenting on a WhatsApp message posted by Minister for Foreign Affairs Charlie Flanagan about Minister for Health Simon Harris.
In it, Minster Flanagan appears to talk about Mr Harris contesting the Fine Gael leadership.
The text to party colleagues reads: "He hasn't announced yet but Frances is encouraging him. He wants out of Health."
This morning, Mr Flanagan said his WhatsApp remark was jovial Sunday afternoon banter, adding that he regrets that it has been taken so seriously.
Minister Harris also dismissed the message saying Charlie Flanagan had many fine attributes but telling funny jokes on a Sunday afternoon was clearly not one of them.
He said he was honoured to hold the position of Minister for Health and he hoped that even his harshest critics would acknowledge he was doing everything he could to engage in the role with energy and enthusiasm.
Fine Gael leadership: Minister for Health Simon Harris says "if and when a vacancy arises I will consider my options at that stage" pic.twitter.com/iHsmeRDyna

— RTÉ News (@rtenews) February 20, 2017
Mr Harris expressed his full confidence in the Taoiseach but critically he was less clear about his own intentions regarding the leadership.
At some point were a vacancy to arise he would consider his position at that point, Mr Harris said.
He said Taoiseach Enda Kenny, who this week is expected to indicate when he intends to step down, has his "full confidence and support".
"If and when a vacancy arises I will consider my options at that stage," Mr Harris said in Mullingar this morning.
Tánaiste and Minister for Justice Francis Fitzgerald today said she will wait until a contest has been announced to consider her position regarding the leadership.
Minister for Education and Skills Richard Bruton also did not rule himself in or out of leadership contention.
Asked if he would be ruling himself in or out of a contest, Mr Bruton said he wanted to discuss with colleagues where the "party and this country is going at a time of remarkable change".
Speaking in Brussels, Minister for Finance Michael Noonan reiterated his position that he expects the Taoiseach to give a timeline for when he will step down at a Fine Gael parliamentary party meeting on Wednesday.
While leaving an event in Balla, Co Mayo, Mr Kenny said that he would not be making any comment on his position until Wednesday.
The move means it is very unlikely he will now face a no-confidence motion from TDs or senators.
Over the weekend, a clear timetable for the Taoiseach's departure from office was set out by two ministers who it is expected will seek to replace him.
Mr Coveney wants an orderly and quick transition to a new leader soon after the Taoiseach returns from the US after St Patrick's Day.
The other Fine Gael leadership hopeful, Minister for Social Protection Leo Varadkar, agrees with this timeline.
Brian Dowling: Ultimatum is a humiliation for Kenny
Mr Coveney has said he thinks Fine Gael needs to settle down and give the party leader the time and space that he needs to follow though to do what he said he would do.
Mr Coveney said he expected that would start when Mr Kenny comes back after St Patrick's Day.
He said everyone should all just back off now and let that process be planned for.
Fine Gael MEP Mairead McGuinness, meanwhile, has said no one can speculate about the Taoiseach's intentions until he addresses the parliamentary party meeting.
Speaking on RTÉ's Morning Ireland, she said "we all have to wait as we should with respect for that comment and then people can discuss afterwards".
Ms McGuinness said her sense from party colleagues is that they are supportive of Mr Kenny and do not want to see "any hasty or undignified departure of the Taoiseach".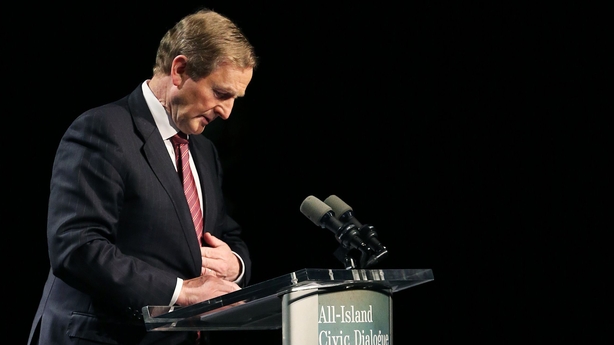 Former Fine Gael leader Alan Dukes has said a change in leadership is inevitable and it should happen as soon as possible.
He said he felt personally sorry that Mr Kenny was in this position but the handover of leadership must be done as smoothly as possible. A long farewell, he said, must be avoided.
A senior Fianna Fáil TD has meanwhile said it is imperative that ministers get their priorities right as there are more pressing issues than the leadership of Fine Gael.
Offaly TD Barry Cowen said it was important that the leadership issue was resolved as soon as possible.
"Fine Gael needs to put a process in place to deal with this issue and convince the public that it won't interfere with Government business thereafter".