Taoiseach Enda Kenny is unlikely to face a motion of no confidence and will instead deal with the leadership issue when he addresses TDs and Senators at a parliamentary meeting on Wednesday.
It comes after a spokesperson for Minister for Social Protection Leo Varadkar said he agrees with the timeline for Mr Kenny's departure set out by Minister for Housing Simon Coveney yesterday.
Mr Coveney said the Taoiseach should go to Washington on St Patrick's Day but that the leadership issue must be dealt with swiftly after that, in what was the clearest statement yet from Fine Gael leadership contender on how he sees the next few weeks playing out.
Speaking on RTÉ's The Week in Politics, Mr Coveney said he hopes there will be an orderly, calm and quick transition to a new leader soon after Mr Kenny returns from the US in mid-March.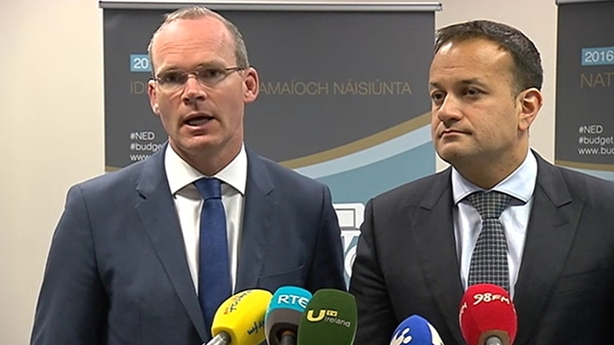 Asked whether the Taoiseach should be in office for the start of the EU Brexit talks, the minister said he trusted Mr Kenny's judgement.
He added: "We have an obligation to the country, given the fact that Fine Gael are leading the Government at the moment, that this is managed in an orderly, sensible way and not through threats from people within the party and I think also the Taoiseach is owed that."
Although Mr Coveney's language has been moderate in recent days, this could be viewed as setting a deadline for Mr Kenny.
There could also be a third contender in the running after Minister for Foreign Affairs Charlie Flanagan appeared to endorse Simon Harris (below) on an internal Fine Gael communication forum yesterday.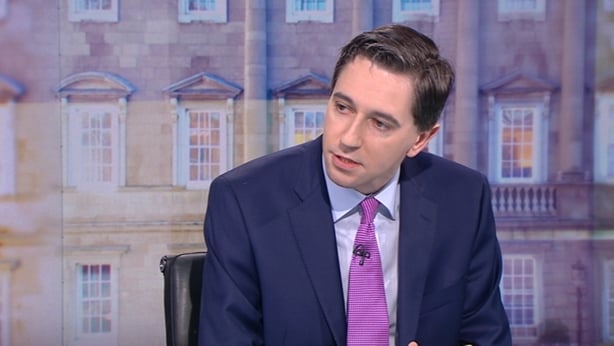 However, a spokesperson for Mr Flanagan described the comment as "tongue in cheek."
In it, Mr Flanagan appears to talk about Simon Harris contesting the FG leadership.
The text to party colleagues read: "He hasn't announced yet but Frances is encouraging him. He wants out of Health."
A spokesperson for the Health Minister said his priority is the work he is doing at the Department of Health.
The Week in Politics - Minister for Housing Simon Coveney on the timeline for a change in leadership pic.twitter.com/dMDSICHfh1

— RTÉ News (@rtenews) February 19, 2017
On Saturday, Mr Varadkar increased pressure on the Taoiseach to outline his intentions, saying the current situation is distracting and destabilising for the Government, the party and the country.
He said that everyone is waiting to hear from Mr Kenny on the issue and added that he had full confidence in the Taoiseach to "settle it".
Yesterday, Fine Gael MEP Brian Hayes said there is an expectation that the Taoiseach will set out his position this week. However, he said it would not be in the country's interests to remove Mr Kenny from office within weeks.
Speaking on RTÉ's Marian Finucane programme, Mr Hayes said Mr Kenny must still be in office when the European Council begins talks to set the terms of the EU negotiations after the triggering of Article 50 by the UK.
We need your consent to load this rte-player contentWe use rte-player to manage extra content that can set cookies on your device and collect data about your activity. Please review their details and accept them to load the content.Manage Preferences
The MEP added that no good would come from a no confidence motion in the Taoiseach which some TDs had threatened to table next week.
Mr Hayes also said it would be a good idea to give Mr Kenny a role in this country's Brexit strategy after he leaves office.
Minister of State for European Affairs Dara Murphy said he believed Mr Kenny should remain on until after the first phase of Brexit is dealt with.
Speaking on RTÉ's This Week, he said it is vital that, when the EU response to Article 50 being triggered is being discussed, that the Irish presence that has been there to date remains absolutely focused and unchanged.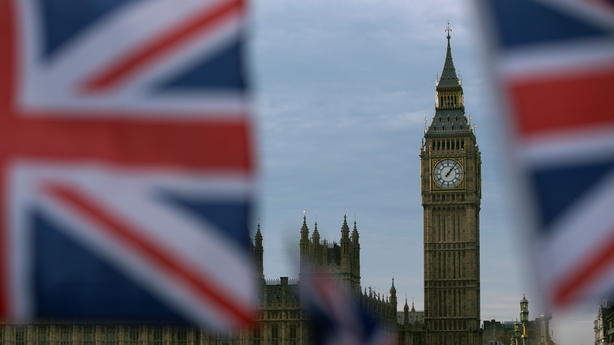 Independent Alliance junior minister John Halligan has said it is not a good idea right now to change the Fine Gael leader and Taoiseach.
Speaking on the same programme, he said Mr Kenny should carry on the Brexit negotiations and should be left there for a number of months.
Mr Halligan added that some backbenchers had engaged in distasteful, undignified and ill-mannered treatment of Mr Kenny and he said the Taoiseach should be given some dignity.
Fianna Fáil's Jim O'Callaghan described what is happening in Fine Gael as the longest running and most inept leadership contest ever.
Also speaking on The Week in Politics, he said it could not have come at a worse time for the country.
The Week in Politics - Jim O'Callaghan on FG leadership
"this is the longest running & most inept heave in the history of political heaves" pic.twitter.com/jo3Y4PkyH2

— RTÉ News (@rtenews) February 19, 2017
However, Mr O'Callaghan said there is no reason that the "confidence and supply" agreement between the parties would not survive a change of leader of Fine Gael.