US President Donald Trump's suggestion that Sweden experienced an immigration-related security incident prompted a baffled response from the Scandinavian country today as diplomats asked for an explanation and citizens responded with amusement.
Mr Trump, who in his first weeks in office has tried to sharply tighten US borders on national security grounds, cited Sweden as a country that had experienced problems with immigrants in remarks at a rally yesterday.
That appeared to confuse the Swedish government, which asked the US State Department to explain what the new president meant.
"We are trying to get clarity," Swedish Foreign Ministry spokeswoman Catarina Axelsson said.
"You look at what's happening last night in Sweden," Mr Trump said. "Sweden. Who would believe this? Sweden. They took in large numbers. They're having problems like they never thought possible."
The State Department said it did not comment on diplomatic communications.
However the White House said that Mr Trump was talking about rising crime and recent incidents in general in Sweden in his remarks and was not referring to a specific incident.
Mr Trump has been widely criticised for making assertions with little supporting evidence.
We need your consent to load this rte-player contentWe use rte-player to manage extra content that can set cookies on your device and collect data about your activity. Please review their details and accept them to load the content.Manage Preferences
Earlier, US Defense Secretary Jim Mattis distanced himself from Mr Trump's assessment of the media as "the enemy of the American people", saying during his first trip to the Middle East that he had no problems with the press.
Mr Mattis, a retired Marine general seen as one of the most influential voices in Mr Trump's cabinet, did not mention his boss by name. But asked about Mr Trump's tweet on Friday that branded the media as America's enemy, Mr Mattis took a different position entirely.
"I've had some rather contentious times with the press. But no, the press, as far as I'm concerned, are a constituency that we deal with," he told reporters travelling with him in the United Arab Emirates.
"And I don't have any issues with the press, myself," Mr Mattis added.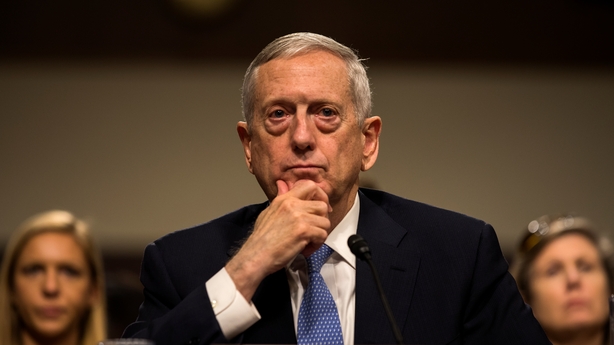 Since his 20 January inauguration, Mr Trump has fiercely criticised various news outlets that have reported unflattering revelations of dysfunction or other problems in the White House.
He has described them as "lying", "corrupt" and "failing," and late on Friday he said the news media was "the enemy of the American people".
Asked about the latest salvo, White House Chief of Staff Reince Priebus told CBS's Face the Nation programme: "I think you should take (Trump's Twitter statement) seriously."
"Certainly we would never condone violence. But I do think that we condone critical thought," Mr Priebus said, adding the media, in some cases, needed to "get its act together".
Trump launches another attack on media
Yesterday, Mr Trump launched another fierce attack on the media at a rally in the city of Melbourne in Florida. He said the media did not want to report the truth and had their own agenda.
Mr Trump insisted that the White House is running smoothly, and used a campaign-style rally to bring his message to supporters without, what he described as, the "filters of the fake news".
Trump tells supporters: "We are not going to let the fake news tell us what to do, how to live or what to believe…" pic.twitter.com/dZi9GTJfoy

— RTÉ News (@rtenews) February 19, 2017
In his speech, he assured Americans he is fulfilling his promises to shrink government, rebuild the military, and repeal and replace health care reforms enacted by his predecessor Barack Obama.
"This will be change for the ages," the president told several thousand supporters in an airport hangar in Melbourne, a sun-bleached city on Florida's Space Coast.
"The White House is running so smoothly, so smoothly"  he said.
"The dishonest media, which has published one false story after another, with no sources ... they just don't want to report the truth," he said.
"They've become a big part of the problem. They are part of the corrupt system." he said.
"We're going to start producing jobs like you've never seen before," Mr Trump said, highlighting how his pro-growth agenda has already led some US firms to commit to domestic investments.
He reiterated his pledge to crack down on terrorism, saying he has asked defence secretary James Mattis to draft a "plan to totally destroy ISIS," the so-called Islamic State extremist group.
"I've ordered decisive action to keep radical Islamic terrorists the hell out of our country," he said, drawing loud cheers.
Mr Trump said he went to Florida because he wanted to be with the people.
It is unusual for a sitting president to hold a rally in the style of those held during election campaigns.
Mr Trump is to interview four candidates today for the post of National Security Adviser following last week's dismissal of Michael Flynn.
Candidates include the acting security adviser, Keith Kellog.
Suppressing free press is 'how dictators get started' - McCain
US Senator John McCain has warned that suppressing the free press was "how dictators get started".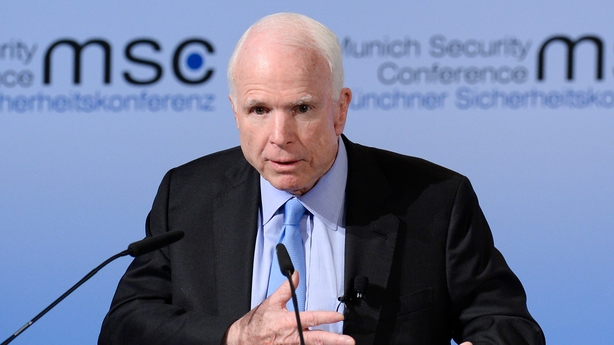 The Arizona Republican, who is a frequent critic of Mr Trump, was responding to a tweet in which Mr Trump accused the media of being the enemy of the American people.
The FAKE NEWS media (failing @nytimes, @NBCNews, @ABC, @CBS, @CNN) is not my enemy, it is the enemy of the American People!

— Donald J. Trump (@realDonaldTrump) February 17, 2017
The international order established after World War II was built in part on a free press, Mr McCain said in an excerpt of an interview with NBC's Meet the Press that was released in advance of today's full broadcast.
"I hate the press. I hate you especially," he told interviewer Chuck Todd from an international security conference in Munich.
"But the fact is we need you. We need a free press. We must have it. It's vital."
"If you want to preserve - I'm very serious now - if you want to preserve democracy as we know it, you have to have a free and many times adversarial press. And without it, I am afraid that we would lose so much of our individual liberties over time. That's how dictators get started," he continued.
"They get started by suppressing free press. In other words, a consolidation of power.
"When you look at history, the first thing that dictators do is shut down the press. And I'm not saying that President Trump is trying to be a dictator. I'm just saying we need to learn the lessons of history," Mr McCain added.