The Minister for Social Protection Leo Varadkar has increased pressure on Taoiseach Enda Kenny to outline his intentions with regard to his leadership of Fine Gael.
In a statement released this evening, Mr Varadkar said the current situation is distracting and destabilising for the Government, the party and the country.
Mr Varadkar said that everyone is waiting to hear from Mr Kenny on the issue.
In the statement, he said that he had full confidence in the Taoiseach to "settle it".
Earlier, Fine Gael chief whip Regina Doherty said that Mr Kenny deserves due respect and regard to talk to friends and family and make a decision on the leadership.
Ms Doherty told Saturday with Claire Byrne that the overwhelming feeling from the Fine Gael body politic was to give him space.
She said neither Leo Varadkar nor other obvious candidates want to get the process moving and an orchestrated campaign has not kicked off yet.
She said the past few days had been an undignified mess.
She would not be drawn on a timeline but said it would not be one or two weeks.
Meanwhile, a spokesperson for Minister Paschal Donohoe has restated that his position remains that he is ruling himself out of contention for the leadership of Fine Gael if a vacancy arises.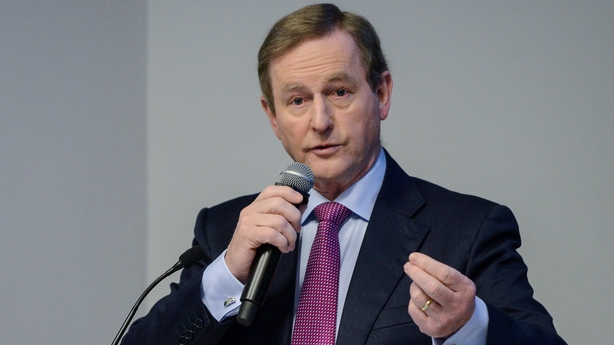 Minister of State Seán Kyne said he does not agree with a motion of no-confidence being tabled regarding Mr Kenny's leadership.
At the opening of the Salmon Watch Ireland conference in Galway today, the Minister for State at the Department of Communications, Climate Action and the Environment said such a motion would not be fair and he would be opposed to it.
He said the Taoiseach (pictured above) himself "did set the clock ticking in relation to a change in leadership" when he said he would not lead Fine Gael into the next general election. "If he is to go, then it would be preferable to indicate a timeline," said Mr Kyne.