The two main left-leaning candidates in France's presidential election are holding talks on possible cooperation, a move that could potentially put one of them in contention to reach the crucial election runoff.
Should Socialist Benoit Hamon and hard-left candidate Jean-Luc Melenchon decide to join forces, opinion polls suggest their combined vote might put them in with a chance of facing the far-right's Marine Le Pen in the second round of voting on 7 May - a scenario that has not been explored by major surveys in recent months.
"We are having discussions and we will continue to have discussions," Mr Hamon said on France Info radio.
"We have talked and we will talk again today," he said, acknowledging that the talks would be "difficult".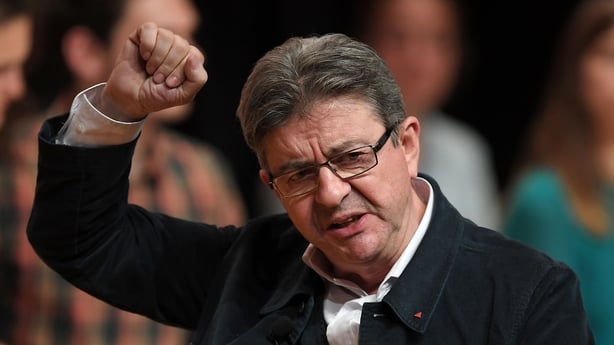 Mr Melenchon, who quit the Socialist party in 2008 to form his Left party and has won the backing of the Communists for the presidential vote, has repeatedly said he will not step down in favour of Mr Hamon, with whom he has major policy differences.
Mr Hamon, who in January won a Socialist primary on a far-left platform, has tended to sidestep the question when asked.
Opinion polls put combined support for the two men at levels which, if combined, could potentially be enough to reach the runoff between the two top-scoring candidates.
Investors fear that a hard-left Socialist candidate such as Mr Hamon would fare worse against the anti-EU, anti-immigrant Ms Le Pen than other centrist contenders.
The candidates currently seen as most likely to face Ms Le Pen in the second round are centrist Emmanuel Macron, favourite according to the polls, and Francois Fillon, second favourite.
Both are seen beating her to the presidency.
Mr Hamon was on a first round score of 14-14.5% and Mr Melenchon 11.5-12% in a Cevipof poll yesterday.
A second-round place for Mr Hamon or Mr Melenchon would create a new dynamic in the runoff, which opinion polls consistently indicate would most likely be against Ms Le Pen.
However, there are major disagreements between the two, notably on the European Union.
Mr Melenchon is hostile to some of its treaties and wants them revised, but Mr Hamon favours further convergence.
"It would not be easy. He knows it as I do. What clearly separates us is the European ideal," Mr Hamon said.