The Islamic State militant group has claimed responsibility for a suicide bombing in Pakistan which has left at least 72 dead.
The bombing at a crowded Sufi shrine in southern Pakistan also left dozens wounded, according to local media.
A police source said that a suicide bomber had entered the shrine and blown himself up among the devotees, adding the shrine was crowded on a Thursday, considered a sacred day for prayers.
There was no immediate claim of responsibility for the attack.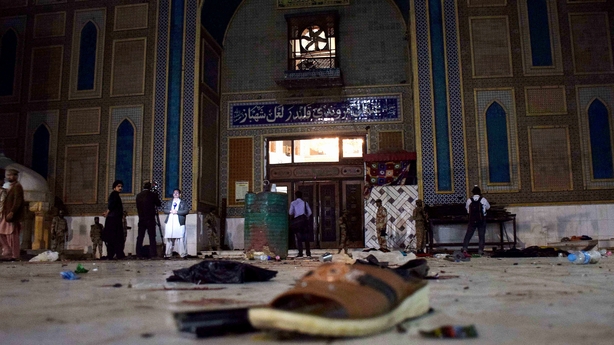 Jamaat-ul-Ahrar, a faction of the Pakistani Taliban, has claimed several attacks this week, including a Taliban suicide bombing in Lahore which killed 13 people and wounded dozens more.
Four suicide bombers struck northwest Pakistan yesterday, killing six people and unnerving civilians further.
Pakistan has seen a dramatic improvement in security since its deadliest-ever extremist attack -- a Pakistani Taliban assault on a school in Peshawar in 2014 which left more than 150 people dead, mostly children, and prompted a government and military crackdown.
The army intensified a long-awaited operation in the semi-autonomous tribal areas, where militants had previously operated with impunity, and the government launched a vaunted National Action Plan against extremism.
Emboldened Pakistanis are once again attending public gatherings and a sense of optimism is palpable after more than a decade of militant attacks.
But critics have repeatedly warned that the crackdown does not address the root causes of extremism, and homegrown groups like the Pakistani Taliban can still carry out spectacular assaults.