Unions at Bus Éireann have suspended their threatened strike action on Monday to allow for negotiations aimed at resolving the dispute.
This follows agreement at the Workplace Relations Commission that management would not proceed with cuts in pay and conditions that were due to be implemented without agreement on Monday.
However, SIPTU have stressed that the threat of strike action has only been suspended for talks which are scheduled for Friday, Monday and Tuesday. 
Greg Ennis, SIPTU says the strike threat at Bus Éireann has not gone despite a suspension of Monday's strike action https://t.co/9rs1qpRGNk pic.twitter.com/cnq9uBzDt3

— RTÉ News (@rtenews) February 15, 2017
The Bus Éireann Trade Union Group said "the WRC have today requested that all parties, unions and management at Bus Éireann postpone all actions scheduled for 20 February to facilitate discussions on all issues on Friday 17, Monday 20 and Tuesday 21 February."
A statement said while they remain of the view that "a multi-stakeholder involvement will ultimately be required to resolve this dispute, in deference to the WRC, we are prepared to engage in this process to establish if we can achieve some progress towards an overarching and sustainable resolution."
Bus Éireann management declined to comment as the team left the WRC.
National Bus and Rail Union General Secretary Dermot O'Leary had earlier said that unless the company fundamentally changes its position, Monday's strike would go ahead, adding that the NBRU will not negotiate a reduction in core terms and conditions.
Arriving to exploratory talks at the WRC, Mr O'Leary said that the precondition from the company of imposing unilateral cuts to members' terms and conditions from next Monday would have to be withdrawn if there was to be any hope of negotiations.
He also stressed there would be a need for a "buy-in" from all stakeholders to the dispute.
The union has accused Bus Éireann of imposing "unlawful" changes in terms and conditions as part of its attempt to address the financial crisis at the company.
In a letter sent to company's Chairperson Aidan Murphy and Acting CEO Ray Hernan today, Mr O'Leary claimed the company had "illegally breached" members' contracts with its proposed cuts that would hit pay  - and urged them to withdraw the proposals . 
The loss-making company is seeking cuts of around €30m a year, €12m of which is being sought from payroll.
Mr O'Leary notes that the cuts are being imposed without negotiation, and described them as a "blatant breach" of their members' rights. 
Committee told 'mass disruption' to transport network likely
Earlier, Mr O'Leary had told an Oireachtas Transport Committee that there would "mass travel disruption" across the transport network next Monday if the strike had gone ahead.
Bus Éireann has told unions that the company risks insolvency by the end of the year, and that it will be implementing significant cost cuts in five days time - even though no agreement has been reached with staff.
Management has acknowledged that the changes could cut wages by around 10% - but unions calculate the reduction in wages at up to 30%.
The committee was told that female members of Bus Éireann staff would be badly hit by the company's plans to introduce cost saving measures.
Patrick McCusker from the Transport Salaried Staff Association told the committee that woman clerical workers at the company would end up earning well below the country's average wage.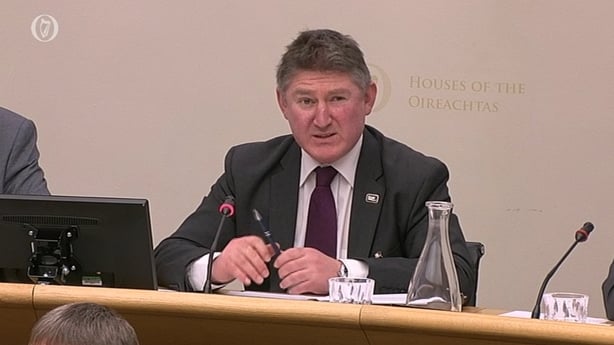 Management's proposals would see the average wage of women workers reduced to between €24,000 and €33,000.
Mr McCusker said real damage would be done to his members if the cost saving measures were introduced.
Greg Ennis of SIPTU reiterated to the committee that the union and its members would take industrial action next Monday if the company moved to change employees' terms and conditions.
Mr O'Leary said he disputed a letter sent from Bus Éireann to staff on 16 January that so-called saving proposals were within existing agreements.
He also said Minister for Transport Shane Ross had not yet met the boards of the three CIE companies.
Potential dispute at Dublin Bus averted
A potential dispute at Dublin Bus has been averted after the company notified unions that it will honour a previous agreement on the pensionabilty of a pay increase.
The increases was awarded last October as part of a deal to resolve industrial action at the company.
Under the agreement, the increase would not be made pensionable until 1 February - but the company then sought an extension to that period, prompting unions to commence a ballot for industrial action.
In a statement issued this afternoon, SIPTU said a potential dispute had been averted after management confirmed in writing that it intends to honour the October agreement.